Aftermarket car additions you'll use every day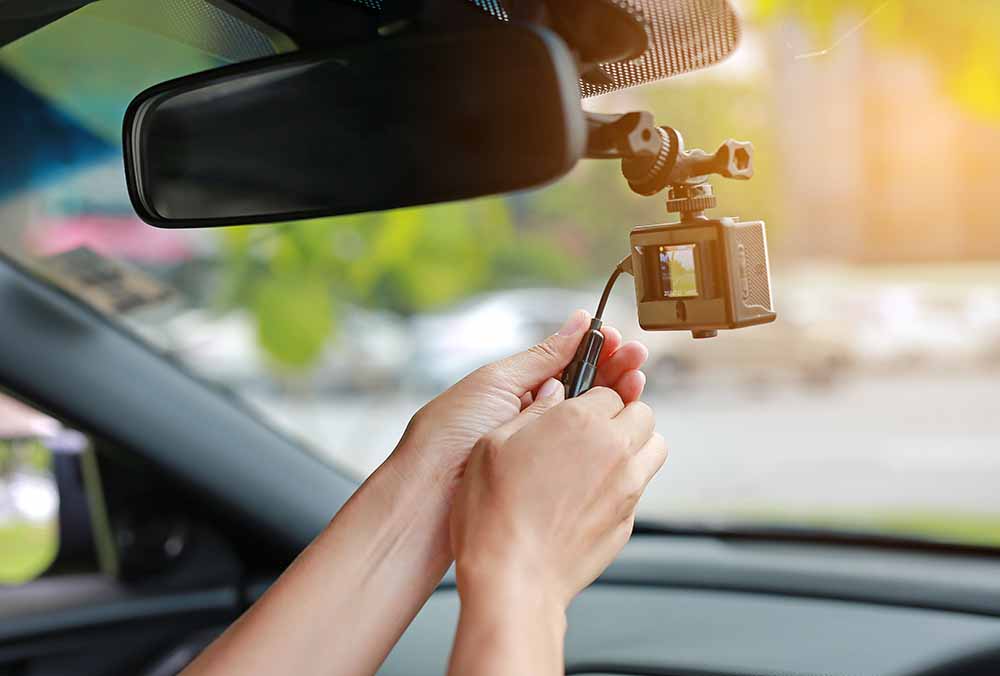 Are you an EV driver? Get access to over 55,000 public charging stations across North America today. Take advantage of being a FLO Member and receive an exclusive discount with Sonnet.

FLO Members who bundle could save an average of $421 on home and auto insurance.

Wherever you go, you can go with FLO.
In addition to being safer and more efficient than older models, new vehicles come with all kinds of nifty features to improve your experience behind the wheel. If you have an older vehicle, however, there are plenty of ways to get up to speed without spending a lot. From dashcams to seat protectors, here are a few things that could make for a more comfortable, convenient and safe driving experience.
Dashcam
These vehicle-mounted cameras (mostly front-facing, but rear-facing options are also available) are growing in popularity, and not just because of their value for capturing viral videos. In the case of an accident, a dash cam's footage could provide vital evidence in any investigations that may follow. As the technology continues to improve, cameras are getting smaller (making them less of an eyesore) and many also offer smartphone connectivity. And, as a bonus, if you ever see Bigfoot peeping through the trees you'll have proof.
USB DC charger
There have never been more personal electronics in our lives, and most require regular charging, making a USB port an essential feature of any modern vehicle. If your car or truck predates the age of the USB, however, there's a very easy fix in the form of a USB adapter for your DC charging outlet (aka the cigarette lighter).
Backup cam
Like seatbelts and airbags before them, backup cameras are pieces of safety equipment that are so effective they're now required on every new vehicle. If you don't have one (nor a rear-facing dashcam that does double duty), a backup camera is an easy way to increase your visibility. In addition to helping you parallel park in tight spots, they also come in handy for detecting tricycles, toboggans, and scooters parked in your driveway.
Phone holder
Phones are one of the leading causes of driver distraction and can be extremely dangerous if not used and stored properly on the road. The best way to ensure your safety (while still using your phone for maps and podcasts) is a phone mount. There are many on the market, but whichever you choose, make sure it can mount at eye level to minimize distracted driving.
Seat protector
Whether your family eats its meals on the fly or your dogs love the beach, a waterproof cover for the backseat can save you a lot of hassle on wet, muddy days while also keeping your upholstery showroom fresh. Unlike the seats themselves, which can be spot-cleaned, a soiled seat cover can be easily machine-washed whenever it gets dirty, making quick work of muddy paw prints and spilled juice boxes alike.
Trunk organizer
A cluttered trunk isn't just an eyesore – it also makes it hard to find what you need when you need it (and easy to lose things). In addition to cleaning out your trunk now and then, anyone could benefit from a multi-partition trunk organizer with compartments for all of your essential items (and whatever else you keep in there).
Seat cushions
There are a lot of factors to consider when buying a vehicle, but the comfort of the seats can be hard to gauge – even on a test drive. If you've found your car seats to be lacking in any way, there are tons of options – from simple cushions to seat covers with lumbar support – that will help you stay comfy on your next long haul.
Seat heaters
Few inventions are so universally loved as the heated car seat – particularly here in Canada. While these have become standard issue on many new vehicles, drivers of vehicles without heated seats must make do with waiting for the engine to heat up on winter's coldest days. A heated seat cover, however, offers a simple solution to this problem and promises to keep your seat toasty all winter long. Most will plug into a standard car outlet, and ensure you never have to bundle up in the car again.
Bluetooth adapter
The more time you spend in the car, the more calls you're likely to make, and hands-free calling capability is vital for ensuring your safety on the road. There are several ways to go hands-free on the road, including headsets and your phone's speakerphone function, but a Bluetooth adapter can provide a more convenient way to make and receive calls through your vehicle's existing speaker system.


Jeremy Freed is a freelance writer and editor based in Toronto. His writing about fashion, travel, food and design appears in Sharp, Harry and re:Porter magazines, among many others.
Jeremy Freed is a paid spokesperson of Sonnet Insurance.
Make sure you're covered with the best insurance plan for your home and auto.