How to prepare your car for a long trip with kids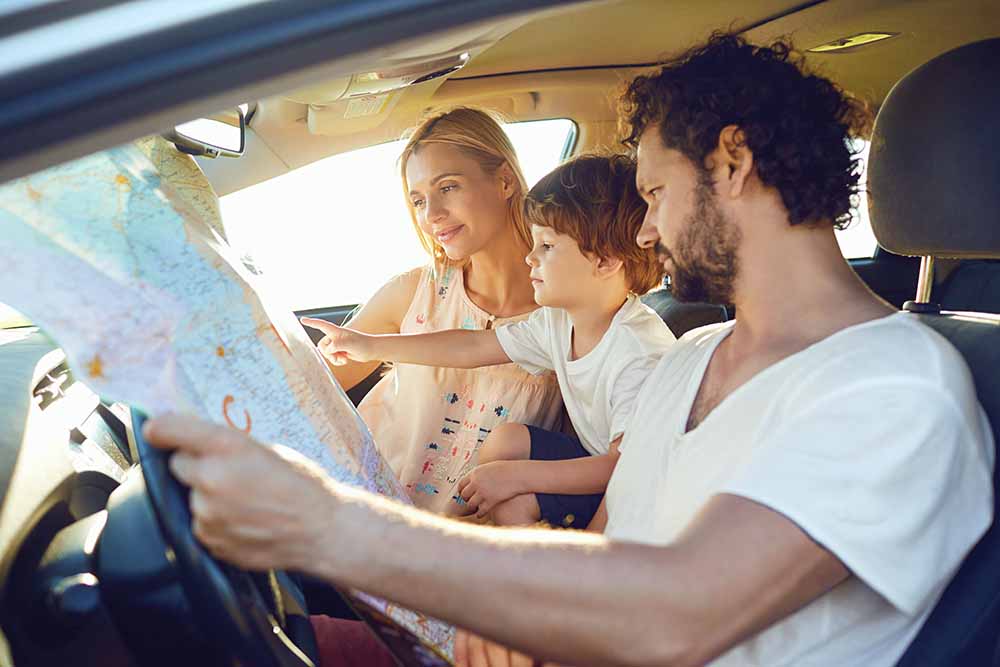 Whether it be a long weekend getaway or an extended trip with the kids, a road trip is one of the best adventures that families can take together. But while it might be tempting to jump in your car and start driving, some preparations need to be done to ensure that the kids are entertained and you arrive at your destination safely.
Check your car
Before any long trip, you'll want to quickly assess your car. You can do this by taking your vehicle to a mechanic for a service check, or you can do a few minor things on your own. Start by topping up your fluids and checking your tire pressure. You'll also want to inspect your wheels for any bulges and ensure that you have a spare.
In addition, you'll want to make sure that all of your lights are in good working order. Since you'll be driving for an extended period, you may want to get familiar with features you don't normally use such as cruise control. This will make your trip more comfortable and it's better on gas.
Heads up! If you're stopping in any big cities like Toronto, you need to be aware of auto theft. Learn how to prevent your car or parts of it from being stolen.
Map out your itinerary
Some people don't like having set plans when travelling, but if you're doing a road trip, you'll want to map out your itinerary to avoid any unnecessary backtracking. Using a maps app on your smartphone is the easiest way for people to plan their itinerary, since the app allows you to save destinations and routes. That said, you will need a mobile device and data plan for live updates. This likely won't be a big deal if you're staying within Canada, but if you're driving south, you'll pay roaming data charges, which can be costly.
Keep in mind that some vehicles come with built-in maps. They can provide you with up-to-date information such as points of interest, traffic conditions, and even shortcuts. Since this feature typically uses voice commands and directions, you'll arrive at your destination on time and safely.
Get your kids involved
The last thing you want is for your kids to ask "are we there yet?" every 15 minutes. To avoid this, get them involved with the trip planning. Ask them what they're interested in seeing and have them help you plan.
For example, if they're interested in museums or history, have them research attractions that would be fun for the whole family. If you have younger children, you could ask them what they want to do during the vacation. They might just want to play at a beach or playground. Once they've had their fix, they may be more inclined to do things that the adults are interested in.
Pack meals and entertainment
Road trips usually require multiple hours of driving, so you'll want to keep the kids entertained. Charge up all your mobile devices and make sure their favourite shows are already downloaded, since you may not have access to data while driving. If you don't have a power bank, you may want to purchase one as it could give your devices a few extra hours of usage.
Also, make sure that you have enough snacks packed so the kids can have something to eat without stopping. You may even want to consider packing a cooler so you can store food and drinks. This could save you a considerable amount of money, since buying groceries and making meals on the go will be cheaper than stopping at restaurants or for fast food.
Make sure you have a roadside assistance plan
When road tripping, the safety of you and your family is paramount. It's a good idea to purchase a roadside assistance plan in advance, so you can get help if you have car troubles or get into an accident.
If you already have a plan, be sure you have all your documents and numbers handy so you can get assistance right away. You should also review your assistance plan ahead of time so you know exactly what you're covered for.
Don't be afraid to go off course
Even though mapping out your itinerary is ideal, that doesn't mean you shouldn't make some detours now and then. If you see a scenic point while driving, and you have the time, there's no reason you shouldn't stop. You could end up with a great family picture. Also, keep in mind that highways are usually the fastest way to get from A to B, but there's not much to see. Sometimes it's worth taking a long way if it gives you epic views.
Some people like to stick to a detailed plan, but when travelling, that doesn't always work out. Trying to cross off everything on your must-see list is a recipe for disaster as it doesn't allow any time for you to appreciate your surroundings. Try not to overschedule your days since something will come up that will delay you.


Barry Choi is a Toronto-based personal finance and travel expert who frequently makes media appearances. His blog Money We Have is one of Canada's most trusted sources when it comes to money and travel. As a completely self-taught, do-it-yourself investor with no formal training, he makes money easy to understand for all Canadians. His specialties include personal finance, budget travel, millennial money, credit cards, and trending destinations.
Barry Choi is a paid spokesperson of Sonnet Insurance.
Make sure you're covered with the best insurance plan for your home and auto.