Sonnet Insurance and Patrick Benoit : The Grand Duel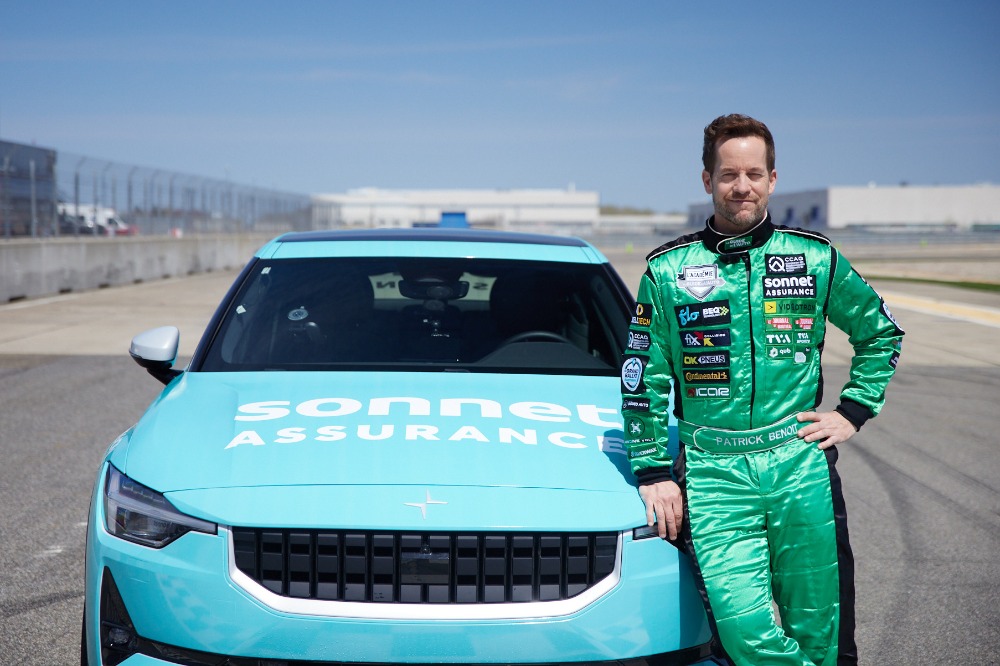 Doesn't it feel like we're always against something? When we're not running against the clock, it's against a deadline. There's always errands to run, meals to plan and prepare, and a to-do list we just can never get to the end of – and as we all know, once something gets checked off the to-do list, two new things are added.

Life goes fast and time flies by, and there's a million things to think about for your home, your car, and the safety of your family. Here's where Sonnet has got your back: With its easy-to-use platform that is entirely online, you can check "shop for home and auto insurance" off your list in less than 5 minutes. Thanks to Sonnet, you can insure your house, your cottage, your condo, your apartment, and your car simply and easily. The cherry on top: When you bundle your home and auto policies, you can save even more.

However, if you're going to be racing to the finish line, it might as well be on a real-life professional racetrack. Ask Patrick Benoit, the host of Académie du Guide de l'auto. As a professional race car driver and a father, he knows that every minute and every second counts - on the track as much as it does at home. In our latest campaign in which he stars, Patrick Benoit is challenged by his passenger. She thinks she can get insured before he has the time to complete 2 laps on the track. For a professional driver like Patrick, this looks like an easy win – but little does he know his passenger will be buying her insurance entirely online at sonnet.ca.

The second the green light is on, Patrick puts the pedal to the metal and gives everything he's got to get to the finish line as fast as possible - but also looks to take every turn as tightly as possible in order to distract his passenger. He definitely gave his all, but it wasn't enough to beat the online platform of sonnet.ca. On that day, Patrick learned that it could take less than 2 laps to get insured:

Fans and viewers of the TV show L'académie du Guide de l'Auto will probably already recognize their favorite host in the above video, but they'll also recognize the set from the show airing on TVA and TVA Sports and available on TVA+. For more than two years, Sonnet has been the proud sponsor and the official insurer of the show that caters to car lovers and car race enthusiasts.
As the 8th season of the Académie du Guide de l'auto prepares to launch, Patrick Benoit played along, opened up and answered our questions. Enjoy!
1. What's your favourite thing about hosting the Académie du Guide de l'auto?
Having fun while working hard and being thorough. Honestly, meeting personalities of the artistic world in an environment that gets them out of their comfort is also very enjoyable! Their reaction is very important to me. Going as fast as possible in a racing track can be really fun. Let's not forget that this show gives me the opportunity to promote reducing greenhouse gas emissions!
2. Why should we absolutely not miss the most recent season of the Académie du Guide de l'auto?
Because we keep getting better at it! Because there are more electric cars to discover, and because the guests have a great time. You'll see it, AND hear it!
3. After all these years, are you still learning things about driving and the auto industry?
Absolutely! The auto industry is constantly evolving. Over the last few years, there have been great changes to cars. The green shift gives us a new way to manage our trips, plus it brings new technologies. Let's not forget about autonomous driving, which we should and must get familiar with.
4. What were your most memorable moments on the set?
There are so many that I forget and it's hard to pinpoint just one. I hesitate between the nausea I get while driving at full speed in the Sonnet car with my guests, and the appreciation I get from people that ride in an electric car for the first time and experience its full acceleration power.
5. What was your favourite car of the season?
Each car was great. But I like luxury and, on the track, it's hard to do better than the electric Porsche Taycan!
6. What's your connection with cars in your personal life?
I would say I have a healthy and balanced relationship with cars. I like cars, but I've always liked being a pilot as well. That being said, it's important for me to have more than one passion, so cars are not my main focus.
7. What type of driver are you in your daily life?
More careful than before — they say it's wisdom. Still, I get insulted when drivers don't follow rules or forget that having a driver's permit is a PRIVILEGE. And, like many, I get impatient with people that don't know when to use the left lane. Allow me to get on my soapbox to remind them that the left lane is intended for PASSING! ;)
8. What's your best memory behind the wheel?
It's actually quite recent! I just went on a family road trip to Florida, in a Tesla! I drove the whole time, both ways, with help from a driver-assistance system. Tesla's is particularly effective.
9. What was your first car?
I hesitated a long time between my grandfather's brown Datsun B210 and other cars, but I settled for a 1981 Honda Civic that I fixed up. I didn't have a lot of money, so I bought the car for $800 and some paint for a couple of hundred dollars. I learned to do a little body work on the job to remove some rust, putty and repaint. Back then, YouTube did not exist!

Patrick Benoit is a paid Sonnet spokesperson.
Make sure you're covered with the best insurance plan for your home and auto.