Auto insurance 101: Renting a car, U-Haul or moving truck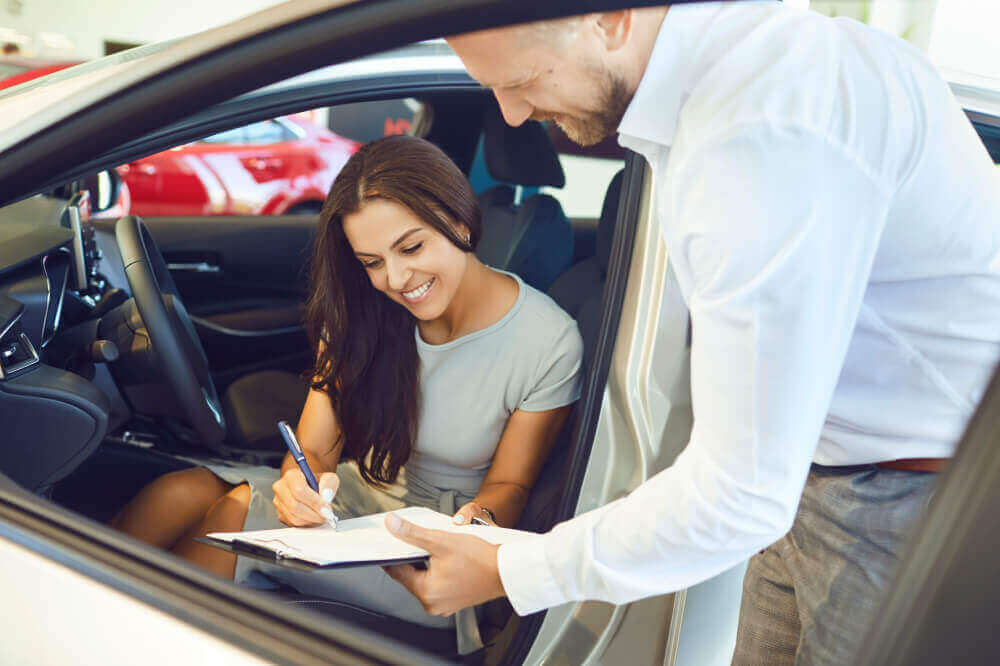 You've finally planned the road trip of a lifetime, and you've decided to rent a roomy SUV so you can travel in total comfort. Maybe you're planning a DIY move and you need to rent a moving truck or a U-Haul. But what if your rental car's stolen while you're sightseeing? Or your clunky moving truck dings another car? Well, that's why you need insurance on any vehicle you're renting. Does your car insurance cover it? Do you have to buy the rental car company's insurance? How do you make sure you're fully covered? We know – it's a lot.
Lucky for you, we're going to go over what you need to know about your car insurance and renting vehicles. Buckle up and let's get started!
Heads up! Looking for info about getting a temporary rental vehicle when you can't use your car after an accident? This blog only covers the insurance you need if you're renting vehicles for moving or leisure – but you can find more info on getting a replacement car after an accident right here.
Do I need to buy the rental car insurance from the rental agency?
Buying insurance from the rental car agency isn't mandatory in Canada. But, you do need to have some coverage if you're going to rent a car, which you can get from different sources (including the agency).
Without coverage for your rental vehicle, you'd have to pay the rental agency out of your own pocket for damage to or theft of the vehicle, or liability if you damage someone's property. Even a minor accident in your rental could cause thousands of dollars in damage, so you have to have the extra protection.
Did you know? If you're travelling internationally, you may need a separate policy to cover a rental vehicle. Call your insurer to find out if they could cover international travel.
Does my car insurance cover a rental car in Canada?
It can – if you have the right coverage. With most insurers, you can add an endorsement for damage to non-owned vehicles at extra cost. It's often called OPCF 27 in Ontario, QEF27 in Quebec, and SEF27 in other provinces like Alberta and Atlantic Canada that offer private insurance. The name and details of the coverage can vary.
This endorsement covers non-owned vehicles in your care, custody and control, including rentals. You'll be covered, along with your spouse and any other drivers listed on your policy. It extends the coverages you have on your own vehicle, like collision and comprehensive, over to the rental car – deductible included. Don't have collision and comprehensive on your policy? Then you won't have it on your rental, either.
Your personal liability coverage and accident benefits will also carry over, so you're covered up to your own limits. To make sure you're fully protected, you should have a liability limit of at least $1 million on your own auto policy.
Any personal belongings you keep in your rental car (like a laptop or camera) would be covered under your home, tenant or condo insurance policy.
Review your policy closely to see what is and isn't covered before travelling with a rental car.
Heads up! If you get into an accident while driving a rental, it could impact your policy at renewal. Ask your insurer how different types of accidents could affect your premium.
Some conditions apply when you use your own insurance's rental car coverage. These could include (but aren't limited to):
The rental vehicle's weight. Looking to rent a truck? Insurers often have a weight restriction on rental vehicles. Typically, it can't weigh more than 4,500 kg – and most trucks do. Don't worry, we'll cover more on trucks and U-Hauls a little later.
The people driving the rental. Only the drivers listed on your policy can drive the rental vehicle. Otherwise, any loss or damage might not be covered by your policy.
The value of the car you're renting. If you're eyeing a luxury vehicle to rent for a weekend getaway, you might want to think again. Your coverage could be limited to the value of your own vehicle, not a higher end vehicle.
How long you're renting for. Make sure you're aware of how long you can rent a car using your insurance – it's often 30 days.
Does my car insurance cover me if I rent a car in the USA?
Flying to Florida for a winter holiday and need to rent a car? If you already have car insurance, your coverage will usually extend to a car that you rent in the USA. As always, call your insurer to find out the conditions, and if anything's excluded.
How can I get rental car insurance if I don't own a car?
You have a couple of options to buy insurance for a rental if you're not a car owner:
The rental car company. You can purchase insurance at additional cost directly from the rental agency. If you pay for their coverages, they can't pursue you for damages. To make sure you're fully protected, consider adding the following coverages:
Third party liability – Liability covers you if you cause damage or injury to other people or their property while driving the rental car. Minimum coverage is included in the rental agency's contract by law. It's a good idea to buy their extra coverage. The minimum often wouldn't be enough to cover you if something happens.
Collision and loss damage waiver (CDW, LDW) – This waiver covers damage to the vehicle caused by an accident, natural disaster, or vandalism. It also covers theft.
Personal accident insurance (PAI) – If you're injured in an accident, this covers medical costs for you or your passengers.
Personal effects coverage (PEC) – PEC pays for your belongings if they're stolen or damaged while in the rental car.
Some credit cards. Your credit card could provide some coverage for rental cars if you book using that card. But, it usually only offers collision and comprehensive coverages, and doesn't include third party liability. This means you'd have to look elsewhere for your liability coverage. Every company's offerings vary, so call your credit card provider to find out what they do and don't cover.
How much does rental car insurance cost?
If you're buying the rental company's insurance, they'll charge you a daily fee for insurance on the vehicle – around $33 to $85 per day1. These fees can add up quickly, especially if you're renting for a while.
Generally, using your auto policy's insurance is a lot cheaper than buying it from the rental agency. So, it'll cut costs for you if you go for this option. It's hard to say how much it will cost to add the endorsement to your policy since rates will vary by insurer, but it usually only adds a few dollars a month to your premium. If you don't have it on your policy, you can contact your insurer to quote to add it. (At Sonnet, you can add it directly through your online account – no phone call needed!)
Using your credit card? Any coverage they offer will likely be included in your annual fee, if the card has one.
Do I need insurance for a U-Haul rental truck or does my car insurance cover it?
If you're looking to rent a large truck from U-Haul, the first thing you should do is review your own car insurance policy to see if you're covered. And chances are, you probably aren't. Like we said earlier, if you have personal car insurance it usually doesn't cover any vehicle weighing over a certain amount. If you plan on using the insurance on your credit card, keep in mind that they also don't normally cover larger vehicles – sometimes they don't even cover pickup trucks! So, unless you're renting something like a van, you'll probably have to buy insurance directly from U-Haul to make sure you're covered.
Does my car insurance cover a moving truck?
Much like renting a U-Haul, your personal auto policy probably excludes moving trucks since they're just too heavy. If you're getting quotes for moving trucks, ask about what insurance packages they offer and factor that cost into your moving budget. You want to make sure you've got full coverage if an accident happens.
Did you know? Worried about all that stuff you've got packed in the moving truck? Rest easy – you'll have some coverage for damage and theft under your home insurance policy for your belongings in transit during a move. It's also important to know what to do about your home insurance when you're moving to a new place. Contact your insurer to make sure you're fully covered before, during and after.
So, what's the bottom line? You do have options for rental car insurance, even if you don't own a car. But, using your own policy offers the best coverage – and it's the cheapest overall, too. Before you rent, always review your policy and ask questions if you're not sure what's covered and what isn't. If anything happens during your road trip, you don't want to be left with a hefty bill to pay to the rental agency!
Want to know what how your Sonnet policy covers you for a rental car? Just contact us – we're happy to help.
Buy auto insurance online in 5 minutes
Is taking out rental car insurance a good idea?