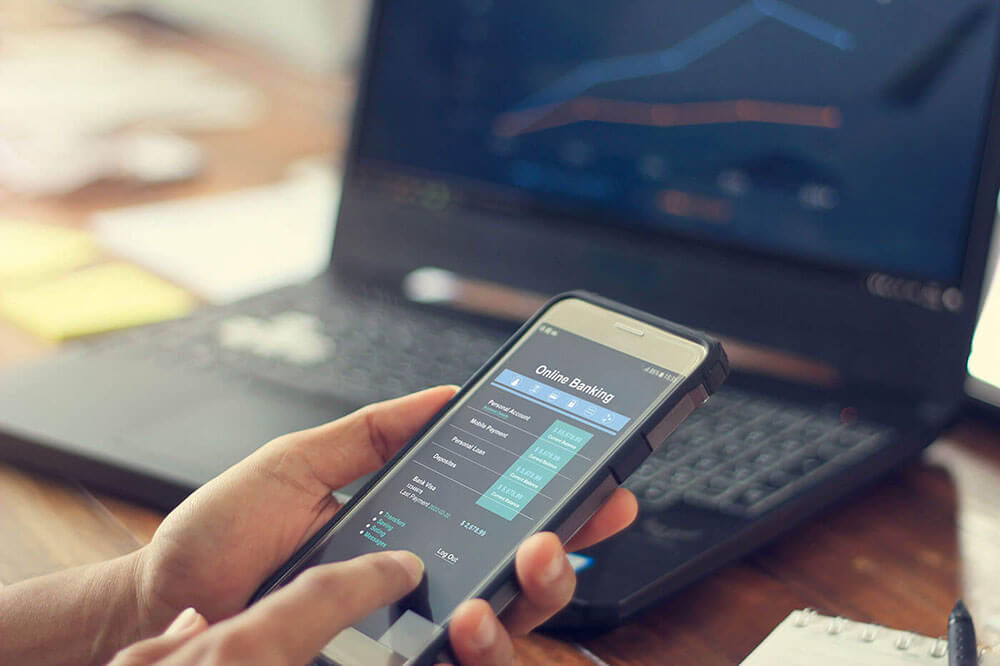 Back in the day, you had to physically go into a bank to do your banking: pay bills, transfer funds, deposit cheques, and so on. However, with the advancement of technology, a lot of that has changed and can be done online. In fact, many Canadian banks now only operate online with no brick-and-mortar buildings for clients to visit. These are called digital banks, and here's what you need to know about them.
How does a digital bank work?
A digital bank is pretty much exactly what it sounds like - you do your banking entirely online. It's safe, and it's legitimate. Thanks to technology, you can do pretty much the same things online now that you used to do in person with a bank teller. Most digital banks have easy-to-understand streamlined websites, although should you need assistance, there isn't a physical location that you can visit. But there's typically a support team ready to help you online via email, chat, phone, or even all of the above depending on the bank.
There are lots of advantages to digital banks, making them a popular option for many Canadians. However, they aren't perfect and there are a few downsides as well.
Pros of a digital bank
So why choose a digital bank? Here are some of the main draws.
Better rates
Since digital banks don't have the same overhead as brick-and-mortar banks, they can pass those savings down to clients. This usually means that digital banks will be able to provide better rates on savings accounts, and some even offer interest-earning chequing accounts.
Fewer/no fees
As well as earning more interest, digital banks will often allow you to save money on banking fees. Again, they don't have the same overhead, so many online banks offer free unlimited chequing accounts. Other fees tend to be less expensive with digital banks as well.
Convenience
Digital banks are online, which means you can bank at any time and any place as long as you are connected to the internet – from your couch, the office, even while out for a walk if you want. Digital banks make it easy to do your banking on your time and schedule.
Safety
Yes, digital banks are just as safe as brick-and-mortar banks! Look to see if the institution you want to bank with is a CDIC protected bank. If it is, this means that your deposits are protected up to $100,000 per category should the bank go under.
Cons of a digital bank
There are plenty of great reasons to use a digital bank as shown above, yet there are some drawbacks as well. Here is what you should be aware of if you plan on opening an account with a digital bank.
Lack of personalized service
Some people prefer to deal with other people face to face. So if you are the type of person who goes to the bank and speaks to a teller to help you with all your banking needs, then an online bank might not be the best option for you as this service is not provided.
Less access to ATMs
This is something you need to be mindful of as well. While most online banks do have some ATM access, it's not nearly as much as that offered by the big banks in Canada. Look into this before you sign up for an account because remember, using an ATM that is not connected to your bank will result in fees.
Lack of options
Canada's big 5 banks all have multiple choices for everything; chequing accounts, savings accounts, investment options, and even credit cards. This isn't the case with digital banks. Many only have one type of chequing or savings account, they don't all offer credit cards etc. This means you will likely have to use multiple banks which, while not a bad thing, may not be ideal for everyone who would prefer to do all their banking with one financial institution.
Not ideal for complicated transactions
If you are just doing basic banking, then a digital bank is a great option and easy to use. However, if you are someone that has a lot of complicated transactions (ie: wire transfers) or wants a physical safety deposit box then a digital bank isn't the best option for you.
How to sign up for a digital bank account
Signing up for a digital bank account follows the same process as any other bank account - you just do it online instead of in a physical branch. To open a bank account, you will need to share personal information such as full name, birth date, and address. You will also need government-issued identification (original copies, not photocopies) and, if you are opening an account that allows you to earn interest, you will need to provide your SIN.
If you are underage, you will need to open an account with a parent or legal guardian. If you are not a Canadian citizen, you will need to double-check with the financial institution you would like to go with to see what options are available to you. Some Canadian banks will allow you to open a Canadian account even if you are not a Canadian citizen and if you are living in another country.


Barry Choi is a Toronto-based personal finance and travel expert who frequently makes media appearances. His blog Money We Have is one of Canada's most trusted sources when it comes to money and travel. As a completely self-taught, do-it-yourself investor with no formal training, he makes money easy to understand for all Canadians. His specialties include personal finance, budget travel, millennial money, credit cards, and trending destinations.
Barry Choi is a paid spokesperson of Sonnet Insurance.
Make sure you're covered with the best insurance plan for your home and auto.