How accountants can cope with stress during the busy season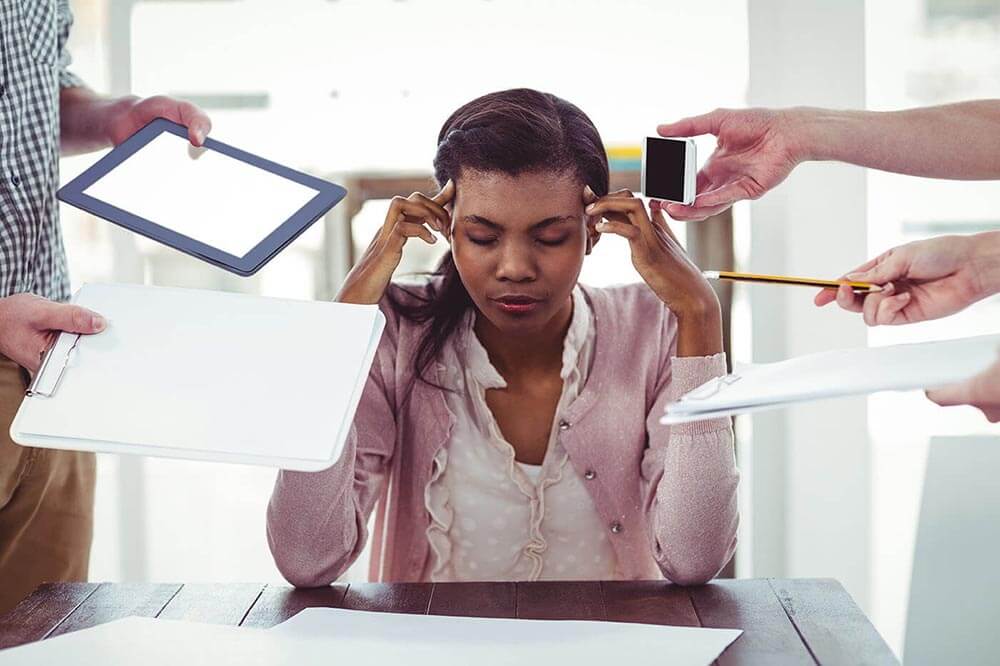 When you work in accounting, chances are you have a busy season – those times of year (or even just a month) when you face crushing deadlines and there never seem to be enough hours in the day. Work stress can take a toll on both your physical and mental health. Here are some tips to help you cope:
Eat well and stay hydrated
Our bodies need fuel to operate at an optimal level. Proper nutrition makes you feel better and think more clearly. Although it may be tempting to eat fast food when you're really busy, it makes you feel sluggish and sleepy – less than ideal when you're working long days.
Instead, try to eat whole, unprocessed foods like fruits and vegetables and lean proteins. A rule of thumb is to cover half of your plate with vegetables, eat a palm size of protein (fish, chicken, meat or tofu) a fist size of carbohydrates (potatoes, rice, pasta) and a thumb size of fat (olive oil).
There are now many delivery services that offer delicious, nutritious meal kits that are quick and easy to prepare. Or if you enjoy cooking from scratch, you can plan your meals in advance. Make your shopping list, order your groceries online, and take a relaxing break from work to make dinner. If you make extra, your leftovers will take care of lunch for the next day, saving you time.
Even if you cut out some of the junk and eat mostly healthy food, it's unrealistic to try and eat perfectly. So consider talking to your local pharmacist about what nutritional supplements may be appropriate for you.
Nutrition experts also recommend staying hydrated by drinking two to three litres of water a day. It can be still or sparkling (check out a home soda water maker), flavoured or plain, but try to avoid sugary drinks. And although it may be tempting to drink a lot of coffee when you're busy and tired, try to limit caffeine intake to 1 or 2 cups in the morning. Switch to decaf or herbal tea later in the day, so it doesn't interfere with your sleep.
Sleep to recover
According to experts, most people need an average of seven to nine hours of sleep a night. We all know this, but we're much more aware of it when we're deprived of sleep, like during a busy accounting season. But you can't train yourself to need less sleep – our brains need sleep to process and synthesize information. Your body also needs sleep to recover, especially if you're physically active.
Experts suggest the following:
· Create a pre-sleep routine to relax. That may include stretching, meditation (more on that later), listening to a podcast, lighting scented candles - anything that doesn't involve looking at a computer or phone screen.
· Sleep in a cool room (about 18 degrees Celsius) with good air quality.
· Have a consistent bedtime. Staying up late on the weekend can make waking up on Monday morning really painful.
· Keep the noise down - use ear plugs or a white noise machine.
· Try taking a short nap. Even a quick catnap can leave you feeling refreshed.
Exercise regularly
Countless studies have demonstrated the many health benefits, in addition to stress reduction, of regular exercise:
· Reduced risk of a heart attack.
· Helps manage your weight.
· Lower blood pressure and cholesterol levels.
· Stronger bones, muscles and joints, and lower risk of falls.
Without the need to go to a gym to work out, exercise can be easier to fit in, even during busy season. If a formal exercise program isn't for you, then consider getting outside for a walk or run. You can even multitask and take a meeting while going for a walk. Taking a break outside in nature is good for both the body and the soul. Even if you only have a few minutes, put on some music and dance like no one is watching!
If you're into tracking data (many accountants are), you may enjoy using a wearable device for tracking sleep and other activities like exercise, moving and standing.
Practice mindfulness
Mindfulness is a present-state awareness that helps you be non-reactive, something that's hard for type-A personalities. Try a guided meditation session using an app, or create your own mindfulness practice of being fully present and aware, over your morning coffee ritual.
The benefits of mindfulness may lead you to:
· Complain less,
· Appreciate more, and
· React less, even during busy seasons.
And don't forget to breathe. When your my mind is racing and you're having trouble concentrating or sleeping, slow down and take a few long, deep breaths. Imagine yourself strolling along a beach with the tide coming in and out, timing your breaths to the sound of the ocean.


A Chartered Professional Accountant by training, Robin Taub began her career at KPMG, transitioned into real estate, and then landed in the complex world of derivatives marketing at Citibank Canada. Today, she's a professional speaker and the author of The Wisest Investment, Teaching Your Kids to Be Responsible, Independent and Money-Smart for Life. Robin lives in Toronto, where she and her husband have raised two (mostly) money-smart young adults. For fun, she loves to snowboard, cycle and (pre-COVID) go to concerts. She even got backstage once and met Bruce Springsteen. Ask her how – she loves talking about it!
Robin Taub is a paid Sonnet spokesperson.
Accountants and other professionals can save even more with an exclusive Sonnet discount.