Tips for accountants working from home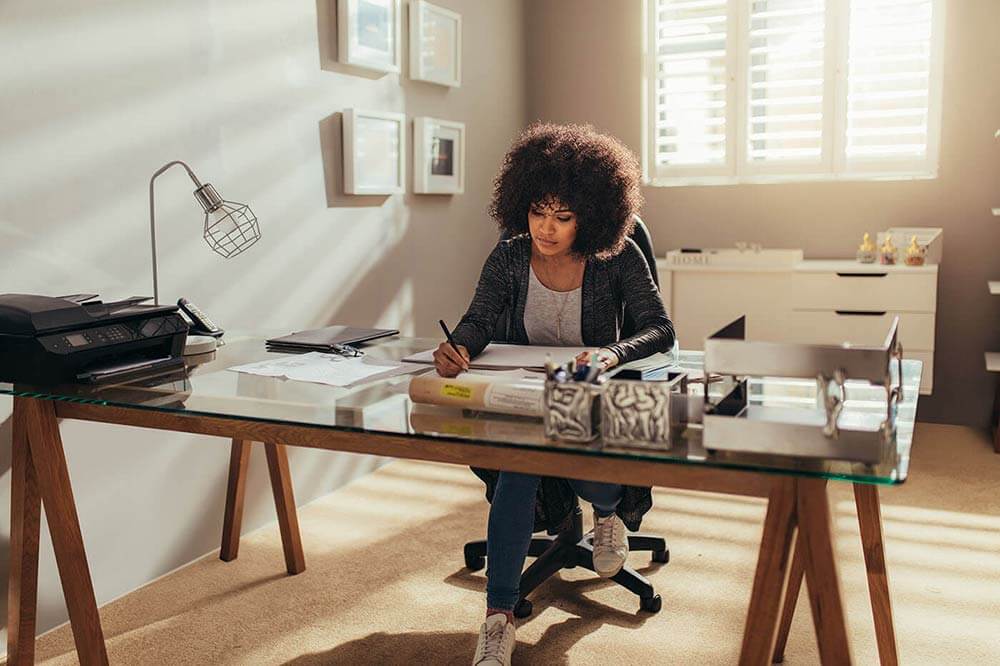 When COVID-19 hit, knowledge workers quickly pivoted to remote work. According to the January/ February 2021 issue of Pivot Magazine, only 4% of Canadians worked from home before the pandemic, compared to 31% as of September 2020. Included in this remote workforce are many accountants, whether working in firms, industry, academia or not-for-profit. The sudden shift to working from home created many challenges, but has also led to some creative solutions.
Blurred boundaries
While we appreciate no longer having to commute to our workplace or to clients, it's starting to feel like we aren't just working from home, we're living at work. Especially if you have young children, balancing childcare, school and homework supervision, household responsibilities and work can be really challenging. Here are some tips that may help:
· Build more flexibility into your work day. Employers and co-workers understand that not all work will get done during "normal business hours." For example, some parents wake up several hours before their kids to have interrupted time to work before the online school day starts. Many are putting in a second shift after the kids go to sleep.
· Take advantage of time no longer spent travelling or commuting. If you have older children or an empty nest, you may have more time to focus on marketing and business development. Or consider taking a course to level up your skills.
· Manage your stress. Take breaks from your home work space. Leave your phone in a different room during meals. Look after mind and body by getting proper sleep, eating well, staying hydrated and exercising regularly.
Improvised workspaces
A Colliers survey conducted in March 2020 found that 65% of people working from home don't have a dedicated workspace. Many of us are improvising, using whatever space is available, including dining room tables, kitchen stools, beds and couches. These work spaces may have been adequate pre-COVID when you only used them occasionally. But when you're using them all day every day, you may find your less-than-perfect workspace is causing back pain, neck or wrist strain, headache or overall fatigue.
By the end of May 2020, 23.9% of Canadian businesses had half of their employees working remotely, and 13.5% of Canadian businesses expect to have more than half their workforce working remotely after the pandemic. If you plan to continue working from home long term, even for a few days each week, getting a virtual home ergonomic assessment may be worthwhile. But according to experts, even a few small tweaks may result in a healthier home work environment:
· If you're using a laptop as your main or only computer, sit at a desk and put it on a riser so the top of the screen is at eye level.
· To minimize wrist strain, support your forearms and wrists and buy an external keyboard and mouse.
· If the laptop is now mostly for home use and weight is not a factor, buy the biggest screen possible.
· Invest in an adjustable office chair. If you need additional back support, consider getting an Obusforme, which can be used with any chair.
· If you're working at dining room table but you have the space, consider buying a height-adjustable desk or even a standing desk.
· Try doing some 5 minute desk stretches to relieve neck and shoulder tension.
Productivity and connectivity
Pre-COVID, the big question around remote work, for most companies, centred on productivity. However, some accountants mastered remote work well before the pandemic hit. LiveCA, which was founded in 2013 by two digital nomads, is Canada's first, but not only, virtual accounting firm. Using cloud-based and other digital tools, staff are available at various times and in various time zones, which allows them to serve their clients better. As long as the work is delivered on time, it doesn't really matter where or when it's done.
Some things to keep in mind for staying connected and productive:
· Home internet and data usage increased by 50% – 60% during the first three months of the pandemic, so make sure you have the infrastructure you need to do the job, especially if you live in remote or rural areas. Wi-Fi may be slow or unreliable or you may be on an unstable satellite connection. But even reliable Wi-Fi may need a boost to handle Zoom calls, kids in virtual classes and other family members all working online at the same time.
· Try to stay connected. Working remotely means fewer opportunities to collaborate, no in-person meetings, not lunches with clients or coffee with coworkers. But since we still crave connection with others, try to do it virtually, like meeting with your manager for a virtual coffee or checking in by phone or Zoom, one-on-one, with staff you're supervising. If you're missing your coworkers, you can also arrange or participate in virtual team building events like trivia night.
· While few accountants would say they miss their daily commute, you may miss the opportunity it provided to let your mind wander. Research has shown that mind-wandering can actually result in greater productivity. Another good reason, beside fresh air and exercise, to get out for that daily walk!


A Chartered Professional Accountant by training, Robin Taub began her career at KPMG, transitioned into real estate, and then landed in the complex world of derivatives marketing at Citibank Canada. Today, she's a professional speaker and the author of The Wisest Investment, Teaching Your Kids to Be Responsible, Independent and Money-Smart for Life. Robin lives in Toronto, where she and her husband have raised two (mostly) money-smart young adults. For fun, she loves to snowboard, cycle and (pre-COVID) go to concerts. She even got backstage once and met Bruce Springsteen. Ask her how – she loves talking about it!
Robin Taub is a paid Sonnet spokesperson.
Accountants and other professionals can save even more with an exclusive Sonnet discount.