Budgeting made simple for university students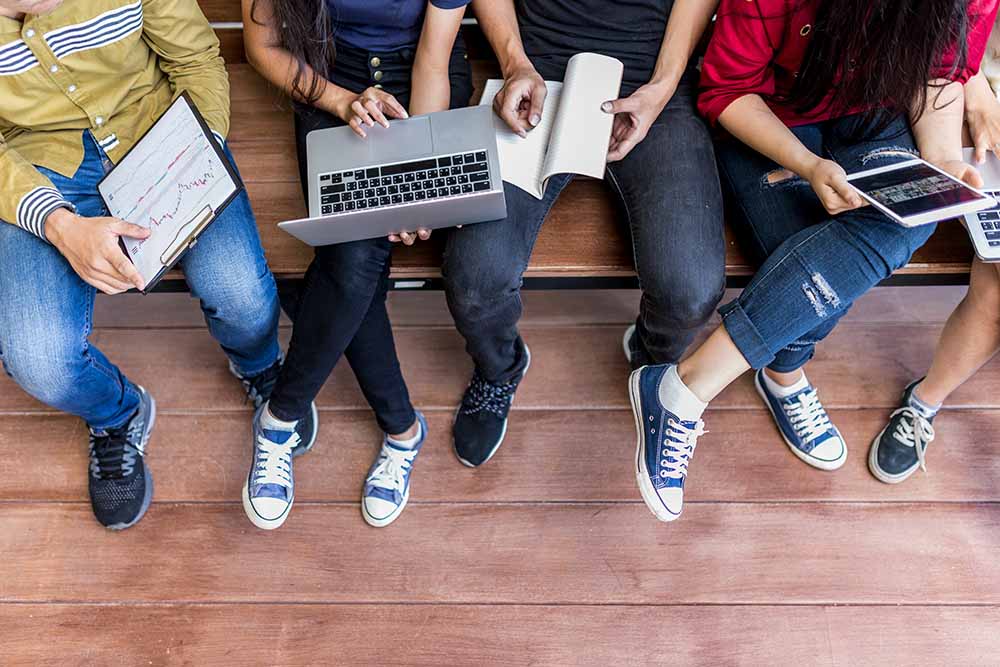 Whether living at home or on campus, university students need to learn how to budget. Now is the perfect time to get on the right track, as you'll typically have fewer expenses than when you complete your studies and get a job. (Although keep in mind that once you've graduated university or college, as an alumni you're eligible to save on your home and auto insurance with Sonnet!)
Admittedly, budgeting can be intimidating, but it's not rocket science. Adulting might be hard – especially for university students – but here are some tips to help make budgeting simple.
Be smart about how you spend
The reality is that as a student, you'll typically have a limited income. At the same time, you may have some significant expenses at the start of the year; textbooks and a laptop certainly don't come cheap. That said, you can often buy textbooks used at a fraction of the price compared to new ones. As for your laptop, you just need something that will help you with your studies. In other words, an expensive top-of-the-line model likely isn't necessary, and you can save that money for other things.
Track your spending
Creating a budget is a must for all students, but you can't do that until you've tracked your spending. For a month or two, write down everything you spend money on, including things such as transit, meals, and going out. You need to track things since it'll allow you to understand where your money is going.
Once you've got a clear idea about your spending, you can create a budget – again, this is where adulting can feel hard, but a budget will help make things simple. Fixed expenses such as your rent, internet, and transportation costs are the most important, but when it comes to things such as eating out, travel and entertainment, you could probably make some cuts to keep your budget balanced each month.
Don't work too much
Having a part-time job as a student can help you with your tuition and budget, plus it could help you graduate debt free. However, working too much can have a negative effect too. If you're spending all your time making money, you might not have time to focus on your studies. Overworking yourself and failing classes won't help you in the long run – instead, keep in mind that you'll have the rest of your adult years to work. This time in your life is when you can keep things a bit more simple.
In an ideal world, you'll work just enough hours that it doesn't affect your studies. The income will help you cover some of your expenses while allowing you to study. Getting a full-time job in your field of study is more important than part-time work since you'll presumably have a higher earning potential with your chosen career.
Watch how much you spend on meals
If you live on campus, odds are you'll be forced to purchase a meal plan. This can be beneficial since you'll never need to worry about cooking, but in most cases, you won't come near to spending your entire allocated account. To make matters worse, you can't cash out any unused balance. So if you're on a meal plan, avoid eating off campus if you can, as you want to minimize your spending.
For those living off campus or at home, you'll want to pay attention to how much you're spending on groceries and eating out. This is relevant because it'll help you prepare for the future. If you can keep your grocery spending at a reasonable amount during school, that will carry over to your adult life.
Look for scholarships
Getting a post-secondary education is expensive. To help you cover the costs, you can turn to your parents, get a job, or apply for student loans. That said, there's another option available: scholarships. Many students assume that scholarships are only available to those that have top marks or are enrolled in prestigious programs, when that's simply not the case. There are hundreds of scholarships out there, and many of them are open to all to apply.
Since there are so many scholarships available, you should actively seek them out. A good place to start is your student financial aid office, as they can advise you about what's available. In addition, there are many websites that share information about scholarships that you can apply for. The research will take some time, but it could pay off.
Get a credit card
When used responsibly, credit cards can be a very useful tool for students to help them manage their budgets. Credit cards are essentially interest-free loans as long as you pay back the entire amount by your statement due date. If you make a payment that's less than the full amount, you'll incur some pretty big interest charges. You'd obviously want to avoid that.
Another reason why you'd want to get a credit card as a student is that it'll help you build your credit score. Your credit score is a number between 300 and 900. The higher your number, the more creditworthy you are. This is relevant as lenders use your credit score as one factor to determine if they should loan you money or not. In other words, if you ever need a mortgage or auto loan in the future, you'll want to have a good credit score.
The bottom line
University and college students may find it difficult to budget, because they might have limited income and high expenses for the first time. If you can keep your expenses and budget in check, you may find managing your finances much more simplified. That said, many students now graduate with some debt, so you shouldn't feel pressure to graduate completely debt-free. What you do want is to establish good financial habits, as those will carry over to your adult life.


Barry Choi is a Toronto-based personal finance and travel expert who frequently makes media appearances. His blog Money We Have is one of Canada's most trusted sources when it comes to money and travel. As a completely self-taught, do-it-yourself investor with no formal training, he makes money easy to understand for all Canadians. His specialties include personal finance, budget travel, millennial money, credit cards, and trending destinations.
Barry Choi is a paid spokesperson of Sonnet Insurance.
Canadian university alumni, start saving with an exclusive Sonnet discount.