How to support employee well-being when working remotely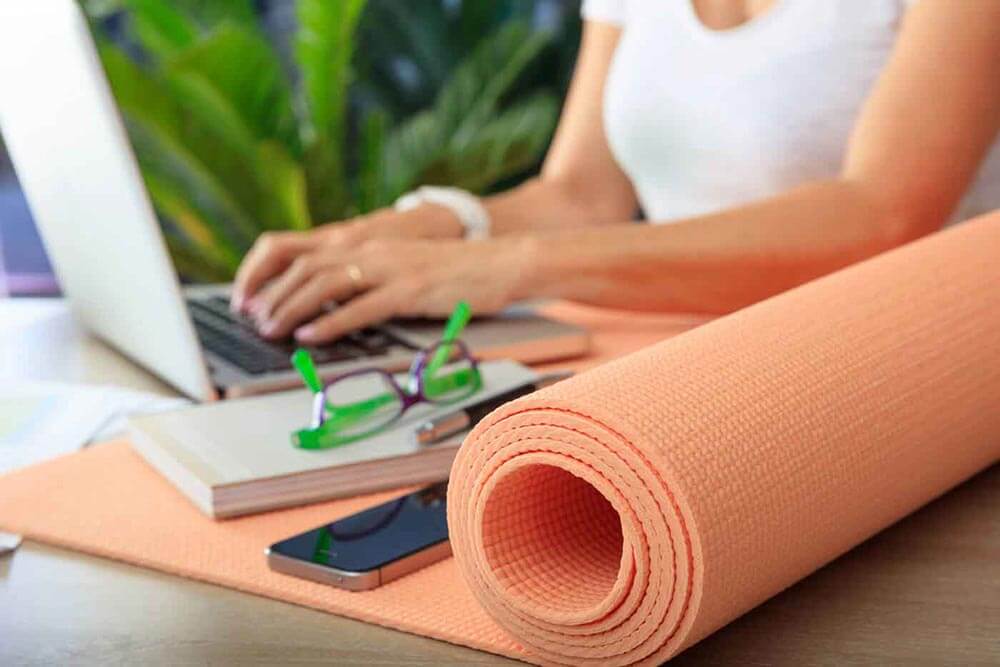 Since the average person spends one-third of their life working, it's important to gauge the overall well-being of your employees. There's been a shift from the traditional work environment to working remotely. And the way in which teams operate has been affected. Leaders need to find a way to enable social interactions and maintain a balance between work and home. Although it's easier to bond with your team in person, there are ways to check-in digitally. Because employee well-being is essential for not only successful business results but more importantly, mental health.
Here are some suggestions on how to support employee well-being when working remotely.
1. Create a balance between staying connected and knowing when to unplug
Isolation is an ongoing struggle for remote workers. A lack of social interaction is as bad as smoking 15 cigarettes a day.1 Which is why employees need to feel valued even if they're remote. Team huddles or stand-up meetings are a great way to connect daily. Having the right tools and processes goes a long way to be able to communicate effectively and efficiently.
Because it's so easy to connect digitally, it's also important to create boundaries between work and personal time. And when leaders set an example, it's a lot easier for everyone to follow.
Here are some ways to set work boundaries:
take a full lunch break
don't answer non-urgent emails on the weekend or vacation
log off at the same time each day (if there are no major deadlines)
take short breaks throughout the day
take a mental health day when needed
This will allow everyone to enjoy uninterrupted personal time and feel more energized during work hours.
2. Communicate regularly about ongoing changes
Many companies are still trying to figure out if they will return to the office, be permanently remote, or have a hybrid approach. According to a recent survey, the 83% of workers want to have a hybrid work environment.2 Regardless of what your company decides, it's best to keep employees constantly updated so they can prepare and adapt accordingly.
Be completely honest throughout the decision-making period. And even if you don't have all the answers, it's better to acknowledge it. Be specific about what is definite and what is still up in the air. And then let your team know when you'll follow up with firmer answers. It's also a good idea to ask your employees for feedback. Not only will it help you plan but it will make your team feel valued.
Be mindful of how your employees will be affected by work arrangements. Parents have to plan childcare around their work schedule. Younger employees who are considering moving out for the first time will need a dedicated office space. Being clear about how your work environment is changing will help employees make important decisions.
3. Provide ways to reduce stress and anxiety
Did you know? When employees are stressed about finances it affects their work performance. 60% of job seekers say perks are a major draw for staying at a company.3 One of the easiest solutions to keep your team long-term is to provide great benefits.
Sonnet's group insurance program is a perfect solution. Owning a home and a car is costly. These two expenses make up over 50% of the household budget for the average person. Providing a discount on home and auto insurance helps both employees and employers in achieving financial well-being. And employers can partner with Sonnet for free! Your company will get a unique discount for your employees. We set up the program and take care of the rest.
While the future of work will continue to evolve, employee well-being should always remain a top priority. Business growth will depend on how leaders choose to inspire and manage their teams. This year has affected everyone differently. It's important to treat your employees with extra kindness – it goes a long way.
The Potential Public Health Relevance of Social Isolation and Loneliness: Prevalence, Epidemiology, and Risk Factors
The future of work: A hybrid work model
5 Awesome Job Benefits That Attract Quality Candidates