What to know when buying an older home in Quebec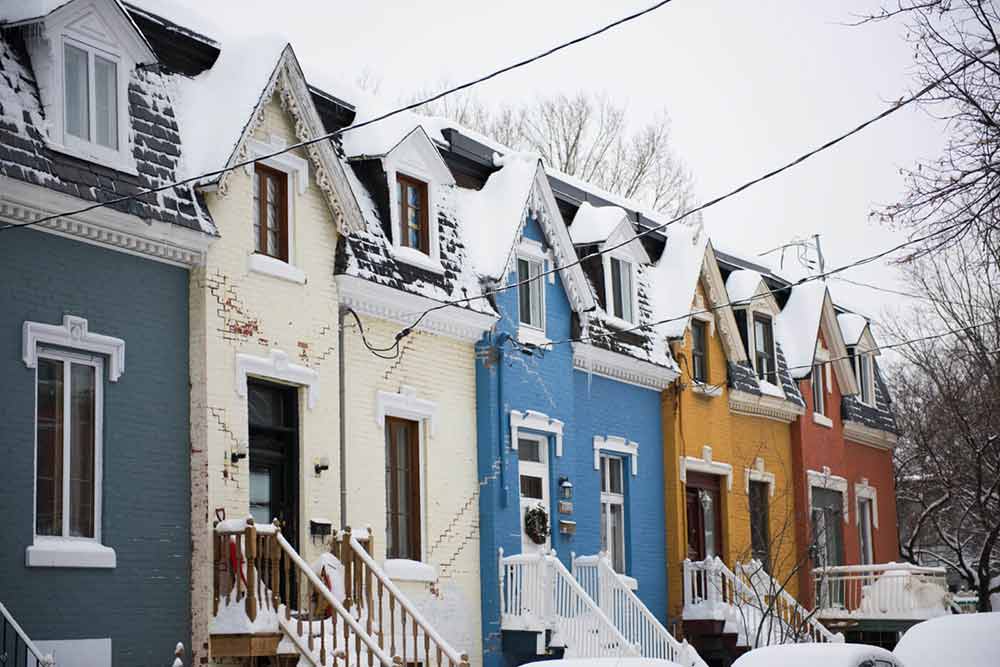 Quebec is renowned for its abundance of beautiful centennial homes in Montreal neighbourhoods such as Plateau Mont-Royal and St-Lambert, and Sillery in Quebec City. So, if you're in the market for a new place, it's worth looking at homes that aren't "new". An older home can cost less and come with more land than their newer counterparts. Not to mention, older homes were built with the personality of the era – they're full of charm, character and history that can't be duplicated. Of course, not everyone's putting these features at the top of their wish lists, and for a good reason. Old homes can require a ton of work before they're a safe living space – let alone can be transformed into your dream home. So, before you get yourself neck-deep in repairs and renovations, here are some things to be on the lookout for before you close the sale.
A realtor that isn't familiar with older homes
First things first: make sure you ask if your real estate agent has experience in dealing with older homes. Most well-weathered realtors probably know a lot about a wide array of homes, but someone newer to the business might have limited knowledge of what to look out for.
Stating the obvious here – buying a home is a huge purchase so it pays to be picky when choosing the perfect realtor. Someone who knows their stuff will be able to attend the home inspection, understand any potential problems and accurately negotiate the costs for any repair work needed.
Tip: Always make sure your realtor is available to attend the home inspection! If they miss it, you could miss out on some worthy negotiations. It's a lot harder to negotiate effectively if they didn't hear the inspection results firsthand.
Outdated (and scary) materials: asbestos and lead paint
Back in the day, your home could unknowingly be a dangerous place. Two culprits are asbestos and lead paint. Asbestos was used to make a really affective flame retardant, and lead was added to paint to make it more durable. Due to their health hazards, both materials are now banned and have been replaced in many cases. That being said, it's important to know what you're looking for as it can still be present in certain cases.
A good inspector would be able to point out asbestos, however it will need to be tested for you to be sure. If it's found in the home, it's pretty pricey to remove, so consider this cost before moving forward.
For detecting lead in paint, it's a little bit harder. There are lead paint testing kits but they aren't affective if someone has painted over a layer of lead paint (by the way, this does not make it safe). To really be certain, you'll need to get in a professional to use x-ray technology to look through the paint layers.
Want to know more? Check out further info on asbestos and lead-based paint in the home.
Deterioration of the foundations and sills
As a home gets older, it's more likely that the concrete foundation will start to deteriorate, which can lead to cracks in the internal and external walls. Not all signs of an aging home are dangerous – some cracks might even be normal and safe, but you'll need an inspector to tell you if that's the case.
One of the major things that can affect older homes is damage to the sill plate, which is the first bit of wood that connects your home to the foundations. It can become damaged by water over time, and rotten sills can be prone to insects, plant growth and other external elements.
You might be able to see if there's damage to the sill from the outside or inside of the property. Check if the outer walls are cracking or buckling. Inside, you might be able to tell if the floor is spongy or seems to dip down. A lot of the time, the true impact of damage is only known when you're doing some serious maintenance work.
Electrical problems
Computers, TV's, mobile phones, HVAC systems, lights, appliances, washer/dryers… we use a lot of electricity – way more than people did 50+ years ago. This means that electrical systems in old homes weren't built to keep up with modern usage.
One frequent electric problem in older homes is knob and tube wiring, which was common in homes up until 1950. The main problems are deteriorating insulation, risky connectors and a lack of grounding in the system. The wires get hotter as more electricity is used, meaning knob and tube wiring can become a fire hazard. This outdated wiring is not only dangerous; many insurance companies won't even insure homes with knob and tube. Frequently, they will insist the knob and tube wiring is replaced.
To see if the home still has knob and tube wiring, take a look in the basement and attic at the exposed joists. If you see white ceramic knobs nailed to the supports with electrical wires running through them, you're looking at knob and tube wiring.
Whether you decide on an older or newer home, it's important to make sure your home is protected. Thankfully, getting home insurance in Quebec is easy.
Protect your home and the things you love most.