6 small space storage hacks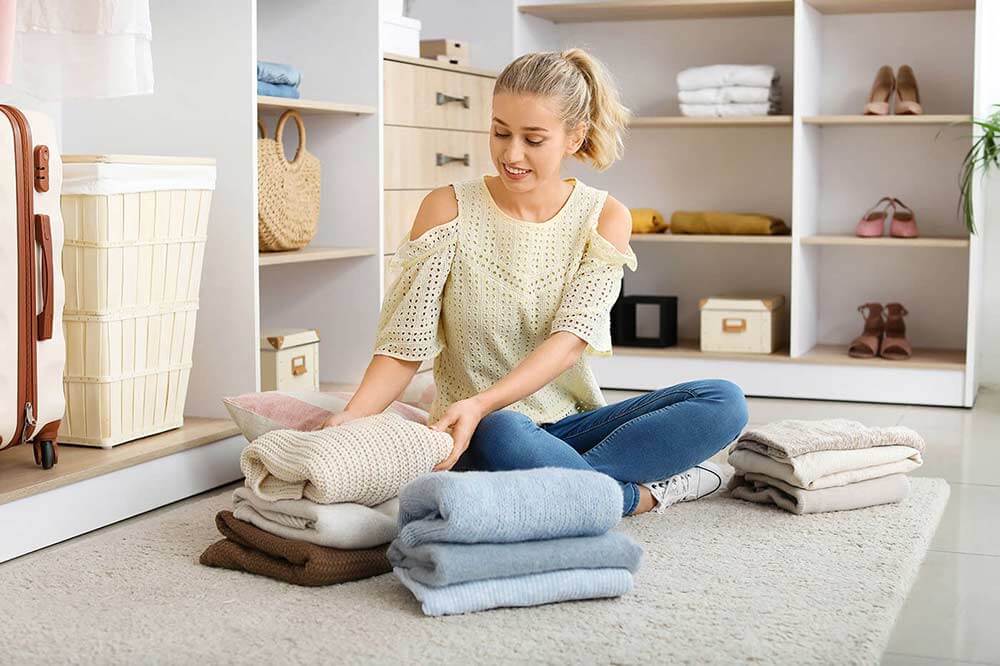 With record numbers of people working and studying from home, functional living spaces have never been more important. For those of us with small apartments, micro-condos and other square-footage-challenged spaces, this is the perfect time to find innovative ways to make the most of what we've got. Here are six ideas to optimize your space and keep clutter at bay.
1. Offsite storage
The most obvious solution to a lack of storage space in your home? Store your stuff somewhere else. For those of us with storage lockers (or relatives with basement space to spare) putting your out-of-season clothes, holiday decorations, portable air conditioners and other seasonal items out of sight when they're not needed is relatively simple. For the rest of us, it gets a little more complicated. If you live in a city where square footage is at a premium, it might be worth spending a few extra dollars a month on an offsite storage locker, just so you don't need to watch your skis gathering dust for half of the year. Better yet, some companies offer turnkey service, including pickup and drop-off, so you can safely store your stuff without ever having to leave home.
2. The art of folding
One of the best ways to make the most of your existing storage space is to change not what your store your things in, but how. Where your clothes are concerned, learning how to fold things so that they fit neatly in your drawers can make more space, as well as allow you to more easily access the things inside. For the neatness-challenged among us, consider creating a set of custom cardboard folding templates, which will allow you to fold everything from t-shirts to underwear to precisely fit in their assigned drawers. It may seem like an extreme approach to folding laundry, but you will be surprised at the difference it can make.
3. Walls and doors
The first rule of small-space organization is to make use of every bit of available space. As such, the back of a closet door is an ideal place to hang additional storage for items like ties, scarfs and belts, while the back of a bedroom door can be a good place to hang a shoe organizer. Along with the shelves you've already got, more shelving can be artfully added to the space above doorframes and near the tops of hallway walls to make use of that space. Instead of putting things directly on these shelves (which can make them look cluttered), make use of woven baskets and soft-sided bins, which will maximize your use of these spaces while also working with your decor.
4. Everything in its place
Having an assigned place for everything, from remote controls to pots and pans, can seem like a daunting task for the organizationally-challenged among us, but you might be surprised at the difference it can make. Aside from not having to tear apart your place when something goes missing, assigning places for everything you use regularly will also help your space look neater day-to-day. Peel-and-stick hooks on a kitchen backsplash can hold your dishwashing implements, drawer organizers will keep all of your utensils straight, and self-adhesive Velcro tape can help you keep other small items in check. If you want to go even further, a pegboard wall can take your organization to the next level.
5. Look under the bed
The spaces underneath your bed and your couch are prime real estate, so don't let them go to waste. You can use slim-profile bins to store stuff in these narrow spaces, or put your bed on risers (easily available online or at your local home goods or hardware shop) to create even more room. In addition to providing storage space, this also handily eliminates the need to sweep for dust bunnies in these hard-to-reach places.
6. Bed as trunk, trunk as table
Living in a small space means that many things you own should be doing double-duty. Great examples of this are beds and couches that open up to reveal hidden storage compartments inside, or using a steamer trunk as a coffee table. Vintage trunks and suitcases can also double as end tables, while hiding away clothes, books and art supplies when not in use.


Jeremy Freed is a freelance writer and editor based in Toronto. His writing about fashion, travel, food and design appears in Sharp, Harry and re:Porter magazines, among many others.
Jeremy Freed is a paid spokesperson of Sonnet Insurance.
Make sure you're covered with the best insurance plan for your home and auto.