7 top tech products for your home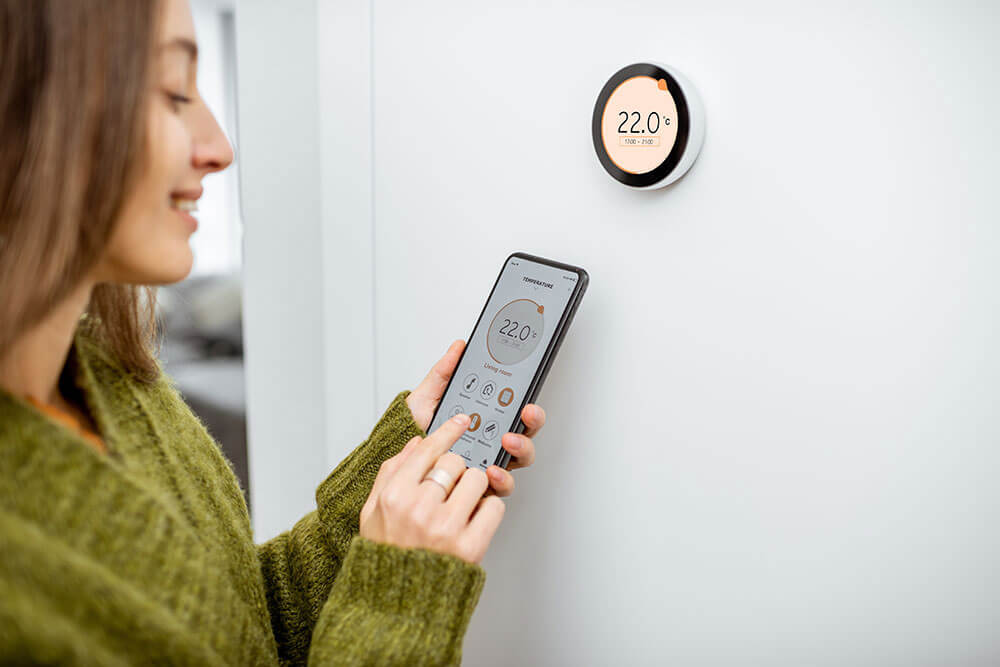 Technology is constantly changing. We're seeing so many new tools that make our lives easier, more convenient, and in some cases, even cheaper. However, sometimes it's easy to get caught up in trendy tech products for our home that are a novelty rather than something that we'll actually use. With that in mind, here are seven worthwhile top tech products for your home that could actually make your life easier, cheaper, and safer.
1. Smart thermostat
Heating and cooling can run up your monthly bills pretty quickly, which is why having a smart thermostat is a good upgrade for your home. With a smart thermostat, you can change temperatures at any time from your phone. So if you forget to turn off the AC while you go away for a weekend or want to turn down the heat while you're at work for the day, you can just do it from your phone. It's easy, doesn't require advanced planning like programmable thermostats do, and may save you up to 20% on heating and cooling costs.
2. Smart light switches
Another money saver is smart light switches. Similar to a smart thermostat, smart light switches allow you to control your lighting remotely using your phone. It's a handy tool for anyone to have, but especially those with family members who have the annoying habit of forgetting to turn the lights off before they leave the room/home. Plus, it just makes life easier in general for you when you are getting ready to leave the house or go to bed.
3. Surge protectors
Sure, this isn't the most exciting home tech product out there, but if it saves your major appliances and electronics from being fried, then it's definitely worth it! We typically think to use surge protectors on outlets where we plug in things like TVs, speakers, and even our phones – but did you know that modern bigger appliances like washers, dryers, and refrigerators now also run on circuit boards that can be fried by surges? It's better to be safe than sorry.
4. Touchless soap dispenser for your kitchen
More than ever, we're being hyper-conscious about washing our hands, and the kitchen is somewhere this happens a lot - whether it's before eating, after bringing in the groceries, or while preparing a meal. Having a handy touchless soap dispenser keeps things more sanitary (one less thing you need to touch with dirty hands) plus it makes life a little easier too.
5. Smart Wi-Fi instant pot
People love instant pots, especially with its slow cooker function. The fact that you can put a bunch of ingredients into a pot and come home hours later to a proper meal is a life-saver for many. However, it also makes many people anxious. The idea of having something hot and running left unmonitored while you are away for hours can be a little nerve-wracking. This is where a smart Wi-Fi pot comes in handy. You get all the perks of a slow cooker with the peace of mind knowing that you can keep an eye on it from afar.
6. Roomba (or other robot vacuum)
Let's be honest, nobody wants to sweep, clean, or dust their floors on a daily basis. But the reality is, most floors could do with a regular cleaning - far more regularly than we'd like to admit. A Roomba robot vacuum could help solve that problem. Of course, they aren't a solve-all; you do need to pick up around your home before you use it (Roombas love to eat cables and shoelaces) and there will be some learning curves in the beginning. However, it definitely makes keeping your floors clean a lot easier.
7. Video doorbell
Most of us don't like going to the door at the best of times, but these days we are even more cautious. Having a video doorbell can be a great addition to your home that can make things more convenient while also acting as a safety feature. You can see (and even speak to!) whoever is coming to your home, keep an eye on any delivered packages (and catch any porch pirates!), or even figure out what weird critter keeps digging up your garden at night.
There are plenty of great tech products for your home to help reduce costs and make life easier - these are just a few recommendations to get started. There are many more options out there, some of which will be more specifically tailored to your personal needs. It's worth taking the time to do some research to see what can best benefit you and your home.


Barry Choi is a Toronto-based personal finance and travel expert who frequently makes media appearances. His blog Money We Have is one of Canada's most trusted sources when it comes to money and travel. As a completely self-taught, do-it-yourself investor with no formal training, he makes money easy to understand for all Canadians. His specialties include personal finance, budget travel, millennial money, credit cards, and trending destinations.
Barry Choi is a paid spokesperson of Sonnet Insurance.
Make sure you're covered with the best insurance plan for your home and auto.