Budget-friendly ways to increase your home's value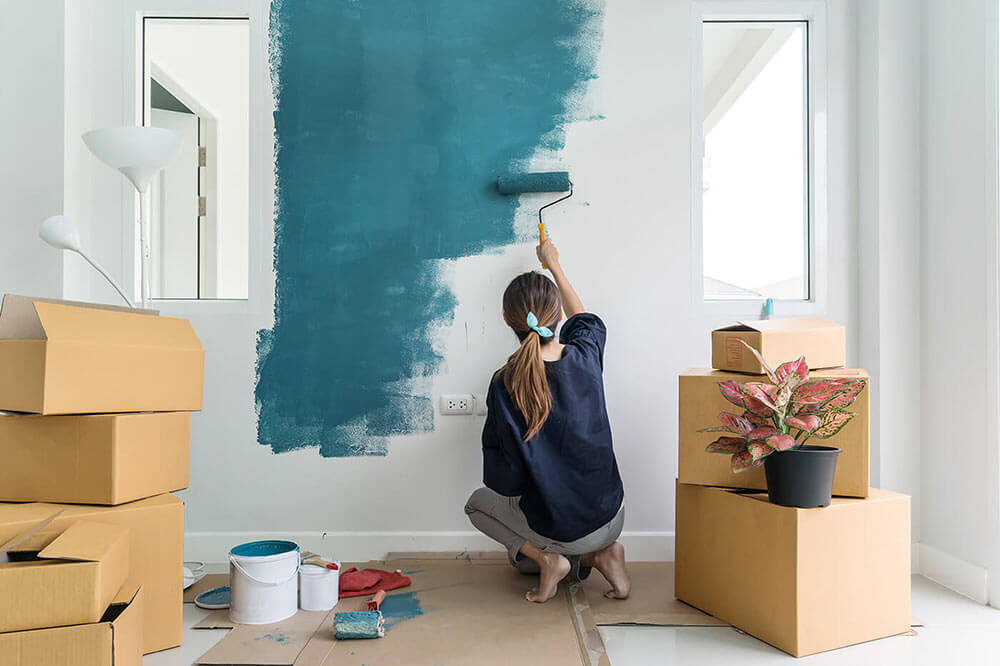 With summer in full swing, many homeowners may be getting ready to sell their homes. Perhaps their families have grown, so they're upgrading to a larger abode. Perhaps they're retirees who want to downsize. Whatever the reason, getting the highest price for your home is every seller's goal.
And buyers are feeling optimistic this year, with 52% saying real estate is one of the best investment options in 2021. So it's even more pertinent that sellers do what they can so their homes stand out amongst the competition.
Here are some budget-friendly ways that sellers can refresh their homes and increase value.
1. Paint: A fresh coat of paint to any room, or even the whole interior of the home, can make a huge difference when selling. The average cost to paint a room yourself is $100 to $300. Avoid harsh colours or patterns; instead, choose a neutral colour, like off-white or light grey. This creates a blank canvas effect, which allows potential buyers to use their imagination so they can create the home of their dreams. The Canadian Paint and Coatings Association offers these additional tips to do it yourself.
2. Clear clutter: Getting rid of clutter is one of the easiest and most cost-effective things home sellers can do. If you have items that you no longer use, donate them. Or go to a discount retailer like the dollar store and purchase storage bins to tuck away items that you won't need until after your move.
3. Light fixtures: If you've got outdated, broken, or otherwise unique light fixtures, you may want to consider replacing them. Again, the goal is to create a clean space for buyers. The cost of a light fixture can be anywhere from $60 for a simple flush mount to upwards of $300 for something more elaborate, like a chandelier.
4. Knobs and handles: Having modern, clean handles and door knobs is a simple way to refresh a room. The cost ranges from $3 to $20 per handle, depending on size and finish. If you're happy with the knobs and handles in your home, check to see if they're loose. If they are, grab a screwdriver and tighten them. This way nothing wobbles when buyers open cabinets, drawers and doors.
5. Staging: The goal of home staging is to create a welcoming space for potential buyers. In fact, 83% of buyers' agents have said staging a home has made it easier for the buyer to visualize the property as their future home. Staging involves hiring a company to redecorate the home, which could include changing light fixtures and furniture, or adding artwork. The cost of an initial consultation ranges from $300 to $500, and the cost to stage ranges from $300 to $600 per room, per month. Sellers may be able to negotiate with their realtor, and ask them to cover some or all of these costs.
6. Curb appeal: The exterior of your home is just as important as the interior. In fact, curb appeal can increase the property's value between 4% and 15%, according to various studies. With summer here, it's the perfect time to add some greenery to your front yard. Consider buying small plants, trees or flowers from your local greenhouse. Average costs can be anywhere from $30 for flowers, to $150 for a small tree. Also, don't forget general maintenance. Trim trees and shrubs, mow your lawn, and clean the roof and gutters.
7. Deep clean: Experts agree that a spotless house can sell faster, and for more. If you don't have the time to do a thorough deep clean yourself, consider hiring a local cleaning company. The average cost for a one-time deep clean is between $200 and $350, and can take from four to eight hours, depending on the size of your home.
Whether sellers decide to use some or all of these tips depends on their budget. Consider which ones are the most important for your property, and be sure to chat with your realtor as you get your home ready for sale.
Suzanne Yar Khan is an independent writer and editor with more than a decade of experience in financial, business and lifestyle publications. In her spare time, she enjoys fiction writing, yoga, travelling and spending time with her family and friends.
Suzanne Yar Khan is a paid spokesperson of Sonnet Insurance.
Make sure you're covered with the best insurance plan for your home and auto.