Design trends for outdoor spaces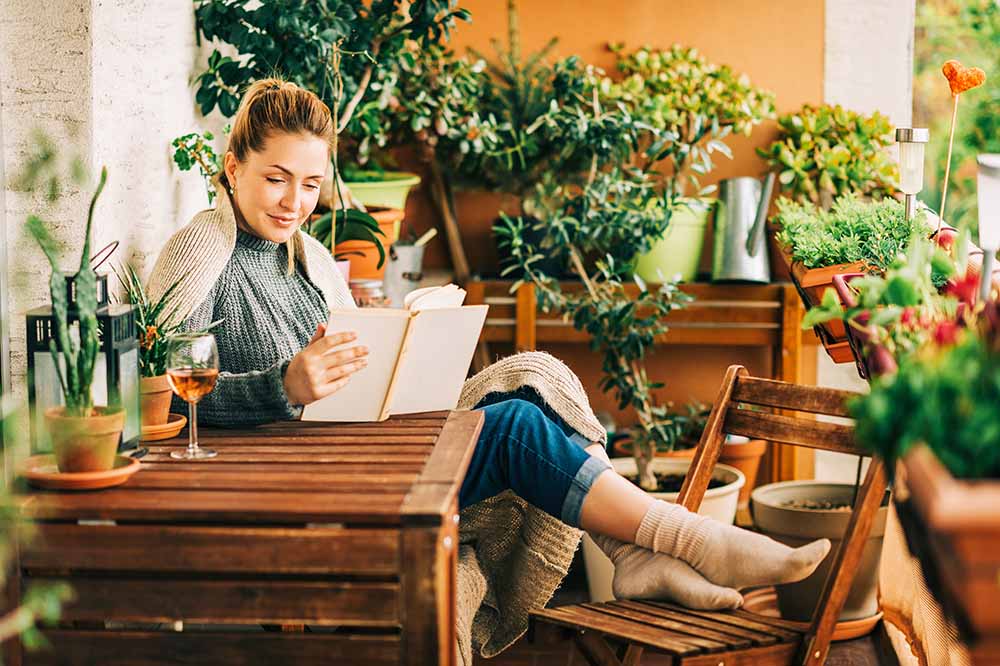 With warm weather finally here, Canadians are ready to spend more time outside. For many of us, that means extended time on our patios and balconies - maybe for a cup of morning coffee, a barbeque dinner, or some cocktails with friends. However you choose to use your outdoor space, here are some fun design trends to keep in mind for the summer season.
Calming colours
Part of why we love being outdoors so much is that nature and fresh air can be incredibly calming and relaxing. Bring that feeling into your outdoor space by choosing colours that reflect these feelings as well. Look for furniture, accessories, and accents in earth tones and soft greens and blues.
Bohemian décor
One of the biggest trends for 2022 outdoor spaces is bohemian décor. Again, stick with the natural and soft colours described above, but also consider adding natural wood pieces and patterned textures for things like throw pillows and outdoor rugs. Other pieces like a hammock, Moroccan pouf, or a hanging egg chair can be fun to add to your space as well.
Plants, plants, plants
Plants have become even more popular since the pandemic as most of us looked to green up our living spaces during the lockdowns, and that trend isn't disappearing anytime soon. Having plants on your patio and balcony is an easy way to add décor without having to go over the top. Think tall, leafy potted plants, succulents hanging from macramé planters, and of course seasonal planters with your favourite flowers to add a pop of colour. Just make sure you choose the right plants based on the amount of light that your outdoor space gets!
Outdoor kitchens
We're used to BBQs on the patio and balcony, but some people are taking it a step further by creating an entire outdoor kitchen space. And why not? After all, there's something romantic about eating outside in at dusk under the glow of twinkling lights. To do this, you will want to ensure that you have a table big enough for a few dinner settings with chairs at a comfortable level for eating. You can also consider outdoor kitchen appliances other than your BBQ such as a mini-fridge or outdoor pizza oven.
Climate control
Who said heating and cooling is just for inside? You can upgrade your outdoor space to enjoy it even more during the season by adding a couple of features to help keep things comfortable. This can include a ceiling fan on your porch or balcony to help kick up a breeze on sticky days. For chillier evenings, consider an outdoor firepit or even heating lamps.
Privacy
Privacy is something we crave at the best of times, so wanting our outdoor spaces to offer a little privacy too is no surprise. Any plants you bring in, especially tall and leafy ones, can help with this. You can also consider privacy screens or even vertical gardens to help.
Work from home space
While many Canadians have gone back to the office, a lot have managed to stick with their work from home habits. Working outdoors on a nice day can bring a pleasant change of scenery, so as you decorate your outdoor space, consider adding in some furniture that will allow you to use your patio or balcony as an office space. This means a quiet spot and strong Wi-Fi connection as well as an outlet for any cords you may need to plug in and, or course, a comfortable set-up that will allow you to work from your laptop.
Mood lighting
Lighting can play a big role in how you feel about a space and can really bring it to life. As you design your balcony or patio for the season, think about what you are going for. Some ideas to consider include twinkle lights, lanterns, and even solar lights.
Sustainable products
Sustainability goes beyond a trend – it's becoming a popular lifestyle that more and more Canadians are trying to adhere to. As you decorate your outdoor space and shop for new furniture, decorations, and more, keep eco-friendliness and sustainability in mind. This could mean upcycled décor and furniture using plastics found from the ocean, or even something as simple as shopping secondhand. Take a look at any vintage shops, flea markets, garage sales, or online market groups and see who is looking to sell (or maybe even give away) items that may be a good fit for your space.
There are so many ways you can get creative with your outdoor spaces and these design trends will help give you some ideas. But remember at the end of the day that it's your space - design and decorate however you see fit!


Hannah Logan is a Canadian travel writer who dreams of being just like Indiana Jones. You can follow her travels on her personal travel blog Eat Sleep Breathe Travel where she shares her travel tales and (mis)adventures around the world.
Hannah Logan is a paid spokesperson of Sonnet Insurance.
Keep your home and auto protected with the right insurance for your needs.