Quick and easy Christmas décor ideas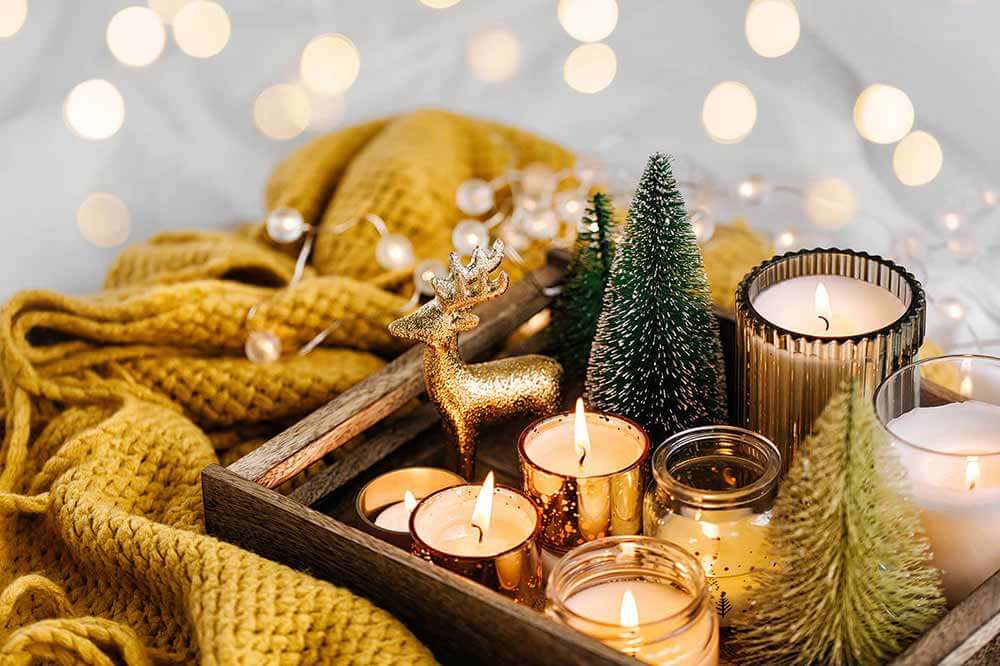 It's the most wonderful time of the year! Christmas music is playing on the radio, children are eagerly deciding what they hope Santa brings them, and your grocery list is full of ingredients needed for those special Christmas-only family recipes. However, to truly get in the mood you also need to get your home ready too. After all, what is Christmas without a tree? Lights? Decorations?
In this article, I'm going to share a few quick and easy DIY Christmas décor ideas that will make your home feel more festive in no time.
Repurpose your vases
If you are someone who loves having flowers around the house, consider filling your vases with something else for the holiday season. You can use them to hold pine boughs or birch branches to add a bit of greenery to your home. This is a fun idea if you have a small living space and don't have room for a Christmas tree. You can then create your own 'mini trees' and hang ornaments and decorations from the branches in your vase. Alternatively, you can also fill them with various items such as decorative Christmas balls, candy canes, or even pinecones.
Fill your lanterns
If you have any decorative lanterns, they look really pretty during this time of year as well. To make things more festive, add some holly leaves or fake snow around the candles (we recommend using the battery operated candles rather than real ones). You can also swap out the candles for strands of twinkling lights, which look great if you also fill the lantern with Christmas balls.
Hang some stockings
Traditionally, stockings hang by the fireplace to be filled with toys and treats. But if you don't have a fireplace, you can still hang stockings on the wall, on bannisters, or even on doors as a fun and easy Christmas decoration. To make it look like Santa already visited, you can fill them up with some festive goodies. Candy canes, sprigs of mistletoe, or even empty boxes or packages wrapped with Christmas paper are all fun and easy to use as stocking fillers.
Make a wreath
Wreaths are one of the most traditional Christmas decorations commonly found on the front door of peoples' homes. Normally, wreaths are made with pine branches and pinecones – and you can absolutely do these types of wreaths on your own. However, if that sounds a bit tricky (and maybe sticky) then you can make a Christmas wreath with other festive items like Christmas balls or even bows and gift wrap. There are plenty of creative DIY wreath ideas and tutorials online!
Paint your own Christmas tree ornaments
If you are a crafty person, or maybe a parent looking for ideas to keep their kids busy and entertained, then why not make your own Christmas tree ornaments? You don't have to spend hours painting or sewing to make fun and festive decorations. Consider something fun and easy – there are lots of simple ideas you can find online.
Fairy lights are always a good idea
Twinkling lights are popular year-round, but there's something really special about seeing them at Christmas. They are fun and elegant at the same time, and just make everything more magical. The trick is figuring out where to put them to best turn your home into a winter wonderland. Try hanging yours around a window, along the bannister of your stairs, and on the mantle of the fireplace to add a touch a sparkle to the main rooms in your home.
Christmas is a magical time of year, and creating your own decorations and ornaments is a fun way to bring out your creativity and add a personal touch. But remember, DIY doesn't mean you have to spend hours on these projects. Don't make it feel like a chore – stick to these quick and easy Christmas décor ideas and you can have a festive-looking home in no time.


Hannah Logan is a Canadian travel writer who dreams of being just like Indiana Jones. You can follow her travels on her personal travel blog Eat Sleep Breathe Travel where she shares her travel tales and (mis)adventures around the world.
Hannah Logan is a paid spokesperson of Sonnet Insurance.
Keep your home and auto protected with the right insurance for your needs.