Easy DIY bathroom upgrades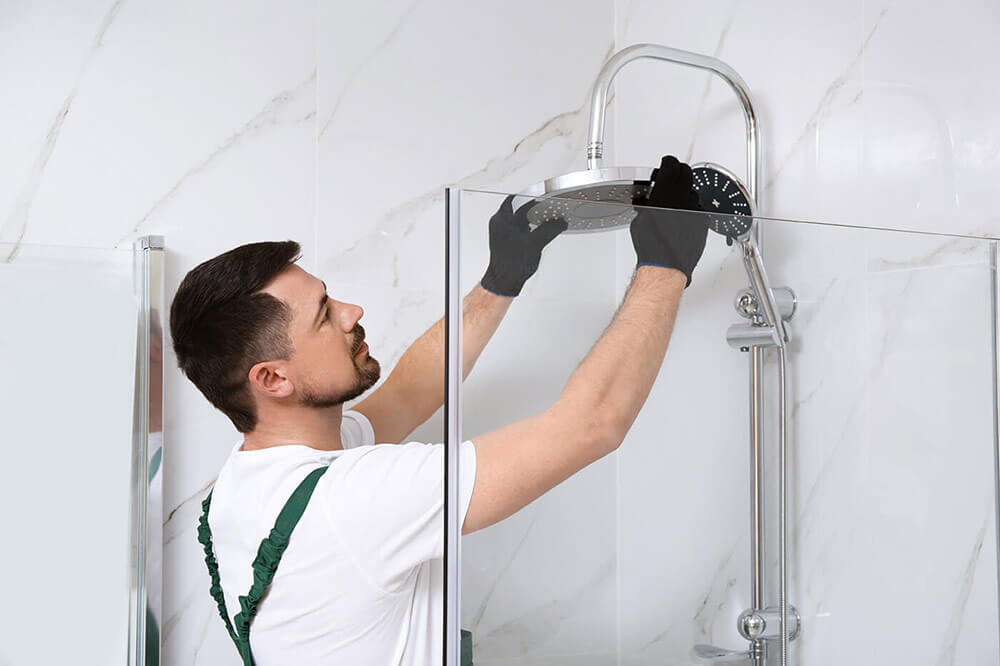 When it comes to the overall look and feel of a home, nothing makes an impression like a sparkling new bathroom or kitchen. These rooms, however, can also be the most expensive to redo, with the cost of tiling, fixtures, countertops and skilled labour potentially pushing the budget out of reach. While you may not able to install the soaker tub and heated marble floors of your dreams, a refreshed bathroom is still possible on a budget with a few easy hacks:
Paint
Just as with every other room in the house (and the exterior, too) there's nothing like a fresh coat of paint to liven up the bathroom. For best results, use a satin-finish or semi-gloss paint, which will be resilient and easy to clean, and be sure to prep the walls before you start. To remove mildew, use a solution of water with a small amount of bleach and a clean sponge.
Cabinet hardware
While simply painting the wooden cabinets and shelves in your bathroom can make a big difference, switching out the hardware can make them look entirely new. The best part? All that's usually required to install new hardware is a screwdriver. If you do decide to paint, make sure to remove your old hardware first, as not doing this may leave gaps when the new hardware is installed.
Shower curtain and towels
If you're looking to change things up with an absolute minimum of effort and expertise, a new shower curtain, a fresh set of linens, and an accent rug could be the answer. A set of woven baskets or canvas storage bins can also help to elevate the look of the room, while keeping clutter in check. All of these things can, of course, also work well in tandem with a new coat of paint, especially if your towels colour-coordinate with the new wall colour.
Film, not tile
If you're someone with good attention to detail, it might be worth exploring the realms of stick-on films to upgrade your existing laminate countertops and tiles. While these do require some precision to install, they can create a convincing look of marble or granite at a fraction of the price. For floors and tiled surfaces, look for waterproof tile stickers that can add colour and energy to room with no tools or expertise required.
Install a new sink faucet
Generally speaking, it's best to leave plumbing to the professionals, but it can be fairly simple to upgrade your sink faucet with a few tools. Just be sure to turn off the water before you start disconnecting pipes!
Upgrade your vanity
A freestanding vanity unit can make a big difference in the overall feel of your bathroom, plus provide useful storage space, and even a second sink. Vanities are often available as one-piece units including a sink (and sometimes a mirror as well), making them relatively simple to install. The trick, of course, is making sure your old vanity is just as easy to remove without requiring any serious demolition. If this isn't an option, installing a new mirror, medicine cabinet or combination unit on the wall could be a simpler and easier alternative.
Wallpaper
Few things in a home's design can be more fun than a powder room covered in quirky wallpaper, and installing it can also be a creative exercise unto itself. While there's a whole world of pre-existing wallpapers to choose from, a fun alternative could be cutting up old atlases, catalogues, fashion magazines or art books and creating a one-of-a-kind collage. The best part about this is you can create a theme around whatever images you love, from 1950s movies to botanical illustrations to travel photos.
Wainscot
In the realm of more involved (but still totally DIY-able) bathroom upgrades, wainscot packs a serious bang for your buck. This method of partially covering walls in wood (or faux wood) paneling can give your bathroom a cozy, antique vibe, and can be installed with a few basic tools and relatively simple preparation.
Clean your grout
Tile grout is one of those necessary evils of bathroom design. It's a magnet for dirt and grime, but it also allows us to enjoy the benefits of tiles. If re-tiling is not an option, a grout cleaning kit can make a world of difference by brightening and refreshing the space between your tiles. Make sure you take a "before" picture, because the results may surprise you!


Jeremy Freed is a freelance writer and editor based in Toronto. His writing about fashion, travel, food and design appears in Sharp, Harry and re:Porter magazines, among many others.
Jeremy Freed is a paid spokesperson of Sonnet Insurance.
Keep your home and auto protected with the right insurance for your needs.