How to weatherproof your outdoor space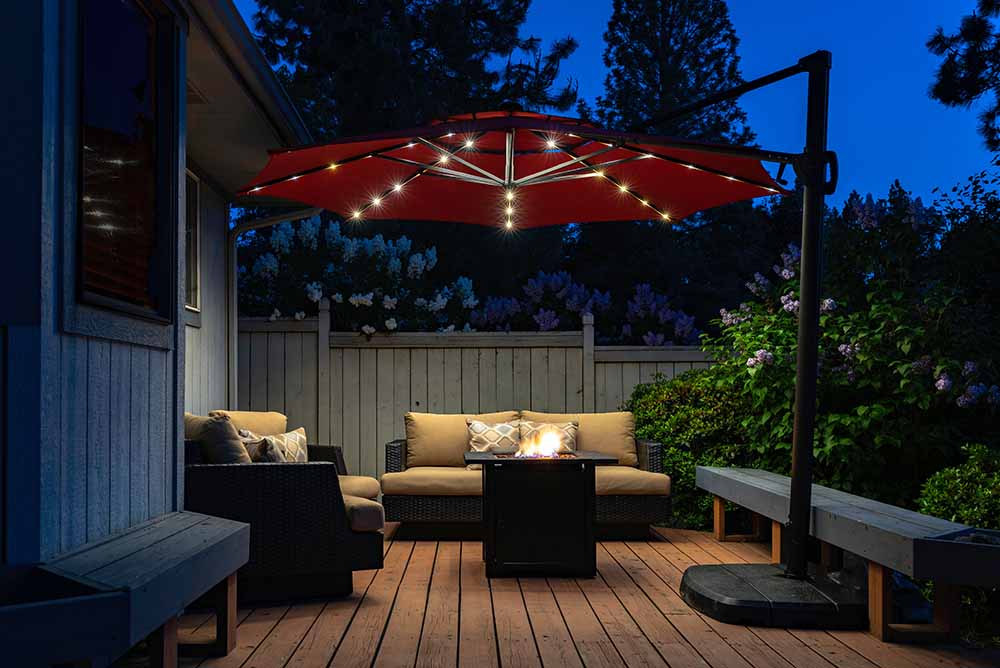 Spending time outdoors means different things to different people, but most of us can agree that having access to a comfortable outdoor space at home is a major plus. Whether you live in a condo with a balcony or a detached home with a big backyard, making the most of any outdoor space in Canada means equipping it to handle the elements. From providing shade in the summer to guarding against rain and snow in the winter, weatherproofing your outdoor space will maximize its usefulness throughout the year. Here are a few easy ways to do it.
Treat your wood
Unless you live in a condo or apartment, chances are you have a deck of some sort (or plan to install one in the future). The vast majority of decks are made from wood, and while that wood is pressure-treated to improve its resilience to rot, there are a few things you can do to make it last longer. The first and most important of these is an annual or semi-annual treatment with a thin layer of a high-quality, mould- and mildew-resistant, waterproof sealant with UV protection. This is also a good idea for wooden outdoor furniture, which can discolour, crack and warp over time if not properly treated. Just be sure to check which sealant or oil is best for the type of wood before you get started. If you're installing a deck, consider using composite boards instead of wood. While they cost more upfront, this material is virtually maintenance-free and will last far longer.
Proper drainage is a must
For those with backyards, it's important to ensure water is flowing away from your house and not pooling anywhere, particularly if you live somewhere that gets a lot of precipitation throughout the year. Not only will puddles and squishy spots get in the way of your backyard bocce games, if these occur close to your house, they can cause flooding. One easy way to treat this problem is by adding flexible extensions to your downspouts, which can channel the water away from low-lying areas and (most importantly) your home's foundation.
Create shade
Summertime is the high season for patios, but blazing summer temperatures mean you'll need to have some shade for those extra hot days. The simplest tactic is a patio umbrella, either as part of a patio set or on its own. Just make sure it comes with a heavy weighted base to ensure it doesn't blow away in summer storms. Also, don't forget to collapse it when not in use - you'd be surprised how far an umbrella can fly in a strong wind! Awnings are another reliable and versatile way to create shade, but since they require installation on the side of your home, they may not be a good solution for all situations.
Add greenery
A backyard full of plants, trees and shrubs doesn't just look nice - it also helps to make your property more comfortable year-round. Trees will provide shade throughout the summer, as well as a home for your neighbourhood birds to roost, and large shrubs can serve as a windbreak. A pergola or a green wall – a wood lattice or wire mesh wall with plants growing in and up its sides – is also a great way to add shade, moderate the temperature, and maintain backyard privacy. If you do choose to go the green wall route, make sure to choose a non-invasive climbing plant that won't spread to other areas of your yard.
Install a heater or fire pit
While there may be no such thing as a truly weatherproof backyard in Canada, there are ways to extend your outdoor season into late fall and early winter. Perhaps the most common way to weatherproof your outdoor space for the chillier months is the addition of a propane heater, as long as you're prepared to pay for a few extra tanks of gas each season. Other options include propane or wood fire pits and chimineas, which are standalone terra cotta fireplaces. Combined with a solid supply of cozy blankets and hot beverages, that's the surest way to enjoy your patio as the weather turns cold.


Jeremy Freed is a freelance writer and editor based in Toronto. His writing about fashion, travel, food and design appears in Sharp, Harry and re:Porter magazines, among many others.
Jeremy Freed is a paid spokesperson of Sonnet Insurance.
Looking for a home and auto insurance quote?