Tips and tricks to make a small room look bigger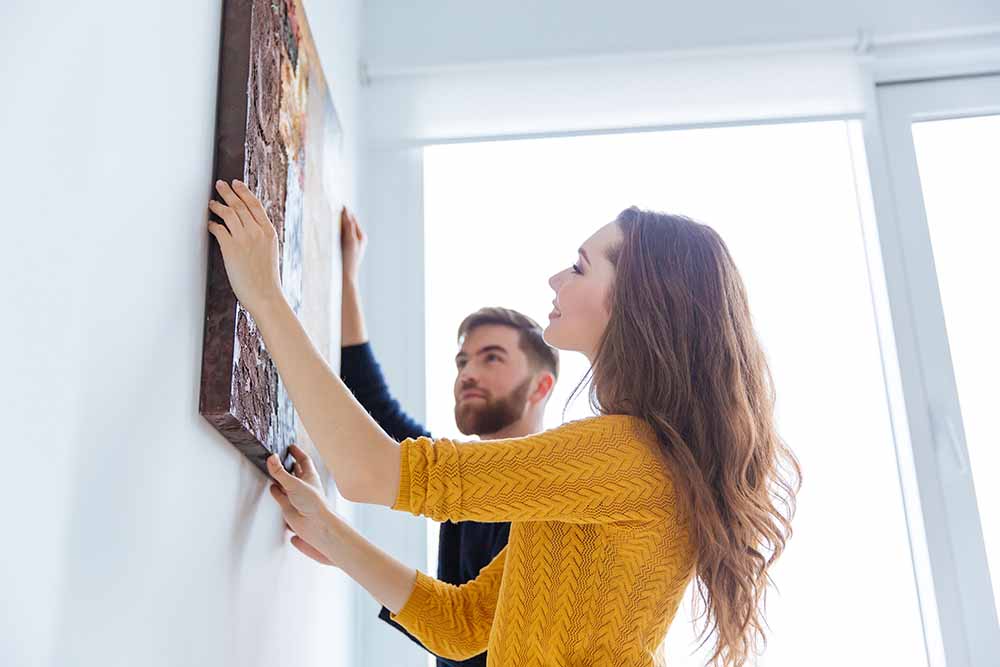 Decorating a room in your home can be a lot of fun, but it can also be pretty tricky, especially when you are working with a small space. You want the space to look finished and complete, but not overcrowded and jumbled - and often finding a happy median between the two can take a bit of practice. If you have a small space in your home that you are looking to decorate and change up, then here are some tips and tricks that will help make your small room look bigger.
Choose white or light-coloured paint
As a rule of thumb, light colours make spaces seem larger while dark colours can make spaces seem smaller and more cramped. White especially is popular because it makes everything appear light and airy, and when the walls and ceilings are the same colour it enhances that effect. That being said, sometimes light-coloured rooms - especially when they're white - can feel colder. In this case, accessorize with warmer tones in your furniture and décor.
Decorate in neutrals
When it comes to furniture, look for pieces in neutral colours to get that open airy feeling. Keep in mind that shades of grey, white and blues will make the room look cooler. If you want a warmer tone, look for browns and tans. Hardwood floors can also add some warmth to a room.
Add vertical furniture and features
Another handy trick to make a room appear larger is to choose furniture or decorative features that draw the eye upwards. As some examples, look to choose a tall cabinet rather than a wide one, or try portrait orientation photos or paintings rather than landscape orientation. Even a tall plant or vertical panelling can help create a more expansive feeling to a small space.
Make smart furniture decisions
Space in small rooms is precious, so choose furniture that allows you to maximize that space and get the most out of it. Consider a bed with built-in drawers underneath for storage, or a storage chest that can double as a coffee table. You can also look at nesting tables or expanding tables that allow the extra parts to be tucked away when they aren't needed.
Keep it bright
Lighting is key in making a room look bigger. As mentioned, light-coloured paint and neutral furniture will do a good job, but adding in extra lighting can also make a big difference. If you are worried about space for things like lamps, then look to install track lighting or pot lights to brighten things up.
Choose solids over prints
For any furnishings in the room, it's in your best interest to choose solid (light or neutral) colours rather than prints, stripes, or patterns. This can include the upholstery on your couch or chairs if it's a sitting room or living space. If it's a bedroom, keep to solid-coloured bedspreads or duvet colours. For a bathroom, choose solid towels and shower curtain.
Don't push furniture up against the walls
This may seem like an odd tip - after all, pushing a chair or couch against the wall creates more space in front. However, that space can be dead space and emphasize how small the room is. Instead, pull any furniture away from the wall as if to give it room to 'breathe'. This feeds into the illusion of keeping things airy, but also gives the room a more comfortable and intimate feel. Think of it this way: If you are watching a movie, you want to be able to easily pass the popcorn!
Add a mirror
Adding a mirror to a small room can be a great trick to make the space appear bigger for two reasons. Firstly, it reflects the light and brightens the space up. Secondly, the reflection can trick the eye to make the space feel more open than it actually is. Get the most out of your mirror by placing it on a darker wall where light doesn't reach so it can catch and reflect light from elsewhere in the room.
Declutter the space
Many people love their decorations and knick-knacks. After all, these little things are part of what turn a house into a home. It's easy to fill up spaces with the little things we love; however, this can make your room look cluttered and cramped. Keep things to a minimum on any flat surfaces, and when it comes to your walls, one larger painting or photograph will work better than several smaller ones.
Be mindful of curtains and/or rugs
Curtains and rugs are common accessories in many rooms of the house, but they might not be the best option in a small room. Not only do they add bulk but they also break things up visually, which will emphasize the small size of the room rather than tricking the eye to make it look bigger. Instead of curtains, look for blinds or shutter-type window closures, and if you decide that you would like a rug, choose a large one that takes up most of the floor.


Hannah Logan is a Canadian travel writer who dreams of being just like Indiana Jones. You can follow her travels on her personal travel blog Eat Sleep Breathe Travel where she shares her travel tales and (mis)adventures around the world.
Hannah Logan is a paid spokesperson of Sonnet Insurance.
Looking for a home and auto insurance quote?