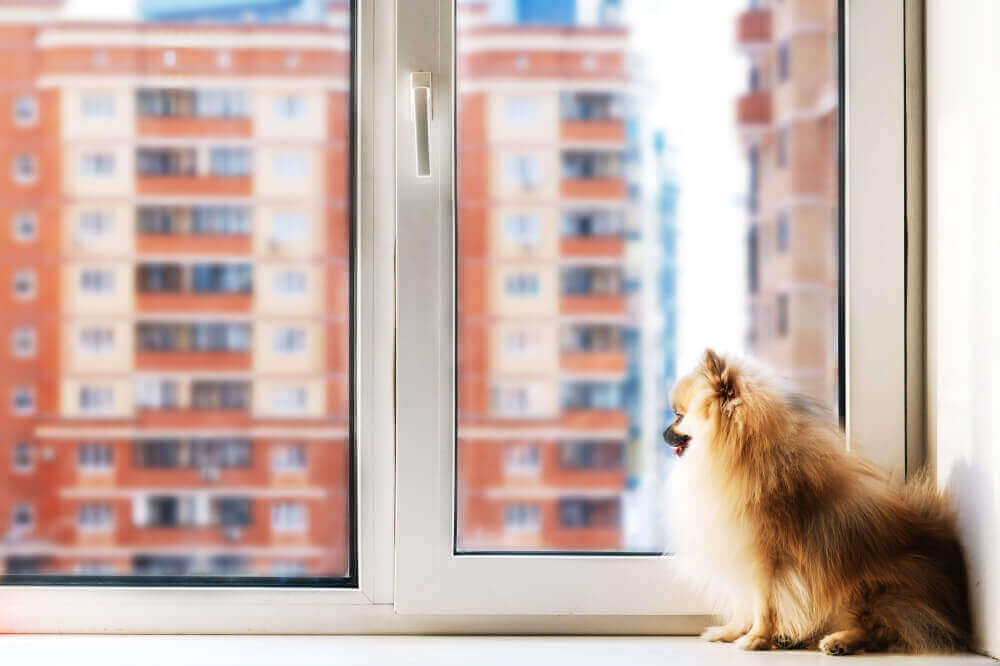 Your pet is your best friend, and you want to give them the best. The best food, best toys and of course the best place to live. No matter how well-behaved your cat or dog is, pet owners know that accidents can happen. If you're a tenant and a pet owner, renters' insurance is a great way to get liability coverage, making it valuable to have for pet owners. Here are some things you should know when renting with pets:
Does renters' insurance cover my pet?
Did your cat scratch your floor's finish while running around at 3am? Or maybe your dog clawed at the door wanting to go outside. Firstly, your renter's insurance could in fact cover pet damage to your property or your landlord's property. It all depends on your policy. We'd recommend that you review your policy to see what is and isn't covered. Just be aware if you do claim minor pet damages, your premium could increase.
Secondly, while most people consider their pets part of their family, they're also considered your 'property'. This means some pet related damage could also fall under your liability insurance which is also part of your renter's insurance. We'll cover more on that below.
How does renters' liability insurance cover my pet?
Most renters' insurance policies provide some form of pet liability. If you own a cat or dog, renters' insurance is a good way to cover any legal risk. If your pet causes injury or damage to someone or their stuff, no matter if it's inside or outside your home, you will generally be protected under the liability coverage your policy provides. Liability coverage could protect against costs related to the incident, up to your policy's limits.
Here are some examples of pet incidents that could be covered by liability insurance:
Your dog bites a visitor while playing, and they need to go to the hospital. But keep in mind that dog bites can be a grey area when it comes to claims. If you have a dog, talk to your insurer about what could happen if it bites someone since not all cases could be covered.
Your cat scratches a guest, and they need medical attention.
Your dog damages the expensive new leather couch at your friend's place.
In the above examples, your pet causes injuries to other people or damages someone else's property (property you don't own).
Did you know? Over 500,000 dog bites happen every year in Canada. The Humane Society of Canada estimates that someone suffers a dog bite every 60 seconds.1
Preventing dog bites is a great way to deal with this risk. Here are some ways pet owners can avoid a biting incident:
Spaying or neutering your dog
Choosing peaceful games that won't encourage aggressive behaviour
Don't stress your dog out with new situations
Avoiding contact with other dogs while on walks
Using the proper restraints to prevent your dog from running loose
Your renter's insurance will only cover your liability claims for things that qualify up to a certain limit, but you'll still be responsible for paying any costs above and beyond your limit. Just be mindful of how bad damages could be and your personal risk tolerance. If your pet is an easy-going cat, the liability risks related are much lower than if you have an aggressive dog. Coverage of up to $1,000,000 may sound like it's a lot, but in some situations, it might not be enough coverage at all.
Heads up! It's a good idea to know exactly what you're covered for with your liability coverage limits. You may need higher limits to cover the legal costs if your dog bites someone.
When doesn't renters' liability insurance cover my pet?
Not all pet-related incidents will be covered by rental insurance liability coverage. Like we mentioned earlier, renters' insurance liability coverage doesn't cover injuries your pet causes to you. Renters insurance also doesn't cover any of your pet's health costs, you'll need to buy pet insurance for that. Remember, pet liability coverage is not pet insurance. Pet insurance is a separate health plan for your pet. If you are considering pet insurance for your furry friend, you can read up on what it does and doesn't cover.
What's the difference between pet insurance and liability insurance?
Pet insurance is health insurance that can help lower the expensive costs of vet bills. It's usually offered to dogs and cats.
Most pet insurance plans cover:
Illnesses
Injuries
Tests
Medications
Surgeries
Exam fees
Emergency care
Renters' liability insurance only covers injuries and damages your pet causes to someone else or their property.
Are there any pets that are not covered by renters' liability insurance?
There may be some pets that are not covered by renters' liability insurance. There are some pets that do have a reputation of being more dangerous and are considered higher risk which may not be covered. You know your pet and their behaviour, but your insurer doesn't. So, they rely on statistics. Make sure to double check your policy if you are considering a more aggressive type of pet. If you do end up making a claim and haven't disclosed your pet, your claim could be denied, and your policy canceled. It's always best to get the right coverage before something happens.
Are you a pet owner who is currently renting or thinking about renting a place to live? We know your pet is part of your family. So, find the best place you can for you and them to live. It's good to note that renters' insurance may not be mandatory in the province you live in. It is a good idea for every renter to invest in. Especially if you have a pet.
Buy tenant insurance if you're renting in Ontario
Dog bites and your insurance coverage