Curb appeal before the flowers have sprung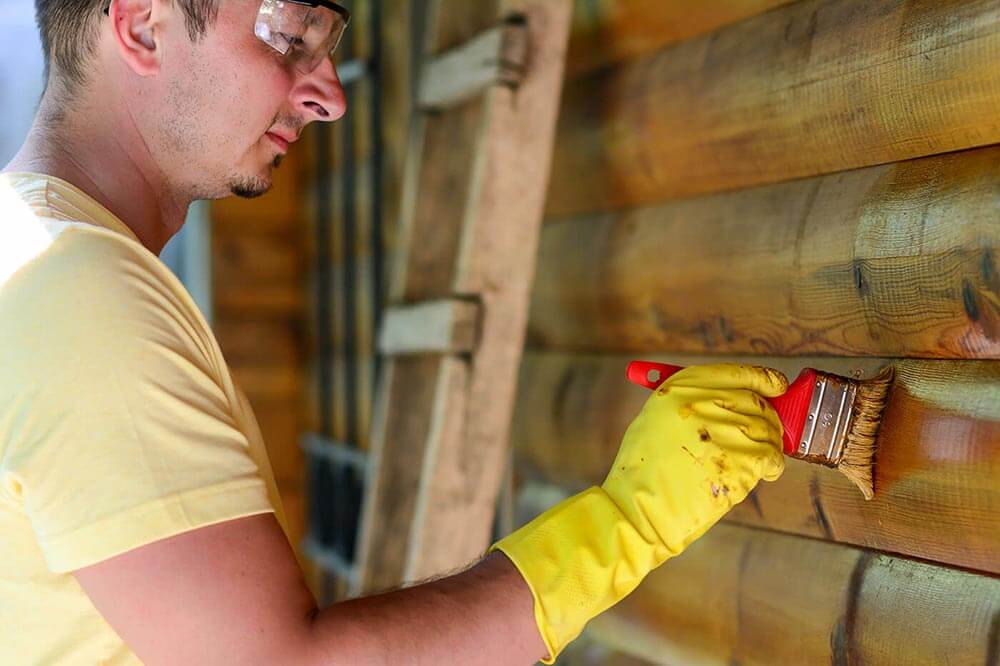 With a few west coast exceptions, virtually everywhere in Canada is prone to winters that seemingly never end. It can be late April, and another storm hits! If you're planning on selling your home in the spring, combatting Mother Nature might be battle you can't win. If curb appeal is what you desperately need and the weather gods don't seem to be listening to your prayers, there's still lots of ways to add a pop to your home before the leaves and warmer temperatures make their arrival!
Though many exterior paints are formulated to be used in near-freezing temperatures, this might not be the most practical course of action if your home needs a bit of a lift. But, you still can add some quick outdoor improvement to your place by simply cleaning shutters, trim, and gutters. Over the counter products like CLR, or even a 50/50 blend of water and ammonia, can quickly remove any dirt and grime which has accumulated and return surfaces to a "like new" finish. These same mixtures can also be used on painted fences. But whatever you do, do NOT pull out the power washer! They are for walkways, driveways, and patio decks only. A power washer on the side of a home can do damage to siding, roofing and more - not to mention that a sudden weather shift could turn your place into an igloo. Don't pull out the power washer for those other jobs until you are guaranteed several days of warmer weather.
As for other exterior features, windor shutters in poor condition can be removed and repainted indoors, or simply replaced. And when it comes to your front door, sometimes an entire replacement door painted in a bold colour can be just the statement your home needs.
Just because the garden is still a bit dormant doesn't mean that you can't add some greenery to the front of your house. Consider a quick trip to your local garden centre – large planter boxes for your porch are available in many places year round, though the selection may be a little spottier in early spring. Hardy flowers like snowdrops, pansies, or winter honeysuckle are excellent choices to fill those planters with, and will add that element of spring greenery that might be lacking.
New lighting can also make a world of difference. Is that front porch light looking tired? Now's the time to replace it - and you might even consider adding lighting to your front walkway or driveway if you don't have it already. Potential buyers don't only drive by your home during daylight hours, and it still gets dark early in early spring. Pretty front lighting can create just the look you want.
Now that we've covered the standards, it's time to get creative! How about a new mailbox? Sure, many Canadian homes now rely on superboxes for the mail, but that doesn't mean that you don't still get some things delivered to the house. A new mailbox by the front door can be inexpensive, colourful, and creative. If your local big box hardware store doesn't have anything that sparks joy, consider moving your search online. Then there's your address itself - those numbers can be replaced! Depending on the style of your home, you can go modern, antique, funky, or something in between. You'd be surprised at what an impact new front door numbers can make.
One of my favourite ways to add street appeal to a home when the weather is an issue is to install a flag. Angled flagpoles are easily attached to the side of a home or garage, and they are inexpensive to purchase. I put one at the front of my last home and the idea caught on! By Canada Day, half of my block had done the same thing, which was a nice touch.
If the snow and ice persists, the smartest move you can make is to keep your walkway and driveway clear at all times. If time is an issue for you, consider hiring a snow removal service. A freshly shovelled sidewalk, driveway and front porch shows care and pride of ownership. It's a great first impression, and given our unpredictable Canadian winters, a safe way to get that prospective buyer in your front door!


Sarah Daniels is a top selling realtor in Greater Vancouver, who has been licensed since 2003. She appears regularly as a real estate expert on shows like "The Marilyn Denis Show on CTV", as well as local radio and television. Sarah has written two books; "Welcome Home: Insider Secrets to Buying or Selling Your Property" and "Buying and Selling A Home For Canadians For Dummies". She also developed and co-hosted the show "Urban Suburban" on HGTV Canada. She works at Macdonald Realty Ltd., in White Rock, BC.
Sarah Daniels is a paid spokesperson of Sonnet Insurance.
Looking for a home and auto insurance quote?