Sustainable home and auto maintenance tips to start doing now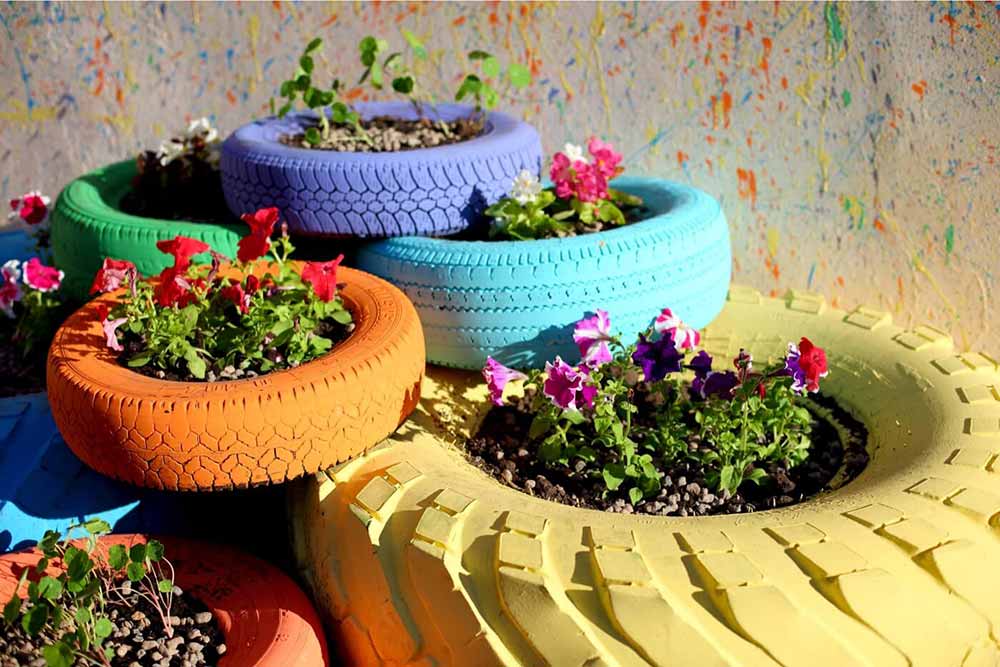 Springtime means home renovations and car maintenance. You don't have to spend a lot of money to make sustainable choices. It can be tricky not knowing where to start. But even small actions can help reduce your carbon footprint. Together, we can make a positive impact on the planet.
Here are some sustainability tips for at home and on the road:
Sustainable home updates
Sustainability is much more than just a buzzword. We all have the ability to make smarter choices that can positively affect the environment. Starting at home, there are many environmentally friendly upgrades that you can do.
Low-cost eco-friendly home improvements:
Reduce your energy consumption by switching to LED light bulbs
Repaint using zero volatile organic compound (VOC) paint (eco-friendly paint)
Fix air leaks by adding fresh caulking around windows or weather stripping around doors
Add window coverings to reduce room temperature to reduce the use of the air conditioner
Switch to a low-flow showerhead which can save many liters of water
Shop used or consider restoration. Look for secondhand appliances that otherwise might end up in landfill or sometimes a simple fix is all that's needed to make something good as new again.
Mid-cost eco-friendly home improvements:
Install a smart home thermostat to reduce your hydro bill
Add ceiling fans that can circulate warm air in the winter and cool air in the summer
Install a low-flush toilet to reduce water usage
Choose ENERGY STAR-certified appliances to reduce greenhouse gas emissions, electricity and water use
Update your bathroom fan which helps to remove moisture in the air and avoid mold problems
Add trees, shrubs and plants to your backyard to increase curb appeal and help improve the air quality
Higher investment eco-friendly home improvements:
Update your windows and doors for better insulation which will reduce utility bills
Purchase an ENERGY STAR-certified water heater – if you rent or own an older model, a newer model will help to reduce your electricity bill
Upgrade your HVAC system with a new ENERGY STAR-certified model – this is an investment that will help you save money in the long term
Add solar panels if you receive plenty of sunlight for off the grid electricity
Choose non-toxic flooring – consider FSC certified flooring which ensures the flooring has been sustainably produced and manufactured
Insulate your pipes to reduce energy loss and to prevent pipes from bursting which can cause expensive damage
Did you know? The Canadian government has programs and incentives that help Canadians consume less energy and save money. In Ontario, you could qualify for a rebate if you have an eco-roof, smart thermostats and more. Learn more about the provincial financial incentives.
Claims that can have an environmentally-friendly outcome
In the event of a home insurance claim, your insurer could cover the costs to replace insured property with environmentally friendly or energy efficient products. At Sonnet, we acknowledge going-green efforts – we can cover costs up to the limits on your policy to replace your old stuff.
Sustainable auto updates
Electric and hybrid vehicles are obvious examples of sustainability within the auto industry. However, there are simple ways that can help the environment when driving. From ride-sharing to safer driving habits, here are some tips to be more eco-conscious with your vehicle.
Easy eco-friendly driving tips:
Fill under-inflated tired which helps your vehicle to be more fuel efficient
Remove unnecessary extra weight from your car to improve mileage
Reduce the use of A/C to reduce greenhouse gas emissions
Drive smarter and obey the speed limit – aggressive driving wastes gas and it's unsafe for everyone
Carpool – check within your work and local carshare sites to find someone who might be travelling in the same direction as you
Use a waterless car wash – avoid wasting excessive amounts of a precious resource, water
Whenever possible, walk, bike, or run to your destination and avoid jumping in your car
Higher investment eco-friendly vehicle upgrades
If you're shopping for a new vehicle, consider an electric or hybrid vehicle – the federal government offers point-of-sale incentives of $2,000-$5,000 for consumers.
Tip: Sign up to become a member with FLO, a proud partner of Sonnet, and get free access to over 15,500 electric vehicle public charging stations across Canada. Plus, as a FLO member, you qualify for an exclusive discount on home and auto insurance with Sonnet.
Springtime is often the time for home renovations and car maintenance. Keep these handy tips in mind when doing your spring clean. The earth will thank you for it!