How to update your house without blowing your budget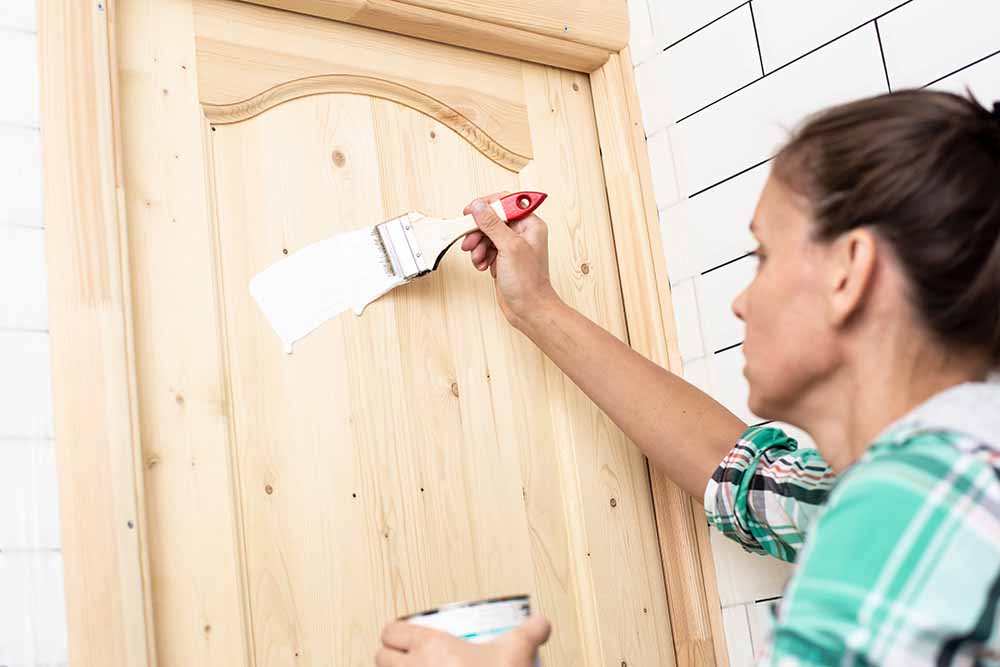 One of the best things about owning a home is having the ability to make it your own by decorating and renovating. Unfortunately, like everything to do with home ownership, renovations can be costly (not to mention disruptive and drawn out). If your budget doesn't have room for a major renovation right now, however, that doesn't mean you can't still spruce up your place on the cheap. Try one of the easy hacks below to upgrade your space without blowing your budget.
Paint the walls
A fresh coat of paint can make a huge difference and is more than worth the hassle of moving furniture, covering the floor and taping off the baseboards. Whether you do it yourself or hire a pro, opt for light, neutral colours that will have more longevity than darker or bolder hues, particularly in the bathroom and kitchen. If you are itching for a bit more colour, try an accent wall which is both easier to do than painting the entire room - and easier to undo if you get tired of it.
Paint the front door
Nothing says curb appeal like a cheerful, brightly painted front door, and fortunately, this is among the easier painting tasks to DIY. Just make sure to do it when the weather isn't too windy or rainy, and make a plan to cover the door opening for the better part of a day, as you'll need to have the door off its hinges to paint it.
Change your cabinet hardware
Old, ugly drawer pulls and cabinet handles can have an outsized impact on kitchens and bathrooms, but you don't need to live with ones you don't like. Since most hardware attaches with a simple screw, they're easy to remove and replace with new ones. You'll be amazed at the difference it makes – whether or not you decide to paint all the cabinets, too.
Change out your switch plates and outlet covers
Some vintage details give your home character, while others simply make it look dated. Old, yellowed or chipped switch-plate and outlet covers are definitely in the latter category, but fortunately, they're a snap to replace with crisp clean new ones.
Add moulding
Crown moulding is one of those things that adds a ton of character to a space without taking up much room. They're also extremely easy to install if you opt for modern foam mouldings, which can be cut without a mitre saw.
Change your light fixtures
Electrical jobs can be intimidating, and while you definitely need a professional for many of them, replacing old light fixtures is something anyone can do. The only crucial thing to remember here is to turn off the power to the fixture before you get started.
Add a shiplap accent wall
Shiplap – those white vertical boards that call to mind beach houses and summertime – are one of the trendiest accents in home decor these days, but adding a shiplap accent wall to your rec room or dining room doesn't have to mean bringing in an expert. Modern shiplap panels easily snap together and fix to the wall with nails, meaning you can install your accent wall in as little as a single weekend with a few tools and a little prep.
Remove popcorn ceilings
Popcorn ceilings are as ubiquitous as they are generally unpopular, but luckily they're also fairly easy to remedy with a little preparation and the right equipment. If your house was built pre-1970, the first thing you'll need to do is ensure the ceiling is free of asbestos. Once you have the all-clear, scraping off the popcorn can be done in a few hours with a wet-dry vac and a drywall scraper.
Swap out your showerhead
For a piece of hardware that you rely on every day, a showerhead might not be something that you think about often. But after installing a wide, powerful, rainfall showerhead, you might wonder why it took you so long to clue in. Not only does a new shower head make for a major improvement in your morning routine, but it's also almost as easy to install as screwing in a light bulb. Just don't be surprised if you end up spending more time in the shower.


Jeremy Freed is a freelance writer and editor based in Toronto. His writing about fashion, travel, food and design appears in Sharp, Harry and re:Porter magazines, among many others.
Jeremy Freed is a paid spokesperson of Sonnet Insurance.
Looking for a home and auto insurance quote?