Things every renter should know about tenant insurance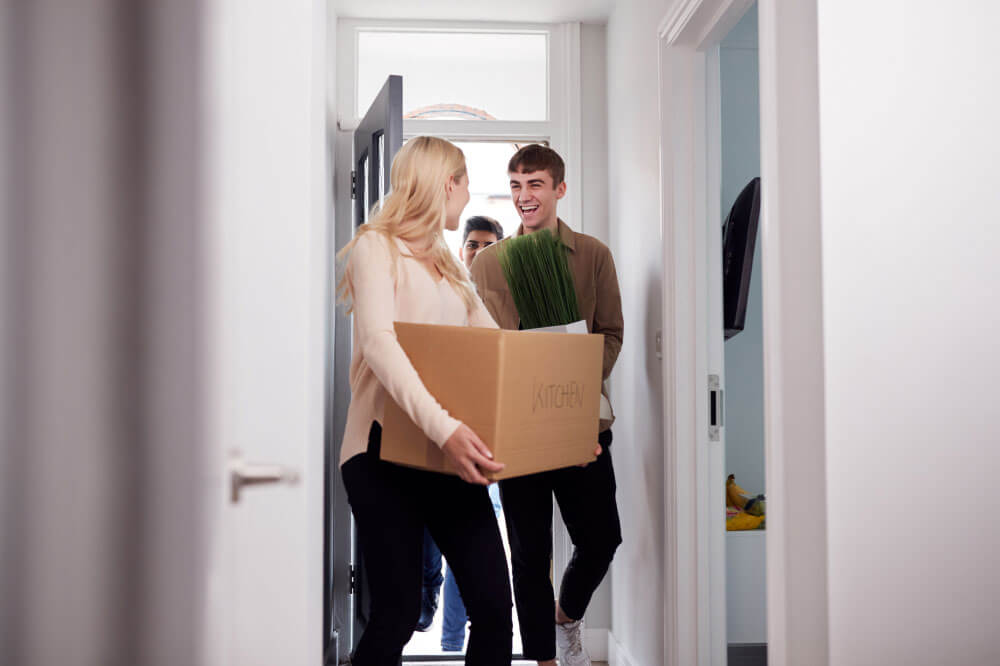 Whether you rent a house or an apartment – you need to have tenant insurance. Even though you don't actually own the unit, you have personal items that you'll want to be protected in case of things like a fire, or theft. Here are some common questions and answers about tenant insurance to review if you're currently renting or about to sign a lease.
Who is responsible for building insurance, the landlord or the tenant?
A landlord is responsible for having landlord insurance to cover the building they own and rent out – not the tenant. When it comes to ownership of property, as a tenant you need insurance to cover only what you own (your furniture, clothes, and the rest of your stuff) if something happens, like a house fire.
Heads up! If you're thinking that you'll be protected under your landlord or condo building's policy – think again. Landlords and condo corporations each have their own insurance that cover different things. Neither of these insurance policies will protect your personal items. We can't stress it enough, renters insurance is worth it – even if your lease doesn't require you to have it.
Can I get evicted for not having renters insurance?
In short, the answer is no. Renters insurance isn't required by law so you can't be evicted for not having it. But a landlord can require a tenant to have insurance as part of the lease agreement. In this case, you do have to have it, but it must be clearly stated in the lease and agreed upon by both parties.
Fun fact! Quebec has a national moving day that dates to the 17th century! The tradition started when the government made it illegal for landlords to evict their tenants in the middle of winter. Quebec made May 1st the day when legal agreements such as leases, could expire. The day was later changed to July 1st so kids wouldn't have to skip school to help their parents move.
Can a landlord require a tenant to list them as a "beneficiary" on the renters insurance?
No. Adding a beneficiary isn't even an option for any type of property (renters, landlord, home, or condo) or auto insurance policy.
Sometimes a landlord will ask to be added as an additional interest or additional named insured on the rental insurance policy. Your tenant insurance covers your stuff and your liability. A landlord has their own insurance to cover their property and their own liability and they can't make a claim on your renters insurance.
This is why it's so important that a landlord has landlord insurance, and a renter has renters insurance. It's a win-win when both parties are protected.
Can my landlord ask for proof of insurance?
Your landlord could ask you to provide proof of tenant insurance if it's part of your lease agreement. But you might not want to share all policy details with your landlord (nor do you have to). If you're a renter and you need to show proof of insurance to your landlord, you can easily get a one-page certificate (sometimes called a Certificate of Insurance) from your insurer that doesn't include all policy specifics. It'll only include high-level information they need to see like your name, address, and coverage details.
TIP! Sonnet customers can easily log in to their account and download their Proof of Insurance (this is specifically for third parties such as a landlord) or a Policy Summary (this includes extra coverage details for your reference).
How important is renters insurance when you don't own that much stuff?
Even though you may not own a lot of material things, renters insurance is still critical. It can protect you in ways you never knew you needed, like theft when travelling or incidents such as your dog biting someone.
Consider this scenario – what if the building you live in burnt to the ground and you only have the clothes on your back? If you didn't have renters insurance, you'd have to find a way to replace your clothing, furniture and all the other stuff you own. Even if the most expensive things you own are a laptop and a cellphone, could you afford to replace them if they were damaged or stolen tomorrow? Plus, you'd have to figure out short-term living arrangements. Think about how much a hotel will cost if you need to stay there while they rebuild your building, or while you find a new place to live. What about the expense of having to eat out at restaurants for three meals a day? All these things add up, making it very expensive when paying out-of-pocket. With tenant insurance, you can have peace of mind knowing assistance could be available if something like this happens.
So, no matter how much (or how little) you own, you'll want tenant insurance to help cover the costs in a worst-case scenario.
What is renter's liability insurance?
Renter's liability – also known as personal liability coverage – is standard coverage on a renters insurance policy. You'll be thankful for having this coverage in the event that you're sued for covered claims .
Picture either of these situations. You unintentionally break a bystander's nose with a ball while you're golfing in Florida, and then you're sued for the medical costs. Or if you live in a high-rise apartment and you accidentally let your tub overflow and it damages the unit below. In both these scenarios, this is where liability coverage could protect you. After all, you never know when the unexpected can happen.
Can I get renters insurance online?
Yes, you can easily get renters insurance online. With Sonnet, just follow this step-by-step guide and you can get renters insurance online (no need to call) in minutes. Plus, you could save if you're eligible for discounts like Canadian University Alumni (for graduates and students) or if you're a member of eligible groups or associations!
Have more questions about tenant insurance? Here are a few more of our top FAQs.
How do you calculate the cost of tenant insurance?
Does renters insurance cover theft outside the home?
Can you get renters insurance without a lease?
I want to list my apartment on Airbnb. Will my renters insurance cover it?
What if I'm renting with other people – can I add my roommate?
Rent is expensive, but tenant insurance is pretty affordable. Plus, not having it just isn't worth the risk. Don't believe the myths about tenant insurance. Rest easy knowing that you're fully protected with the right insurance coverage. Have more questions? Get in touch with us via email or chat – we're here to help.
Protect the things you love most.