What happens after you file a home insurance claim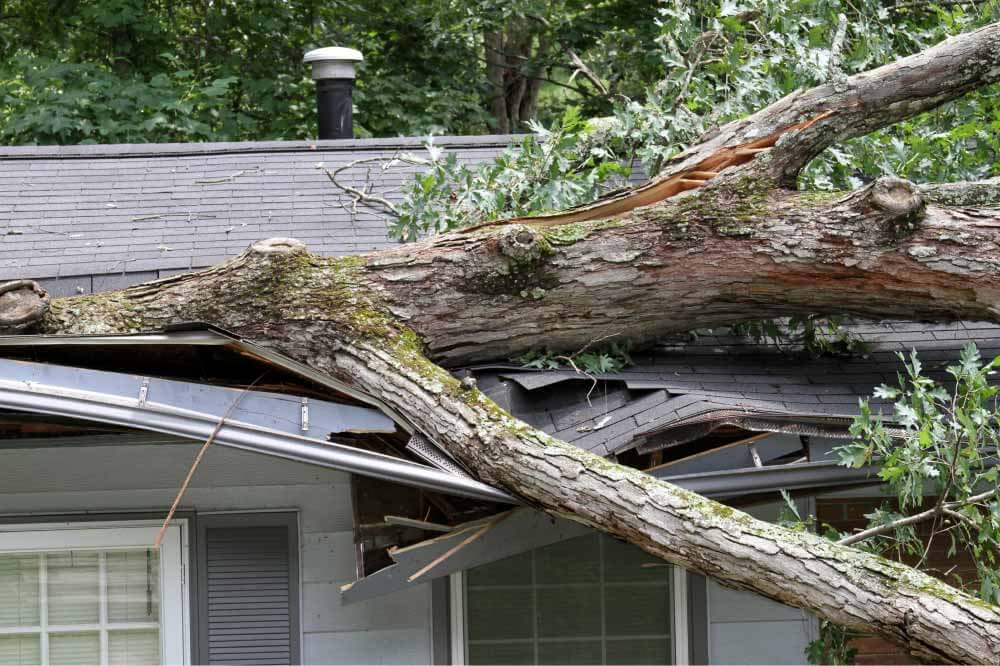 There could be a million reasons why you might have to make a home, condo or tenant insurance claim. Whether Mother Nature wreaked havoc on your roof, your prized possessions were stolen, or your sewer's backed up and wrecked your brand-new basement movie room, thankfully you have home insurance.
What happens after you've file a home insurance claim? We're not going to lie – the process isn't a one-size-fits-all. Dealing with a property loss can be frustrating, time consuming, and overwhelming if you don't know what to expect. Which is why we want to help you understand the process with a brief overview of the post-claim steps, so you can be prepared.
Heads up! In general, home insurance rates are increasing due to climate change, higher cost of building materials, and increased home values. According to the Insurance Bureau of Canada, in 2020 Canadian P&C insurers paid out $42.4 billion in claims.
Is there a timeframe on when to submit a claim?
The timeframe on when you can submit a claim will depend on the provider but keep in mind that the insured has a requirement to notify the insurer as soon as safely possible. It's best to check your policy's terms and conditions for the time limit.
Did you know? Sonnet has claims professionals ready to help you 24/7. Just log in to your account online and then give us a call. You'll be in good hands.
What's the process after making a home insurance claim?
The process after making a home insurance claim will look a little different for everyone depending on the situation and your insurer. The spotlight is on your insurance company to shine. Once you've been assigned a claims adjuster, they should be there for you every step of the way. They're the experts, and it's their job to provide guidance and support. Here's typically what will happen after making a home insurance claim:
First, your Claims Specialist will contact you to review the circumstances of the loss. They'll start by thoroughly reviewing your policy to make sure you have the proper coverage for the type of loss you've experienced. They'll also want to examine the evidence either through site inspection or by way of photographs, receipts, and inventory of your belongings. It should be noted that a site inspection might be required to determine if coverage exists.
Depending on the type of damage, the Claims Specialist may put together a team of experts (an adjuster, appraiser, contractor, engineer, contents specialist, etc.) to review the extent of damage and potential cost of repair. If it's an emergency, they'll most likely arrange for immediate emergency repairs and/or potentially accommodation if your policy includes this.
Then, next steps for repairs and reconstruction will be determined. At this stage, the Claims Specialist will offer you settlement based on the estimate, or you may select a contractor of your choice to complete the repairs.
After all the repairs are completed and the claim has been paid for (minus your deductible, if applicable), your claim will be closed. Depending on the claim and/or insurer, claims can be paid via etransfer to the policy holder (but specific scenarios apply), cheque, or directly to the contractor.
Heads up! Keep all receipts and invoices for additional living expenses after your loss. You may be eligible to get these extra costs reimbursed by your insurer.
Where can I find trustworthy contractors for my home?
Since insurance companies often deal with contractors for claims, they often have a list of vetted professionals. If you use the recommended professionals, there might be a claims guarantee period for any work done by preferred partners. Plus, you'll most likely save time and money.
But if you have a contractor in mind, often insurers are fine with this. Double check to make sure the tradesperson you hire is licensed in your province and approved by your insurer.
It's also best practice to get the scope of the job in writing before the work starts. Both you and the contractor should sign a contract that's been agreed on to avoid any potential discrepancies. Also, it's wise to touch base with your adjuster if the scope of the project changes from original estimate to determine if it will affect your claim. Unexpected work is common when it comes to home repairs, so it's helpful to have a good working relationship with the tradesperson.
What happens if a claim is denied?
When an unforeseen event happens and you have to file a home insurance claim, you expect everything to be covered. But here's where we deliver some not-so-great news – just because you've filed a claim doesn't mean it's going to be approved. After a full investigation, an insurance company can refuse to reimburse you or repair the damage, or they might not offer the full payment to cover what's happened. This means you are responsible for paying the bill (or what's left unpaid). If you feel that this is unjustified, you have the option to dispute the decision.
But just because a claim is denied doesn't necessarily mean you should jump right into a dispute. It could've been for the very simple reason that you didn't have the optional coverage on your policy – like if your basement floods and you don't have coverage for sewer backup and/or overland water.
Here are a few more reasons a claim could be denied:
Your insurance company deems your loss 'suspicious'
Your loss is excluded by a specific policy exclusion
You breached the conditions of your policy
If the situation smells of insurance fraud, not only will your claim be dismissed, but you could also face criminal prosecution charges. Never provide false information, create non-existent injuries, or exaggerate the extent of the damage. Not only should you be honest and upfront with your insurer, you'll want to make sure that any vendors you use aren't taking advantage of the situation.
What if the claim denial was unjustified?
If you think a claim denial was unjustified, there are a few things you could do to investigate beyond the interactions with your insurer. First, double check to make sure your home insurance policy had the coverage that the claim would fall under. If you didn't have a specific coverage, then there's not much you can do other than pay for the damages yourself.
If you still think your claim should've been approved then you could try contacting the General Insurance Ombudsman Service, which is a Canadian third-party service that deals with insurance complaints free of charge. If that doesn't work, then you also have the option to contact a lawyer for their advice. However, there are no guarantees with either of these routes.
TIP: Unsure of which coverages to add to your policy? Here's some tips on how much home insurance coverage you might need.
If a claim is denied, does my premium go up?
Your premium could be impacted whether your claim is denied or not – it depends on various factors. Many insurance companies offer first claim forgiveness, after all, life happens. If your premium does increase, it won't take effect until your policy renewal. You'll be notified well in advance of any changes before the renewal date.
Did you know? You could start saving now by switching to Sonnet. Don't wait until renewal. Use our cancellation calculator to find out how much you could save.
How much will my premium go up after a home insurance claim?
The amount your home insurance premium could increase after a home insurance claim depends on a number of factors such as:
Your claims history
Your address (insurance companies want to know the likelihood of certain risks in your area)
Homeowners insurance rates are likely to go up after a claim because you're statistically more likely to file another claim in the future. For example, if you experience water damage, even though you had the problem fixed, there's still a possibility it could happen again. But keep in mind, it's unlikely to be a permanent rate hike. Most carriers look at your loss history from the last five years – but this varies between home insurance providers. On the other hand, depending on your provider, if it's your second or third claim within five years, your policy could result in a nonrenewal.
It's always a good idea to review your home insurance policy before an the unexpected happens, so you know what you're covered for and what you're not. If you have any questions about your home policy, be sure to reach out to your insurer. Finding out your basement's flooded or seeing a tree fall on top of your roof are both stressful situations. So, knowing what the steps are after you've submitted a claim will help streamline the process and help get you back on track.
Protect your home and the things you love most.