Best hiking trails in Québec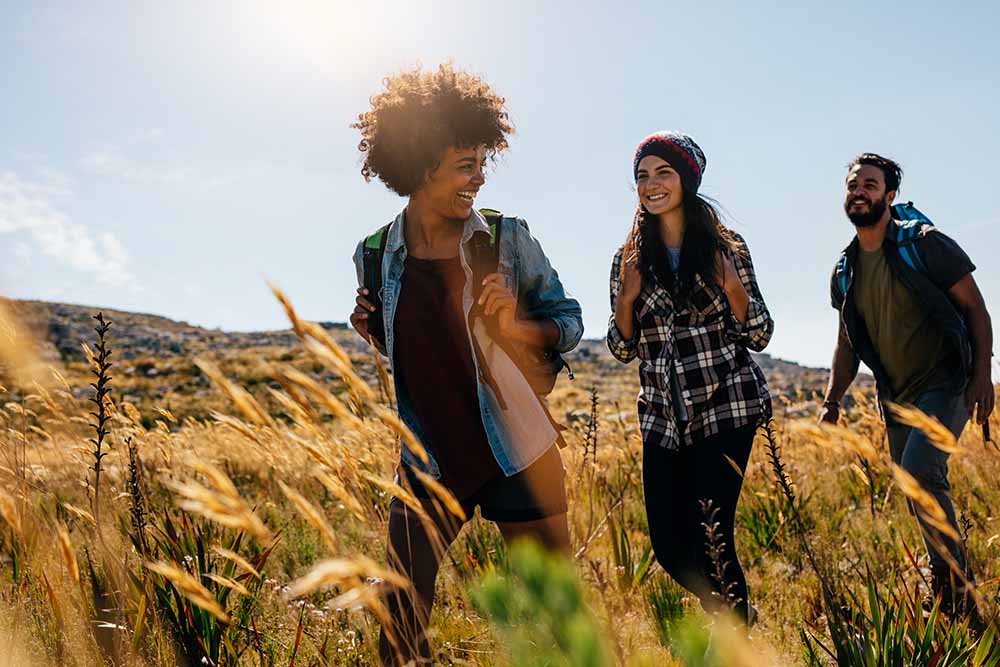 Ready to explore the great outdoors? One of the perks of living in Canada is that you don't need to go too far to do so. All of Canada's provinces and territories have their own unique features and attractions, and that includes Québec. With its varied landscape that includes glacial valleys, vast forests, lakes, hills, and coastlines, there's so much to see and explore. If you're ready to explore this province, here are 5 of the best hiking trails in Québec.
Tip: Before you load up your car and head to one of these hiking trails, are you sure that your vehicle is properly protected? Get your free auto insurance quote now.
Mount Royal Loop, Montréal
Located just outside of Montréal, Mount Royal Loop offers a relatively easy hike with some incredible views overlooking the skyline of the city. The loop is located within Mount Royal Park which has free entrance (but you do need to pay for parking). During the summer months, you can hike and bike the trails and paths. In the winter, you can also snowshoe or cross-country ski – though if you are visiting during the winter months, note some of the trails are closed off for safety reasons.
If you want to do the entire loop, it's 8.4km long and takes, on average, about 2 hours and 15 minutes to complete. The trail is considered to be easy and appropriate for hikers of all levels, including those exploring with children.
Mont Saint-Alban
Mont Saint-Alban is a 7.8km loop located in Forillon National Park, Gaspé. The route is considered to be moderate and takes on average 3 hours to complete. The trail starts at a beach, and is well-marked and easy to follow with some inclines as you head up through the forest. At the top, you will find an observation tower towering 283 meters high offering 360-degree views of the ocean, cliffs, and surrounding forest.
The trail is best visited from spring to fall, and can get busy on weekends since it is considered to be one of the best hiking trails in Québec. However, it makes this list for a reason: the panoramic views are magnificent.
Acropole des Draveurs
Next on our list of the best hikes in Québec is the Acropole des Draveurs. This hike is considered to be a challenging route and stretches 10.6km with 885m in elevation gain. It takes most people 4-6 hours to hike, and since there is only one way up and down, it can get quite busy - especially if you are visiting during holidays or on the weekend.
Visitors who would like to do this hike have to park at the Visitor Centre (there is a parking fee) and then take a bus which will take you to the trailhead. From here you follow the route - which is a combination of stairs and trail - to the very top, where you will be rewarded with breathtaking views. While you may get warm during the hike, make sure you pack some layers too as the top in the open wind can get quite chilly! Also, note that this trail is seasonal and may be closed in poor weather conditions.
Montmorency Falls Park
Just outside of Québec City is one of the area's top attractions, Montmorency Falls. This cascading waterfall is a popular place to visit and is surrounded by a few smaller falls as well. The area offers well-maintained trails combining sections with stairs and bridges to create a 4.7km out-and-back type trail that gives you the best views of the falls.
The trail is relatively easy, as long as you are okay climbing lots of stairs, and can be family-friendly as well. Note that it is a seasonal route that does close during the winter months due to dangerous and icy conditions. Given that Montmorency Falls is a main attraction for visitors to Québec City, it can get quite busy, especially on weekends. That being said, this trail is well-loved and appreciated for the surrounding scenery and views.
Traversée de Charlevoix
The Traversée de Charlevoix offers 105km of trail through the North Shore of the Saint Lawrence River and into the Laurentian Mountains. This area is called the Charlevoix Biosphere Reserve and is recognized as a UNESCO World Heritage Site. It's also part of the Trans-Canada trail, which makes it a fun addition to our list of the best hiking trails in Québec.
The Traversée de Charlevoix is open to hikers, mountain bikers, cross-country skiers, and snowshoers depending on the season in which you visit. Note that some parts of the trails are reserved for different activities for a better experience, so make sure to refer to the maps ahead of time to know which routes to use based on your activity. You will need to plan a couple of days for this hike, and it's considered to be quite difficult with many steep inclines and an elevation gain of 2,682 meters. Trails are well-marked and there are a number of rustic cabins or huts along the trail for hikers.
Happy hiking!


Hannah Logan is a Canadian travel writer who dreams of being just like Indiana Jones. You can follow her travels on her personal travel blog Eat Sleep Breathe Travel where she shares her travel tales and (mis)adventures around the world.
Hannah Logan is a paid spokesperson of Sonnet Insurance.
Keep your home and auto protected with the right insurance for your needs.