Places to visit in Canada if you're looking for adventure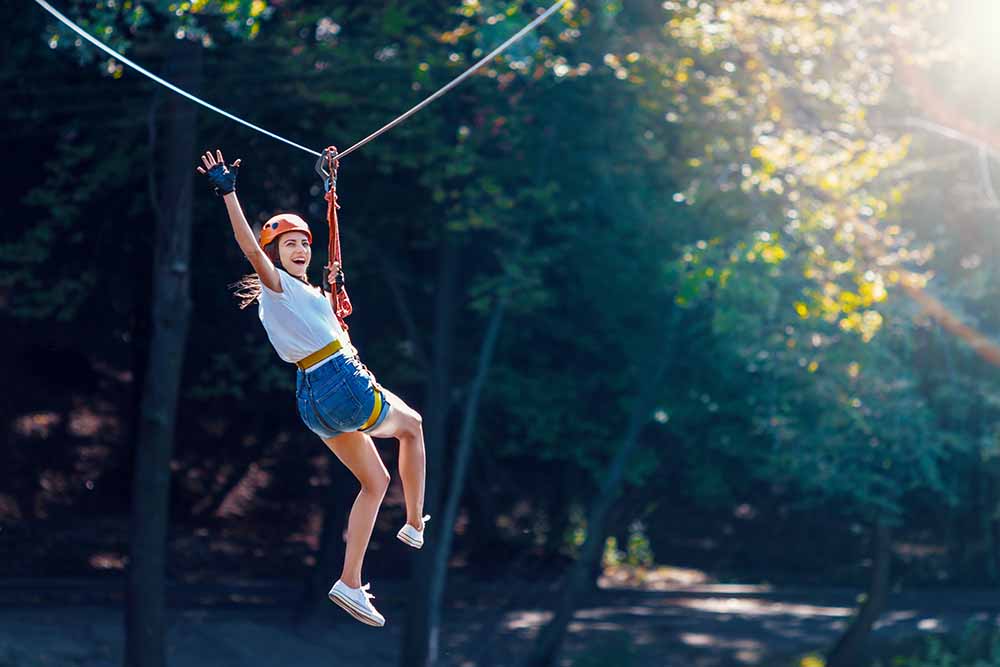 If you're looking for adventure within Canada, you won't be disappointed. From ziplining to dog sledding, there are thrilling experiences to be had across the country. Don't worry about the season or where you're travelling to, as many locations offer year-round experiences. Here's just a few to check out.
Whistler, British Columbia
Although Whistler may be known for its mountains and epic ski runs, the city offers a wide variety of options for all adventure-hunters.
During the summer, biking is the thing to do. The mountain bike park draws mountain bikers from around the world since it offers excellent downhill biking conditions. Don't worry about your experience level - Whistler offers four mountain zones, green trails, technical double blacks, & jump trails. Plus, they have instructors that can show you the ins and outs of the sport.
Another thrill ride to try out is bungee jumping. While bungee jumping is nothing new, in Whistler, it's a year-round experience where you'll be leaping from above the glacial-fed Cheakamus River for a 50-metre drop. If you can manage to keep your eyes open during the fall, you're guaranteed some spectacular views.
If you're looking for something that requires no experience but is high on adventure, consider a zipline tour through the mountains. Not only will you be able to see Whistler from a different vantage point, but you'll also learn about the ecology and wildlife. Some areas that you'll glide over include old-growth trees, spectacular creeks, valleys, and mountains.
For those looking for a unique experience, why not slide down the world's fastest ice track in a bobsleigh? This venue is the same track used as part of the 2010 Olympic Winter Games. It is open to the public, but it's also an active training and competition site. Don't worry, you won't slide down solo. Instead, you'll ride in a 4-person bobsled that's steered by a trained pilot. You'll go through 10 twists, hit speeds of over 125 kilometres an hour and feel the acceleration of up to 4 G-forces.
Québec
Throughout the province of Québec, you can dogsled, which is a long-standing mode of transportation for northern Indigenous people. Alaskan du Nord is a dogsledding outpost in Fjord-du-Saguenay National Park and home to a playful pack of 50 Alaskan dogs. You can ride for a few hours or take a full-day excursion while participating in Indigenous cultural activities. There's also the Tanwen Pack in Québec's Outaouais, where you'll travel across the magnificent hills of the Petite-Nation close to the wild forest around the beautiful Lac-Simon. You can choose to drive your own team or ride as a passenger with a guide.
Anyone looking to get on the water can chart a course on the St. Lawrence River. Ohana is Montréal's newest sailing school, founded by Simon Duplantie, who spent years living and sailing in the Caribbean. Regardless of your experience, you'll get a pirate sailing lesson with a well-trained crew and a fleet of spectacular sailboats. This experience offers a different perspective of Montreal as you take in the views of the Old Port and the islands of the Hochelaga Archipelago.
Why not get off the beaten track and hop on a quad bike to traverse the maritime region of Gaspésie? With more than 2,500 kilometres of marked trails, adventure-seekers will have no problem getting their fix. You'll come across logging roads, scenic countryside, the peninsula over the St Lawrence River, the Chic-Choc Mountains, and more throughout your ride. There's even a long-distance ATV tour where you'll ride through local towns and villages. This is where you'll rest, refuel, and sample the local cuisine.
Nova Scotia
Nova Scotia doesn't immediately come to mind for many people when it comes to adventure, but the province has a lot to offer. Tidal bore rafting is a rush as you ride waves that can get up to 4 metres - think of it as a water rollercoaster on the Bay of Fundy and Shubenacadie River. After you cascade down rapids and traverse incoming ocean flows, you can slide down the clay-mud river banks. Yes, you'll get dirty, but that's the point.
Nova Scotia has also become a globally recognized surf destination. It has perfect waves and warmer waters throughout the summer. These are ideal conditions for those new to the sport and looking to take things easy. That said, larger waves are found at point breaks across the province throughout the fall, winter, and spring, so experienced surfers can also enjoy the conditions. Surf shops that provide rentals and lessons are located throughout the province, so all you need to do is show up.


Barry Choi is a Toronto-based personal finance and travel expert who frequently makes media appearances. His blog Money We Have is one of Canada's most trusted sources when it comes to money and travel. As a completely self-taught, do-it-yourself investor with no formal training, he makes money easy to understand for all Canadians. His specialties include personal finance, budget travel, millennial money, credit cards, and trending destinations.
Barry Choi is a paid spokesperson of Sonnet Insurance.
Looking for a home and auto insurance quote?