10 eco-friendly Halloween ideas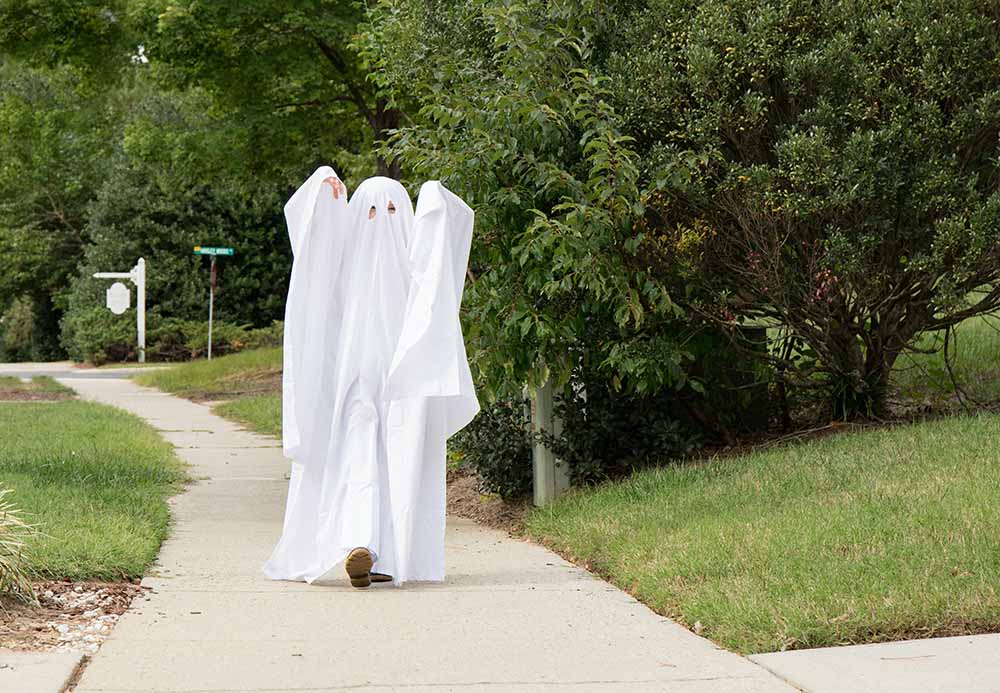 It's spooky season! While witches, vampires, and ghosts are meant to be scary, the toll that this holiday takes on the environment is not. From costumes to decorations, here are 10 ways to have an eco-friendly Halloween.
1. DIY costumes
One of the easiest ways to have an eco-friendly Halloween is to create a DIY costume using things you already have around the home. The clothing industry is one of the world's biggest polluters, and when you consider that most people only wear a Halloween costume once, well, that certainly doesn't help the problem. So this year, get creative and come up with a costume based on the clothing that you already own. The environment and your wallet will thank you!
Need some inspiration?
· Here are some DIY costume ideas for kids
· Here are some DIY costume ideas for adults
Don't think you are artsy or creative enough? Remember, an old white bedsheet makes for a very good ghost!
2. Be mindful of your face paint and makeup
An important part of many Halloween costumes is face paint or makeup. But did you know that many Halloween makeup products contain toxic metals such as nickel, cobalt, and even lead? Not only do you not want these going down your drain at night, but you probably don't want them on your skin either. When shopping for face paint and makeup to go with your costume, look for clean, green brands and products.
3. Use the pumpkin guts
Most people just scoop out the pumpkin guts and seeds when carving jack-o-lanterns, but if you buy a pie or sugar pumpkin you can keep the insides to make pumpkin pie, muffins, bread, and more!
Also, don't forget that pumpkin seeds make a great snack. Most people roast them with a bit of salt. You can then eat them on your own or toss them into a salad.
4. Dispose of your pumpkin properly
Whatever type of pumpkin you get, don't just throw it into the trash when you are finished with it (or what remains of it). If you have a compost bin, you can compost it; if you have a green bin for garbage collection, you can put it there. You could also check with any local farms that may take them for animal snacks.
5. Use beeswax candles
When it's time to light your jack-o-lantern (or any other Halloween decorations), stick to beeswax candles. Beeswax candles are significantly more environmentally friendly than any other type of candle, as they burn clean without releasing any toxins in the air. There is no chemical process involved in making them, and they are completely biodegradable.
6. Shop for secondhand décor or supplies
If you need to pick up some add-ons for your costume or are looking for decorations to add to your home, consider shopping for secondhand items. You can visit secondhand shops, ask family or friends if they are getting rid of anything, check garage sales, or even look at what's available online.
7. Consider the candy
Candy is a huge part of Halloween, but all those plastic wrappers of individual chocolate bars can add up to a lot of trash – not to mention that some candy and chocolate is more ethical than others. Instead, choose items with minimal plastic wrapping, or wrapped in cardboard instead of plastic, and consider spending a little extra for fair-trade treats with ingredients that you know are ethically sourced.
8. Ditch plastic pumpkin buckets
Speaking of chocolate and candy, kids need something to collect it in. Sure, the little plastic buckets decorated as a skeleton head or pumpkin are cute, but they are typically made of flimsy materials that can crack or break pretty easily. Instead, opt for a reusable bag like the type you use at grocery stores, or even a pillowcase. Not only can these options be easily reused, but they also tend to be bigger – which means more candy!
9. Stay local
When it comes to trick-or-treating, kids like to cover as much ground as possible - but having everyone hop in their vehicles to drive around neighbourhoods on the quest for more candy is pretty terrible for the environment. Instead, stick to areas where you can walk or bike to easily. If you do need to travel by vehicle, consider carpooling with another family.
10. Encourage eco-friendly celebrations
One of the best things you can do when it comes to being green and eco-friendly is to encourage others to do the same. When it comes to Halloween, this can be pretty easy. If you throw a party, give it a "DIY costume" theme. Get some kids together to create their own Halloween decorations with craft supplies you had at home. If you need a few fun kid-friendly ideas, check these out:
· Toilet paper roll bats
· Pumpkin suncatchers
· Ghost garland
· Tissue box monsters
Happy Halloween!


Hannah Logan is a Canadian travel writer who dreams of being just like Indiana Jones. You can follow her travels on her personal travel blog Eat Sleep Breathe Travel where she shares her travel tales and (mis)adventures around the world.
Hannah Logan is a paid spokesperson of Sonnet Insurance.
Make sure you're covered with the best insurance plan for your home and auto.