5 ways to use the things around you to get active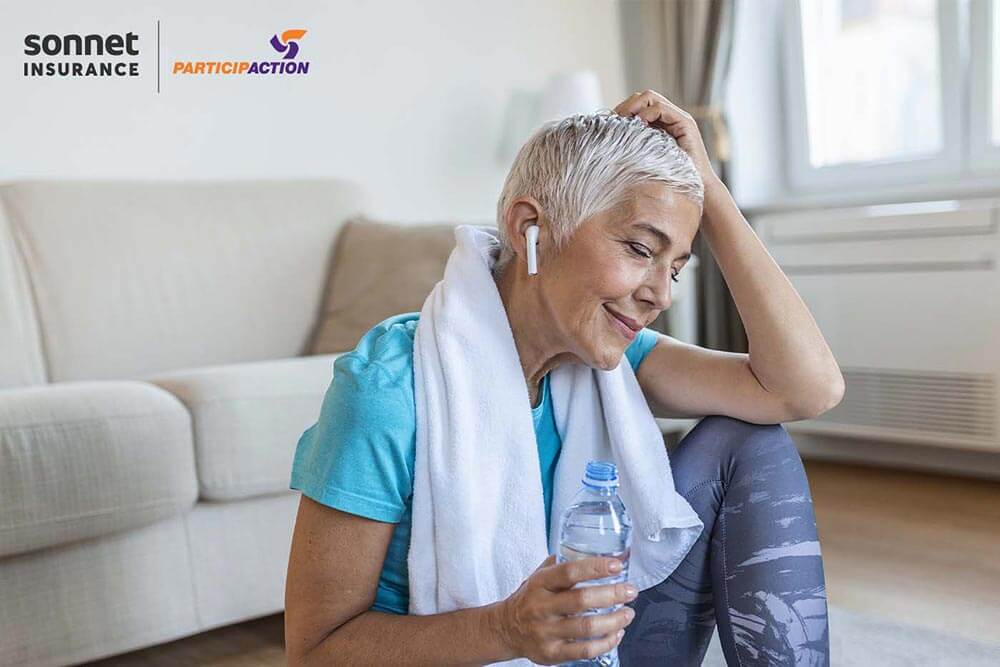 This article is part of a series in collaboration with ParticipACTION. Discover how "Everything gets better when you get active!"

No weights? No gym? No problem. You don't need expensive or cumbersome exercise equipment to build muscle or elevate your heart rate. All you really need is a little imagination. Many of us would be surprised to learn just how many everyday items in our homes – even our pantries – can do double-duty as barbells and kettlebells, hand weights and resistance bands.
The benefits of getting our heart rate up on a regular basis can't be underestimated. Regular physical activity positively affects every aspect of our health and wellbeing. It makes us happier and more energetic, and it supports a healthy immune system. It helps us Laugh Better, Love Better and Heal Better.
Canada's 24-Hour Movement Guidelines advises adults between the ages of 18-64 to get ~20 minutes of moderate-to-vigorous physical activity each day (or a total of 150 minutes each week). Discover how easily you can meet this weekly recommendation by using things you would find in and around your home!
Stairs
Stairs will definitely help you get your heart rate up – almost as well as a jog or brisk walk. Walk up the stairs for a good cardio/leg workout or run up them to increase the effort – if you're feeling spry you can even take them two at a time.
A wall
A wall provides great support for a range of body-weight exercises. Work on your leg strength by performing a wall-sit or develop your upper body and core strength by performing a wall push-up (a great way to build your push-up strength, by the way). Looking to improve posture? Try performing a wall angel (download the ParticipACTION app to see how to perform a wall-angel). Looking to relieve tension from your lower back? Lay on your back with your legs up against the wall. It's soothing and calming and can be a great post-activity posture.
A chair
Perform step-ups using the seat of a stable chair (make sure it won't move around on you) or work your core with a series of seated twists or seated scissor kicks.
Soup cans
Who needs a set of light hand weights when you've got a can of tomato soup and canned black beans just waiting to be picked up? Soup and perishable cans make great hand weights at about a pound a piece. Carry them while you do light lunges and squats or perform biceps and triceps curls.
Bag of flour
A bag of flour – or two – will give you just enough weight to up the ante on many classic body weight movements, particularly lower body strengtheners like squats, lunges or over-head presses. Just be sure to wrap the bags in plastic before you get moving to prevent spillage.
A laundry detergent bottle
Forget adding a kettlebell to your online shopping cart. A good-sized laundry bottle (a regular two-litre bottle is about two kilograms) will do the trick, too. Work your arm and leg muscles in a variety of poses with it, performing everything from kettle bell swings to weighted lunges and squats.


Hand towel
Don't have a resistance band? Add a hand towel to the mix. Once pulled taut between your hands, a hand towel offers good resistance for arm exercises or core work (T-shirts and sweatshirts also do the trick).
Paper or plastic plates
Spice up body-weight exercises with a paper or plastic plate. Place it under your feet or hands during lunges, burpees, and/or mountain climbers and you add resistance to your routine by creating friction! Applying downward force, while sliding on hardwood flooring or carpet, will dramatically increasing resistance, and your workout.
Sonnet and ParticipACTION have a commercial marketing partnership.
Keep your home and auto protected with the right insurance for your needs.