6 ways to get active as a family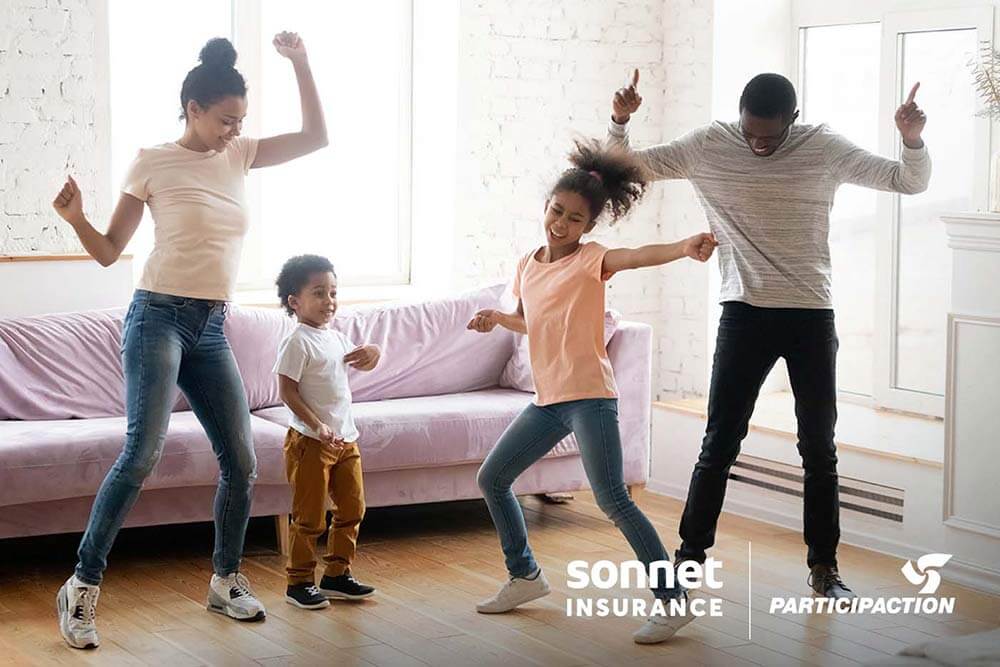 This article is part of a series in collaboration with ParticipACTION. Discover how "Everything gets better when you get active!"

The positive benefits of physical activity don't just extend to you and me – they also affect the health and wellbeing of the people we love most, too. By making family time active time, you keep the family unit strong, in all the ways that count.
Both kids and adults need to engage in daily physical activity as a function of their overall wellbeing. Kids should be aiming for 60 minutes of moderate-to-physical activity every day. Canada's Physical Activity Guidelines for Adults encourages individuals between the ages of 18-64 to get around 20-30 minutes of moderate-to-vigorous physical activity each day, or 150 minutes each week.
Both groups are struggling to meet these recommendations, however. The ParticipACTION Report Card on Physical Activity for Children and Youth found that Canadian kids aren't getting enough daily physical activity, particularly during COVID-19 restrictions. Only about 4.8 % of kids (ages 5-11) and youth (12-17) were meeting the 24-hour movement behaviour guidelines during this time.
Adults aren't faring that much better. The ParticipACTION Report Card on Physical Activity for Adults found that only about 16% of adults meet the national recommendation of 150 minutes of moderate-to-vigorous physical activity each week.
That the majority of kids are spending less time outdoors and less time engaged in movement can have a ripple effect on their overall health and wellbeing. Too much screen time and excessive sedentary activity can negatively impact everything from a child's sleep duration and quality to their emotional and psychological wellbeing. The same negative effects hold true for adults, which only bolsters the case for making getting moving each day a family affair.
You don't need to splash out on a big outdoor adventure to make a dent in your family's activity levels. All you really need is to make it a part of your everyday life together. Here are six ways to get active as a family:
1. Be a role model
Adults that make time for physical activity act as good role models for kids, and contribute to their activity levels by example. Don't underestimate what your kids get from seeing you move regularly: research suggests that there is a correlation between parental physical activity and kids' activity levels. Engage in 20 minutes of moderate-to-vigorous physical activity, and you add about five minutes of the same activity to your kids' daily life.
2. Schedule it
Many families live by the weekly schedule as a way to keep work, school, extracurricular activities, and even meals on track. Setting aside a specific day or time for joint activity could help ensure your family hits its weekly exercise target. If you've settled on Sunday afternoon as your group movement time every wek, be sure to switch it up every once in a while. One week take a hike, the next hit the park for a game of frisbee. It doesn't really matter how you spend the time just as long as you move your bodies and have fun. Don't be afraid of letting the kids decide, too – they should also feel in control of how they choose to move.
3. Think fast and fun
There's no need to shock your family's systems by enforcing a rigidly timed approach to daily activity. Teach your kids to crave physical activity by making it fun and fast. Turn up the music for a dance party before dinnertime or up the stakes by competing in a silly dance contest. A post-dinner walk around the block or timed park play before bed is a great way to tire out kids and parents too. Here, adults would be wise to take their activity cues from kids, who intuitively know how to have a good time. If that means playing a game of outdoor tag or hide and seek, then so be it. Movement should feel like play, not punishment.
4. Leave the car in park
Pump up the bike tires, bring the scooters up from the basement, or dig out your rollerblades. There are a number of safe, active ways to get around town, all of which can be powered by you and your family.
5. Stock up on balls, ropes, etc.
Frisbees, badminton nets, baseball gloves, volleyball nets, soccer balls, footballs – the list of sports equipment just waiting to be tossed around is endless, and so are the opportunities for having fun. You don't always need a backyard to make use of them, either. Local parks or off-season playing fields and golf courses provide plenty of greenspace for drills, games, and playing catch.
6. Plant a garden or develop an outdoor hobby
Physical activity takes many forms. If you want to encourage your kids to enjoy more outdoor time, consider planting a garden and make the maintenance and care a family responsibility. Alternatively, splash out on some inexpensive binoculars and a field guide to bird of North America, and let your kids discover a hobby like birding.


Sonnet and ParticipACTION have a commercial marketing partnership.
Looking for a home and auto insurance quote?