Active transportation: Think beyond the commute to work or school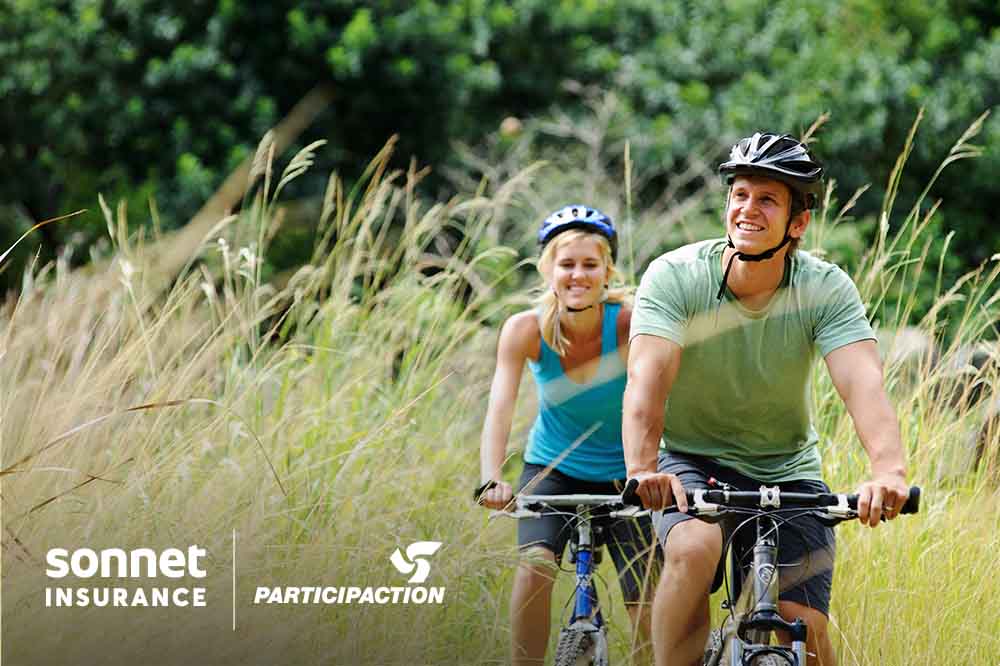 This article is part of a series in collaboration with ParticipACTION. Discover how "Everything gets better when you get active!"
Active transportation is human-powered travel. It includes walking or wheeling to work, cycling to the park, jogging to and from a friend's house, rollerblading, skateboarding and scootering. As a form of physical activity, active transportation is a way for us to clock additional minutes of movement into our day just by using our bodies to get from point A to B. Physical activity is a key part of maintaining overall health and well-being at every age. The fact is that when we move more, we're generally healthier and happier. We sleep better, heal better and age better.
To support a healthy lifestyle, adults should aim to make moving their bodies a daily priority. The Canadian 24-Hour Movement Guidelines recommend adults get 150 minutes of moderate-to-vigorous physical activity (MVPA) such as brisk walking, wheeling or cycling each week or 20 minutes of MVPA per day. They should also aim to reduce their sedentary time to under eight hours a day and to perform several hours of light physical activity such as casual walking or wheeling, household chores or gardening. Opting for active transportation wherever possible is one way to help you meet these health-supporting recommendations.
Here are some of the immediate benefits of active transportation:
• By choosing to walk or wheel instead of driving, you limit your sedentary time. A sedentary lifestyle is associated with increased risk of disease as well as anxiety and depression.
• Active transportation is a zero-emission form of travel that reduces your carbon footprint. So, not only are you supporting your health but the health of the environment as well!
• Moving your body for any amount of time each day adds up and helps you meet daily recommendations for physical activity.
While you can build active transportation into your commute to work by walking or cycling part of the way, for example, there are many more opportunities for self-propelled travel in your day.
Here are some suggestions for how to bring active transportation into your life:
• Set an active transportation goal each week. Plan to leave your car keys or bus pass at home at least once a week and get somewhere you need to go on your own steam.
• Think distance and time. On average, it takes about 15 minutes to walk one kilometre. If you normally drive short one-to-two-kilometre distances, consider whether it's easier to simply lace up and walk or wheel. In just under a mile, you'll have met your recommended daily physical activity goal.
• Switch up your parking spot. Don't circle the same street looking for the closest parking spot when you go out. Instead, make a point of parking a few blocks away from your destination so you can walk part of the way.
• Plan a walking-distance hangout. Buddy up with a pal who is also looking to up their daily movement and schedule a hangout you both "actively" get to.
• Make socializing more active. Turn your coffee date into an active one by meeting at a nearby park and taking your beverages to go.
• Take your errands for a walk. Going to the bank, picking up dry cleaning, or grabbing few items at your local store can all be done on foot or bike.
• Have a hair, dental or massage therapy appointment you can cycle or stroll to? Then leave your car keys at home and get moving.
• Ditch the car on date night and walk or wheel to dinner or the movies.
• Set a step count goal to keep you on your toes. The more steps we get in each day, the better we are served when it comes to our health, well-being and overall longevity. Aim to get at least 7,500 steps a day, which is liked with a reduction in all-cause mortality.
• Mix up how you get to and from places. For example, using public transit often requires us to walk, wheel or bike to and from transit stops. In fact, walking to and from public transit can help adults achieve eight to 33 minutes more physical activity each day, and accounts for 1,250 steps on average.
Increase the chances of using active transportation more often by:
• Equipping yourself for inclement weather. An umbrella, rain jacket, comfy rain or walking boots and sunscreen can ensure you choose to use your feet to get something done more often.
• Investing in supportive walking shoes.
• Signing up for a local bike share program or getting your bike a wheel-ready tune-up.
• Mapping out some potential routes for getting places you would normally drive or take public transit to.
Sonnet and ParticipACTION have a commercial marketing partnership.
Looking for a home and auto insurance quote?