How to get a workout in while walking your dog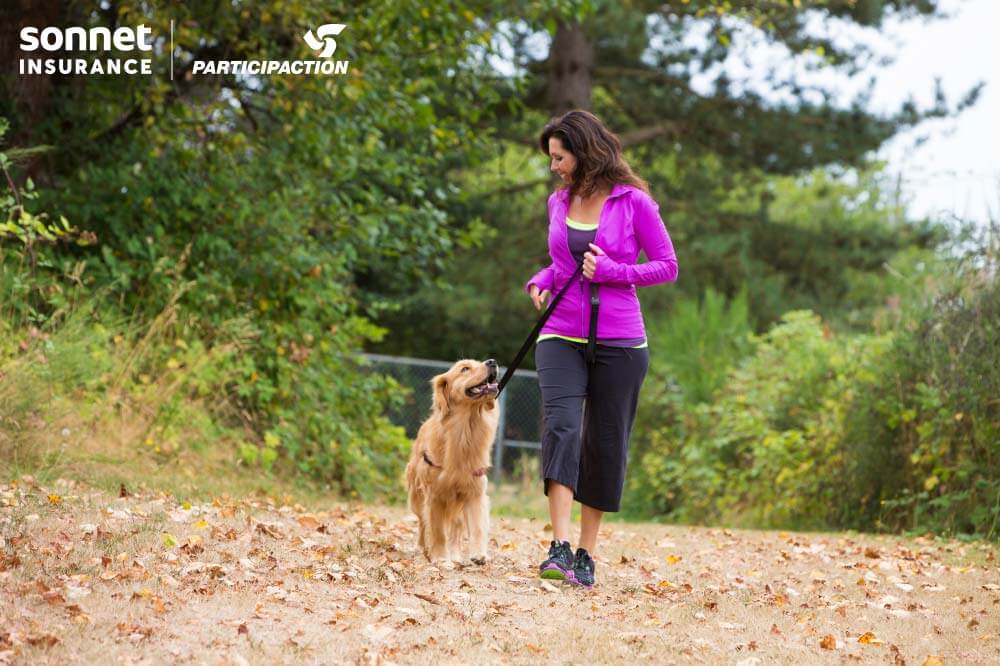 This article is part of a series in collaboration with ParticipACTION. Discover how "Everything gets better when you get active!"
Loving, enthusiastic, energetic and silly — dogs make great companions. Stress-relievers and loneliness fighters, dogscan even impact our physical health by encouraging us to move more. Both U.K. and Canadian studies have found that people with dogs did more physical activity than people who didn't have dogs. U.S. research suggests that having a dog may make it more likely for people stick to a regular walking routine.
You may not think of your daily doggy duty as a form of exercise for yourself, but that may be because you're not aware of the opportunities that exist to get your heart rate up. And getting your heart rate up – even for just a few minutes each day – is an essential part of a healthy lifestyle. Adults between the ages of 18 and 64 are encouraged to do 150 minutes of moderate-to-vigorous physical activity each week to support their overall health and wellness. By making a few small tweaks to your morning dog walk, you can move your stroll into the heart-pumping physical activity sweet spot.
Start with a warm-up
Think of the first five minutes of your walk with your dog to be the time for both of you to warm up your muscles and joints. Lift your shoulders and drop them. Take deep inhales and exhales. Lift your legs and rotate your ankles. Prime your body for the coming movement and it will feel better once you start to kick it up a notch.
Change your pace
One way to get your heart pumping is to vary your pace during your walk, says Sandra Aversa, owner of Pets in the City, a dog walking, training and pet care provider in the Hamilton and Burlington area.
If you're lucky enough to have a lot of greenspaces in your neighborhood, consider taking your pooch to a local park or field area where you can walk briskly or even throw in some light jogging intervals. "To help engage the dogs, we go for short jogs together around the field spaces," says Aversa. "This not only works up a good sweat, it keeps the dogs happy to join in the fun, too!"
Work those muscles
If your pooch is a pokey walker that loves to sniff, use the downtime to your advantage. Do some squats or calf-raises, for example. In these moments, Aversa likes to make use of the amenities she finds around her. "When we head to quieter park spaces, I like to add in some strength training," she says. Try doing lunges across the fields, stopping at benches to add in step-ups, modified planks and push-ups. If you're in a seated position, perform seated marches or seated jumping jacks.
Find some hills, ramps or stairs
It's not always just keeping a brisk pace that can make you breathe harder. Changes in terrain can turn a leisurely walk into a great physical challenge, too. Look for streets with an incline or take your pooch up and down a few neighborhood hills to amp up the challenge. "Walking [or wheeling] up and down streets with incline definitely helps with keeping your heart rate up! We even speed up our pace," says Aversa.
No hills in your neighbourhood? Find a set of stairs. "If your dog is willing and able to cooperate, testing your step count is a great way to keep your heart pumping!" says Aversa.
Hit a nature trail or conservation area
On weekends or on days when you have a bit more time, a hike or bike ride through a nature trail or conservation area can also create a good physical challenge. "Hiking through the woods, with all of its rocky pathways and climbing hills, helps keep your mind focused on your next steps and your endurance up to continue on through the beautiful scenery that Mother Nature has to offer," says Aversa.
Sonnet and ParticipACTION have a commercial marketing partnership.
Make sure you're covered with the best insurance plan for your home and auto.