5 ways to get active in July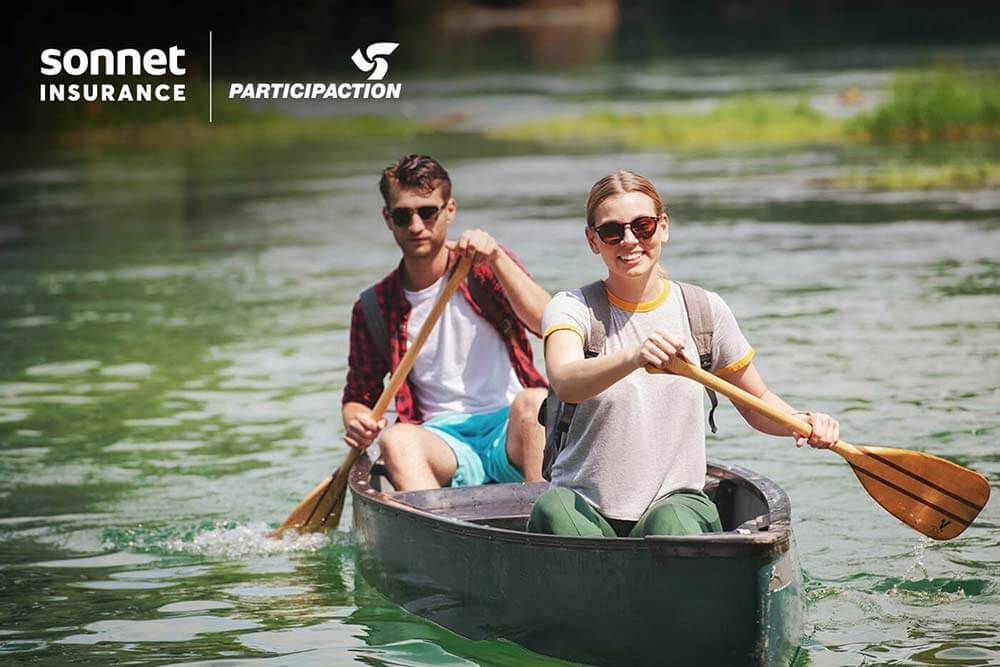 This article is part of a series in collaboration with ParticipACTION. Discover how "Everything gets better when you get active!"
July is a great time to get active and enjoy the best outdoor fun this country has to offer. Getting outside and getting moving in summer has a seriously beneficial effect on your mood. It's a happiness tonic, stress reducer and energy booster. If you have kids, it's also a way for families to get active together, and families that move together tend to be happier and healthier too.
Canada's 24-Hour Movement Guidelines recommend adults get around 20 minutes a day of moderate-to-vigorous physical activity (or 150 minutes each week) to support a healthy and happy lifestyle. Kids between the ages of five and 17 should get 60 minutes moderate-to-vigorous physical activity each day to enjoy the same benefits.
Here are five ways for adults and kids to rack up those happy-making on-the-go minutes this summer.
Hike the Trans Canada trail
Experience Canada through its famous cross-country trail which spans more than 27,000 kilometres and runs through all 13 provinces and territories. Check it out by going online and finding out where the trail links up in your community – and your activity preference. Many trails allow for a range of activities from hiking and canoeing to cycling, so you can do more than simply walk. The Great Trail isn't the only green space worth checking out. Search online or look at your local tourist office's website and look for a map of local hiking trails, conservation areas or botanical gardens. Canada's green spaces are plentiful and the best one is the one you enjoy spending time in the most.
Discover Algonquin Park
If public-health recommendations in your area allow, consider a road trip to Canada's first provincial park. Algonquin Park is a rich and diverse natural area that affords individuals and families countless opportunities to commune with some of Ontario's precious flora and fauna, including deer, wolves, birds, reptiles, amphibians and bears. Camp, backpack through the trails, swim in one of the park's lakes or paddle a canoe– this area is all about moving in nature and a visit is a rite of passage for many families.
Go for a paddle
Few activities are viewed as quintessentially Canadian as canoeing. Many of Canada's major cities and even small towns offer access to lakes and rivers perfect for paddling. Many communities also have canoeing facilities that allow you to rent or take a lesson. From Ottawa's Rideau Canal to Toronto's Lake Ontario to Squamish's Elaho and Squamish Rivers, Canada boasts an endless number of places to canoe, paddleboard, or kayak your way through.
Try something new
If you don't have the ability to travel or are concerned about exploring too far outside of your local area, rest assured there are tons of ways to get out and be active. If you're looking for novelty, pickle ball definitely fits the bill. Pickle ball combines all your favourite paddle racquet sports, from tennis to badminton to ping pong. It's played on a badminton-sized court with a plastic ball and paddle. Like tennis, it can be played in singles or with a doubles partner. Look for an outdoor pickleball court in your community. There are even community leagues to join.
Get into Ultimate Frisbee
Ultimate Frisbee is a fun, no-contact sport that is guaranteed to elevate your heart rate and spark some healthy competition between friends or family. All you need for an impromptu game is some greenspace, a frisbee and a handful of friends and family.
Look around you
What parks, conservation areas, rivers, waterfalls, botanical gardens and nature trails exist in your area that remain unexplored and unknown? Head to your local tourist website or search online for area attractions.
Don't forget you can explore your community with The ParticipACTION app, too. It's available for download, for free, in the Apple App Store as well as Google Play. The app lets you keep track of all your fun summertime activities and earn prizes too!
Sonnet and ParticipACTION have a commercial marketing partnership.
Looking for a home and auto insurance quote?