How to get started with online doctor's appointments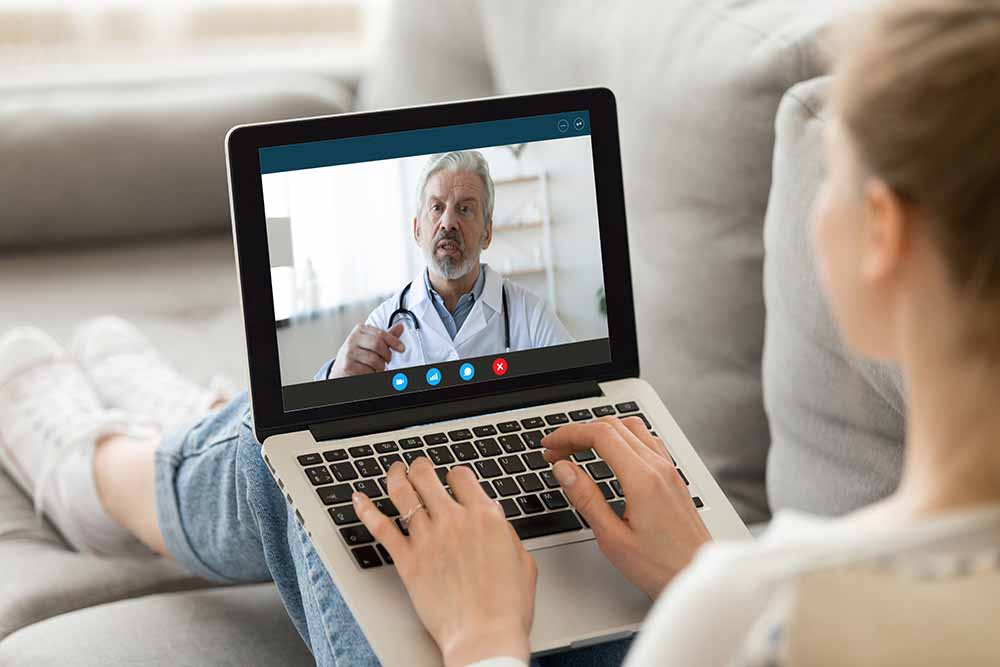 If you've had to visit a doctor since the start of the coronavirus pandemic, odds are it's been a virtual appointment. This was necessary for public health, and it likely happened over the phone or on a video call. And while many doctors are still seeing patients in person, it's a good guess that online doctor's appointments will continue to grow. It makes sense when you think about it - if you're sick, the last place you want to be is in a waiting room full of other potentially sick patients. If possible, you're better off seeing your doctor online at home.
Since online doctor's appointments seem to be here to stay, it's best to know how they work so you'll become comfortable with the process.
How does a virtual doctor visit work?
A virtual doctor visit works in a few different ways. Your family doctor may offer the service so there's no need to go into their office and wait. Alternatively, there are various online virtual doctor sites that are available so you can get access to a doctor whenever it's convenient for you.
Generally speaking, virtual doctor visits will require you to log in to a site or app for you to request an appointment. If you're using a site that's dedicated to virtual doctors, they can schedule you an appointment or set you up with the next available doctor. Quite often the wait times are minimal, so you're saving a lot of time.
What services can a virtual doctor provide?
As you can imagine, virtual doctors can't provide every service, but they can still be pretty thorough. A virtual visit is ideal for someone who doesn't require any detailed physical exams or in-person diagnostic testing. That said, if you need additional testing, the doctor will always be able to refer you.
Some of the services that are easily performed by virtual doctors include general consultations, prescription renewals, health screening, medication management, sick notes, and more.
Your online visit with your doctor
During the scheduling process, you would also enter any symptoms you have, or you could describe what medical attention you're looking for. Once you're connected to your doctor, they'll be able to see everything you've inputted.
You'll be talking one-on-one with your doctor so you can ask questions. In addition, the doctor might ask you to send a video or a picture so they can further diagnose your issue. If they're unable to give you a proper diagnosis, they'll refer you to a family practice or walk-in clinic.
If they're able to give you a diagnosis or treatment plan, you'll be given it right away. Plus, if you need any medication or lab tests, they'll be able to refer you and put in the paperwork online.
How online prescriptions work
Since virtual doctors are fully licensed medical professionals, they can prescribe you most medications online. Once you provide the doctor with your pharmacy's details, they'll be able to send them a prescription electronically right away. All of the relevant information will be included such as the doctor's signature, contact information, and licence number so the pharmacist can contact them if they need to. (Note that narcotics, opiates, and cannabis can't be prescribed online.)
The cost of online doctor's appointments
How much you'll pay for an online doctor's appointment depends on where you're getting your appointment and if you have provincial healthcare. If you're booking a virtual appointment with your family doctor and you have provincial health care, there is no cost. There are also a few virtual doctor websites that provide free services to residents of specific provinces. However, there are some dedicated virtual doctor's appointment websites and apps that charge per visit or on a monthly basis.
Also note that if you're seeing medical advice from a provider such as a physiotherapist, you may be charged if you don't have any insurance.
Should you use online doctors?
It really comes down to a personal choice. Online doctors are convenient since you can connect with one whenever you're available. The service you get is no different from a regular doctor and your interactions are secure and private. That said, there are limitations to what an online doctor can provide. If you're worried about something that's physically affecting you, it would likely be a good idea to seek advice from your family doctor in person.


Barry Choi is a Toronto-based personal finance and travel expert who frequently makes media appearances. His blog Money We Have is one of Canada's most trusted sources when it comes to money and travel. As a completely self-taught, do-it-yourself investor with no formal training, he makes money easy to understand for all Canadians. His specialties include personal finance, budget travel, millennial money, credit cards, and trending destinations.
Barry Choi is a paid spokesperson of Sonnet Insurance.
Keep your home and auto protected with the right insurance for your needs.