How to reduce stress and improve health in your workspace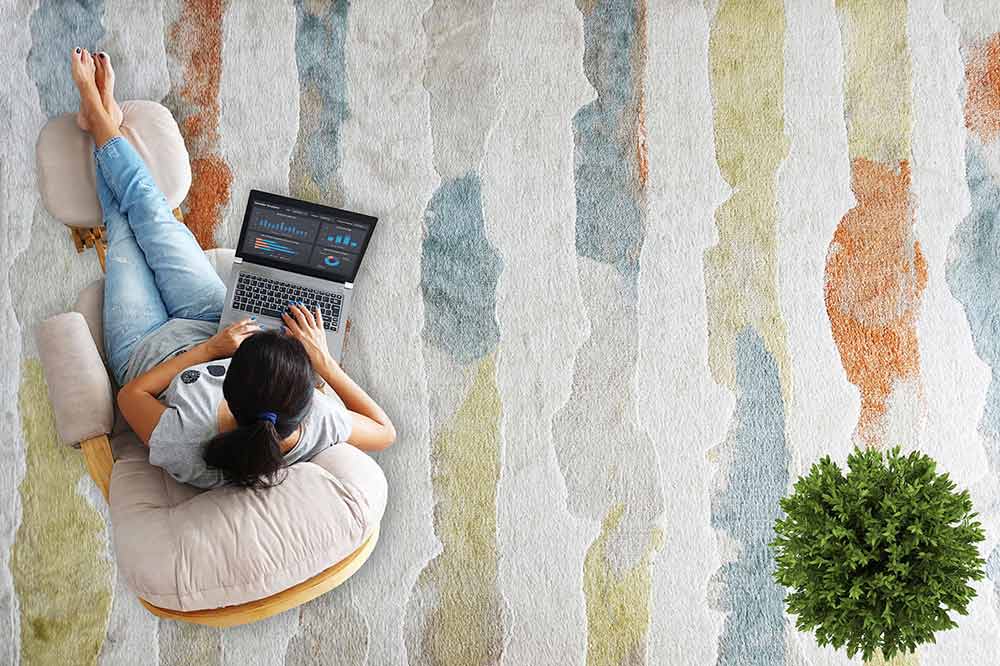 Let's face it, work can be incredibly stressful. Our jobs are an important part of our everyday life, but many of us don't look forward to going to work. One of the reasons why? Stress. According to this 2017 study, more than 1 in 4 Canadians claim to have high or extreme levels of work stress on a daily basis, and nearly half of Canadians report they feel a bit of stress at work on a daily basis. So, how do we alleviate some of that stress? Here are a few ideas to reduce stress and improve health in your workspace.
Set up your workspace
You can start with ensuring that your workspace is more comfortable - not just physically, but mentally as well. You'll want your work area to be a space that you feel good about spending your time in. For those lucky enough to work from a home office, this is a bit easier. But even if you don't work from home, there are still a few things you can add to your desk area to make it a more enjoyable space.
Get some plants
Many of us feel more relaxed when outdoors. Nature, for many of us, is soothing and calming. So try bringing a little nature into your workspace in the form of indoor plants. It's an easy way to perk up an office; plus, indoor plants can help improve air quality.
Try to stick to natural light
If you can, try to get a workspace near natural light, as it's better for your health. Natural light can help with seasonal depression during the dark, winter months. It also boosts your vitamin D, which is connected to bone loss prevention as well as a reduction in risk of heart disease, weight gain, and even cancer. Spending time in natural light instead of artificial light can additionally help you sleep better at night.
Decorate
We are often happier when we are surrounded by things we like, so bring these things to your workspace. Maybe it's some artwork or photos of friends, family, or pets, or even some of your favourite books. If you really make the space yours, then you are more likely to enjoy spending time in it.
Stay organized
Sometimes our stress is due to a lack of organization. Maybe you misplaced something, or forgot to write something down and missed a deadline. These things happen, but they can be easily avoided if you take the time to organize your area properly.
Use a calendar
Writing down deadlines, appointments, and meetings will help keep the important things up front and obvious so you can stay on top of everything. Oftentimes, having a physical calendar in front of you makes it easier to look at things as a reminder. If you use the calendar on your phone, it might be helpful to also set up alerts and reminders.
Make a to-do list
Most of us are juggling several different things at once in our work, which can sometimes get overwhelming and add to our stress levels. Make a to-do list prioritizing what needs to be done first and work your way down the list. That way nothing slips through the cracks, leaving you in a last-minute panic. Plus, the feeling of being able to cross things off when you finish can be really satisfying.
Make work part of maintaining a healthier lifestyle
Work is a part of our life, which means it's important to maintain and adapt your healthy lifestyle habits in the workplace as well. Here are a few easy ways to do it.
Keep a water bottle on standby: Hydration is key, and can help your brain with problem-solving and even creativity. Most of us don't drink enough water on a daily basis but keeping (and refilling as needed) a water bottle by your workspace will encourage you to drink more throughout the day to keep your brain and body hydrated.
Feed your body: Food is fuel, and your body needs to be fueled to work properly and keep your mind sharp and alert. Don't skip your lunch break - take the time to eat a proper lunch that will leave you feeling energized, not sluggish. This means more fruits and vegetables and proteins, and fewer 'comfort' types of sugary and fatty foods. If you are a snacker, keep a box of protein bars or even dried fruit handy at your desk to keep you going throughout the day.
Keep moving: If you have a smartwatch, then you already know that you should be moving your body at least a little bit every hour. This doesn't mean you need to do a workout, but at least stand up, get a glass of water of coffee, go to the bathroom, or even just stretch and take a couple of steps to get that blood flowing. If you get a long lunch or 15-minute break, take a quick walk. Your body and brain will thank you for it.


Barry Choi is a Toronto-based personal finance and travel expert who frequently makes media appearances. His blog Money We Have is one of Canada's most trusted sources when it comes to money and travel. As a completely self-taught, do-it-yourself investor with no formal training, he makes money easy to understand for all Canadians. His specialties include personal finance, budget travel, millennial money, credit cards, and trending destinations.
Barry Choi is a paid spokesperson of Sonnet Insurance.
Make sure you're covered with the best insurance plan for your home and auto.