5 tips to build a bulletproof physical activity goal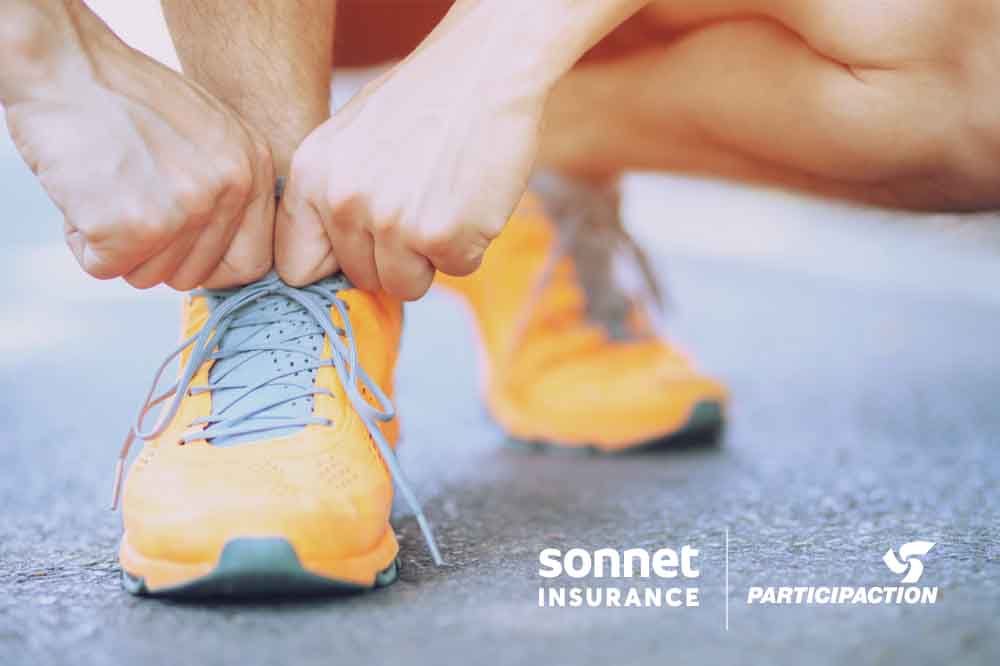 This article is part of a series in collaboration with ParticipACTION. Discover how "Everything gets better when you get active!"
Physical activity is the cornerstone of a healthier and happier lifestyle. Aging, sleeping, and moods all get better when we get active. Adults should aim to get 150 minutes of moderate-to-vigorous physical activity each week to enjoy the wide-ranging physical, mental, and social benefits of movement.
But the reality is that most Canadians struggle to incorporate physical activity into their lives — according to Statistics Canada, less than half of adults and only 39% of children and youth are meeting recommended physical activity levels. However, this may have more to do with how we set our movement goals rather than opportunities to get moving. If you want to become more physically active, spend a few minutes determining the whys, hows, and whens of your specific goal.
Here are 5 tips on how to bulletproof your physical activity goals and increase the chances of achieving them.
1. Start with the why
Before you figure out what your specific goal is and how you're going to achieve it, sit down and consider why you want to make physical activity a priority. Are you doing it for your health? Are you looking for a way to decompress after a long day? Or do you simply want to be able to keep up with your kids or grandkids during a day at the park? Determining the why may help you better define your goal and shape your plan for success.
2. What do you really want to achieve?
Do you really want to run a 10K race by Labour Day, or do you just want to establish a regular and consistent jogging routine? Reflect on what your specific goal is and don't push yourself beyond the boundaries of that precise desire – not yet anyway. The key to achieving a physical activity goal, especially if you're coming out of a period of inactivity, is to turn it into a simple and easily measurable action that will bring you enough joy and sense of accomplishment that you're more likely to repeat it. If you think you can commit to training for a 5K race, go ahead and download that 5K app. But if your ultimate goal is just to "move more", why not start with a run-walk regimen three times a week and build up your time and distance from week to week?
3. Break up your main goal into smaller chunks
When it comes to goal setting, if you think in the short term, you're more likely to see a long-term behaviour shift. For example, if your goal is to rack up 150 minutes of heart-pumping movement each week, break that up into short, measurable chunks or mini goals. If walking or wheeling is your exercise of choice, try doing daily 20-minute brisk walks or four 40-minute bouts each week. If you can only move twice a week for 20 minutes, then think of ways you can incorporate short 10-minute activity breaks into your daily routine to make up the difference. Maybe you have time for a 10-minute dance party before work each morning, or perhaps you have just enough time at lunch to take the stairs or walk or wheel in and around your office or home. Once you begin to see short bursts of effort in your schedule rather than large investments of time, you'll be surprised at how the opportunities for movement multiply.
4. Be smart about the how and the when of pursuing your goal
If you don't have the time or opportunity to pursue your activity goal every day, then use a calendar to plot out times when you do. You'll have to determine what time of day will work best for you and your goal, keeping in mind your own internal clock. If you're not likely to exercise after dinner or work, then be honest with yourself about the times that do work. Maybe early morning or during your lunch hour is the right time for you. If that's the case, then commit to those time slots and get moving. If you can't exercise for the full hour you planned for, don't drop your workout entirely — even just 15 minutes of movement that day is okay. Remember, something is better than nothing, and more is always better!
5. Don't forget to reward yourself
It's not easy to put aside the many demands on your time to focus on yourself and a personal goal. But when you overcome a major challenge or barrier – even if it's just getting outside for a brisk 15-minute walk (in -35C weather!) – then give yourself a pat on the back! Figure out what kinds of rewards will keep you motivated when the weather is lousy or you're feeling overwhelmed by other areas in your life. Maybe it's treating yourself to a new pair of running shoes or wireless headphones at the end of the month, or perhaps it's taking a hot bath with Epsom salts and relaxing music after a workout. Rewards don't have to be expensive or elaborate, they can be as simple as telling yourself: "You did well today! Keep it up!"
Sonnet and ParticipACTION have a commercial marketing partnership.
Make sure you're covered with the best insurance plan for your home and auto.