How to prepare for travelling again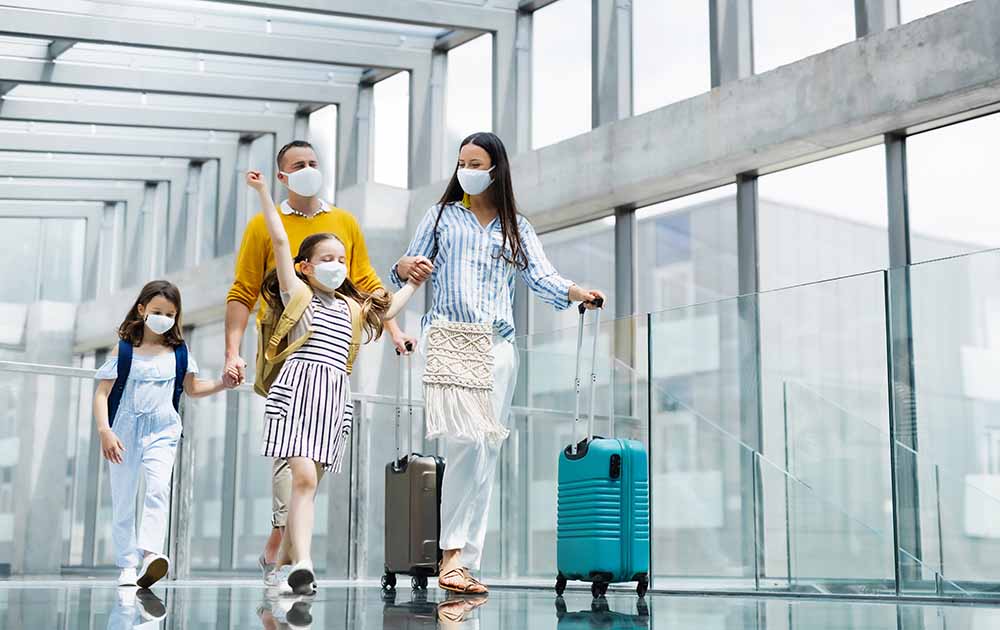 While COVID-19 is still circulating, much of the world has reopened to travel and tourism as we adjust to our new normal. For many Canadians, that means feeling better about travelling again, both domestically and internationally. That being said, before you rush to book a flight, there are a few things to be mindful of. Here are some helpful tips to keep in mind when planning your first post-pandemic trip.
Check your travel documents
The majority of Canadians have not left the country since the onset of COVID-19 in March 2020, so the first thing you need to do before you book any international travel is to check your passport. Make sure that it is still valid in terms of the time frame before expiration (most countries require 6 months before passport expiration) and that you have at least 2 blank pages for passport stamps. If you do need to renew your passport, do so immediately. There has been a huge backlog in Canada and processing times are much slower than normal.
Depending on your travel destination, you will also need to look into visa requirements. If you do require a visa before arrival, research the current processing time for those as well before you book anything too quickly.
Educate yourself on vaccination rules & testing requirements
One of the things you need to be most mindful of when planning to travel right now is any vaccination and/or testing requirements. There are a number of countries that have done away with testing requirements, and vaccination requirements in some situations as well. However, there are still destinations that do require them and/or types of travel that require them (ie: cruises). Do your research ahead of time and ensure that you are prepared for this. Another thing you should keep an eye on and be aware of is face mask rules. Many places have done away with them at this point, but they are still required in certain settings in some countries.
If there is one thing we have learned about travel and COVID-19, it's how quickly things can change. Keep checking requirements as you plan and get closer to your travel dates so you don't get caught unawares.
Book early
While Canadian airports and airlines are the ones making the news when it comes to travel right now, they aren't the only busy ones. Hotels are also filling up very quickly, along with restaurants and many big tourist attractions around the world. If you are planning a trip, don't leave things until the last minute – especially if you really have your heart set on a certain hotel, restaurant, or activity. If you leave things too late, you risk them booking up and you might be disappointed.
Get travel insurance
Travel insurance is always important, but even more so these days. You'll want coverage in case you get sick, but more than that, you will want coverage in case of any travel delays or cancellations. The Canadian travel industry is really struggling right now in keeping up with the demand for travel, and there have been a number of issues regarding lost or delayed baggage, delayed or cancelled flights, and so on. You'll want to ensure you have the proper coverage to protect you should the worst happen.
Be prepared
As the travel industry is struggling to keep up with the demand right now, you'll want to make sure that you come to the airport prepared. Travel insurance is a must, but you should also ensure you have all your flight and travel information on hand. AirTags or similar devices are a great idea if you are travelling with checked luggage. It's always a good idea to have some cash on hand too, just in case.
Should you experience any travel delays, cancellations, or other issues, know how to handle it. Familiarize yourself with the Air Passenger Protection Regulations, the Montreal Convention 1999, and Regulation EC No 261/2004 (if headed to Europe). All of these regulations are for passenger rights and will help ensure you receive due compensation if needed.
As exciting as it is to get back to travel, it does look a little different right now, so you will need a bit more preparation and patience as we ease back into things.


Hannah Logan is a Canadian travel writer who dreams of being just like Indiana Jones. You can follow her travels on her personal travel blog Eat Sleep Breathe Travel where she shares her travel tales and (mis)adventures around the world.
Hannah Logan is a paid spokesperson of Sonnet Insurance.
Looking for a home and auto insurance quote?