Top tips for renting a vacation property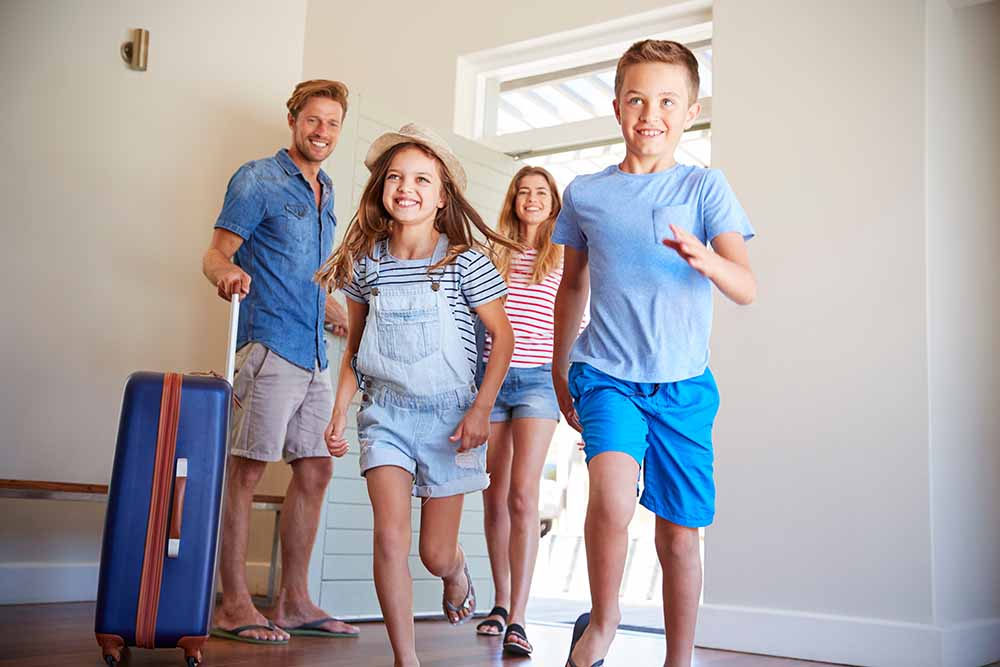 Around the world, millions of short-term and vacation rentals are waiting to become your home away from home. From summer vineyard tours and beachy cottage getaways to that perfect ski chalet in deep winter, the flexibility and freedom of the burgeoning short-term stay industry have attracted tens of millions of long-time travellers, digital nomads and family vacationers all around the globe.
Whether you're a first-time vacation property renter or an experienced pro, you'll want to be aware of a few critical differences between rental and traditional hotels or resorts. Here's some advice to help make sure you're booking the vacation of your dreams — and not unknowingly setting yourself up for any travel nightmares. Keep calm and travel on!
Do your research and book early
Vacation properties are unique, but it means that when it's booked, it's booked. Early birds get the worm if you've got your eye on a particular style, price or experience. Book far in advance.
Nothing beats a recommendation from family or a friend you trust. Ask around about places your circle has visited and loved. Not only will you get a personal review of their experience but you might find out about a location or style of rental that you haven't explored before.
Don't skip the reviews
Avoid putting all your trust into pictures alone. If you're renting on an established website, you've got the added benefit of reviews from other renters. Make sure you go through the most recent reviews to get a strong sense of how the rental and experience have lived up to others' expectations.
Make a list of your must-haves and confirm them
Amenities vary wildly, and the types of descriptions used in short-term rental listings, like any type of marketing, are used to appeal to renters. "On the beach" might not exactly mean literally on the beach, and if you've got your heart set on that type of access to make your vacation perfect, then it's best to confirm what you're getting.
Make a quick list of the elements that are most important to you, whether it's proximity to specific locations or the types of appliances in the kitchen. Contact the listing and get explicit details that the descriptions match up with what you expect. A little extra work today can avoid some disappointment when you walk in the door.
"Too good to be true" usually is
The adage holds true: You get what you pay for. Though there can be penalties by some rental platforms for grossly misrepresenting properties, like any consumer-to-consumer enterprise, it's still primarily people renting to other people. It's largely unregulated, and you should be more aware of potential sales tactics and over-hyped information.
Use your best judgment. If something seems wildly under-priced compared to similar properties in the same area, that's a red flag. While it's wise to shop for the best price if you're on a budget, dive deeper into a listing if the cost seems too good to be true. Go through all the details carefully:
● Research the exact location and find out about the neighbourhood.
● Double check the total size of the space, particularly if you're a larger group using multiple bedrooms.
● Search info about the weather in that location during the time you're visiting and if it's during an on- or off-season.
Get full details on housekeeping and deposits
Depending on the length of your stay, different rentals will have individual rules around how often they'll be cleaned. It's essential to understand how and when the rental will receive any housekeeping services or if the onus is on you to keep it tidy during your stay.
The same thing goes for deposits. If a financial deposit of any kind is required, get the complete list of requirements necessary for it to be returned to you in full. This should include a detailed list of what should be cleaned, how, and other conditions to satisfy your contract.
To be extra sure, you can also request to do an end-of-stay walkthrough with the owner or their rental management agency in person. You can discuss any potential problems in person and on-site before you go and avoid any surprise charges.
Snap a photo — it'll last longer
Hopefully, you won't have any damage complaints or other issues with the owner of your rental. Because of the more open nature of short-term rentals, both owners and renters take advantage of them when it comes to maintenance and damage to the property.
● Read the fine print or any contract carefully to understand what you could be liable for.
● Take photos on the day you arrive, so you have a visual archive of the state of the property.
● Make special note of this if you notice anything "broken-ish" or not in perfect shape. You can even be proactive and send a photo to the owner with a quick note saying that it's not a problem, but you wanted them to know that Item X was in its current state when you arrived — and not something you did during your stay.
Take care of yourself (and your home) while you're gone
Especially for more extended vacations, ensure that your home-home (not your home away from home) will be taken care of. On top of any necessary travel insurance, you want to make sure that your home is in safe hands:
● Make sure any security systems are functional and updated with your current contact info in case of an emergency.
● Tried, but true, ask a loved one or friend to check up on your home every few days. (Be sure to bring them home a nice thank you gift!)
● Make sure your home insurance is fully up-to-date and includes adequate coverage for anything that might happen while you're away. Better safe than sorry.


Jeremy Elder is a Toronto-based content marketer and copywriter with over a decade's experience telling stories for some of the world's biggest brands. He's an expert at finding WiFi wherever you least expect it.
Jeremy Elder is a paid Sonnet spokesperson.
Keep your home and auto protected with the right insurance for your needs.