Things you should do before bringing home a new dog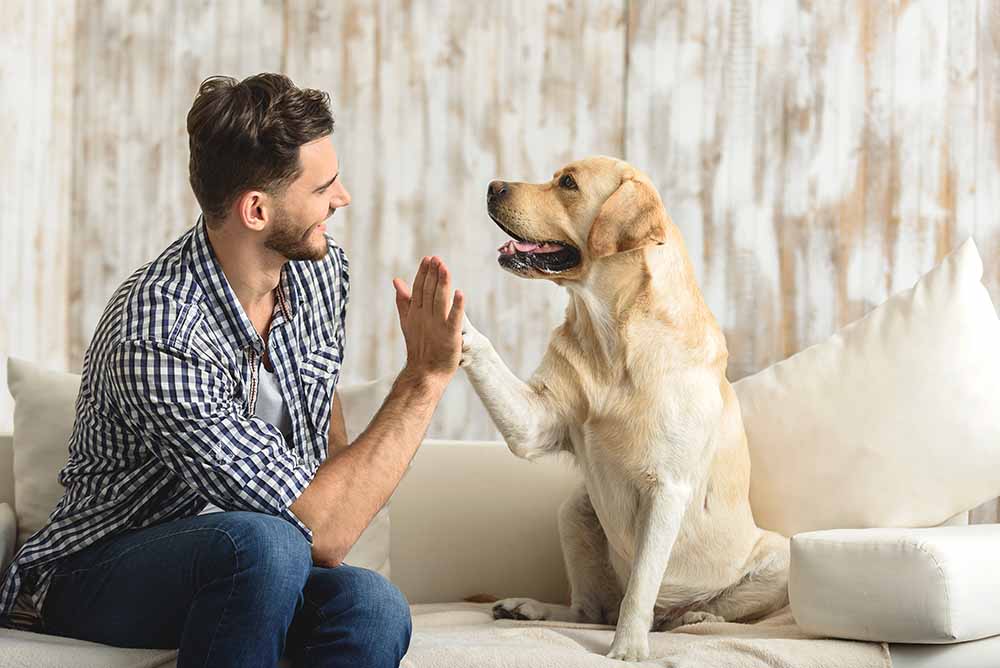 There are a lot of reasons why dogs make great pets, from the emotional support they offer to the health benefits of taking them on daily walks. While owning a dog can be an enriching experience for you and your family, there's a steep learning curve to being a dog owner, and the right thing to do isn't always straightforward or intuitive. In fact, the more research you can do in advance, the easier it will be for you and your pooch to adjust to your new lives together. Whether an adult rescue or a purebred puppy, here are a few important things to do before bringing home your dog.
Make an honest assessment of how a dog will fit into your life
Your parents weren't lying when they said dogs are a lot of work. While you may have happy memories of spending time with your childhood pup, you may not remember all of the walks, vet bills and chewed table legs quite so clearly. In short, for all of the benefits of dog ownership, there are quite a few challenges, and if you're not up for them, you shouldn't be bringing a dog into your life. Among the surprises many first-time dog parents face are the demands on their schedules (which may mean being home a lot more and being less available for social engagements), the cost of vet visits and food, and the realities of living with pet hair and the occasional chewed piece of furniture in your home.
If your heart is set on a puppy, be aware that they require constant supervision and training at first, and expect to be cleaning up your share of housetraining mishaps along the way. For rescue dogs, you may need to work twice as hard to overcome the effects of any abuse or trauma they've suffered in the past, which can require a major commitment of time and money. All of this boils down to the fact that a dog is not a casual addition to your life, but a transformative one, and if you're ready to take responsibility for the challenges, you'll also reap the rewards.
Prepare your space
Dogs see the world very differently than humans, which means that you'll need to go through your home from a dog's perspective to prepare for its arrival. Preparations will vary somewhat depending on whether you're bringing home an adult dog or a puppy and, if it's a rescue, whether it's been fostered for an extended period before coming to you. Major things to look out for are electrical cords (experts suggest taping them to baseboards in case your dog mistakes one for a chew toy), cleaning products (keep them up high or otherwise well out of reach), and houseplants (ensure they're all non-toxic to dogs). To prevent an expensive accident, valuable furniture and expensive rugs should also be put away or stored until your dog becomes acclimatized.
Gather supplies
Dogs don't need a lot of stuff, but there are a few things that'll help ease the transition. The basics include a crate (make sure it's large enough for the dog to stand up and turn around in), metal food bowls, a sturdy nylon non-retractable leash, a flat-buckle nylon collar (with tags containing the dog's name and your contact info), and a couple of durable chew toys (rubber, not rawhide). If you're adopting a pet in the winter months, consider boots (which protect their paws from salt) and a coat (especially for short-haired dogs not bred for Canadian winters). Finally, you should have dog food on hand (ideally whatever the dog has been eating in its last home – you can transition it to different food later) and a selection of healthy treats.
Find a support network
The early days of ownership can be confusing, frustrating and stressful, so before you bring your pup home, it makes sense to ensure you'll have support when you need it. Familiarize yourself with your local vets, check reviews online and ask other dog owners about their experiences when possible. The same goes for dog walkers in your area, which can be found on purpose-made apps as well as by word-of-mouth. If you've never trained a dog before, you should also look into what training programs are available in your area and pre-register if necessary.


Jeremy Freed is a freelance writer and editor based in Toronto. His writing about fashion, travel, food and design appears in Sharp, Harry and re:Porter magazines, among many others.
Jeremy Freed is a paid spokesperson of Sonnet Insurance.
Make sure you're covered with the best insurance plan for your home and auto.