Car accidents and pets – here's what you need to know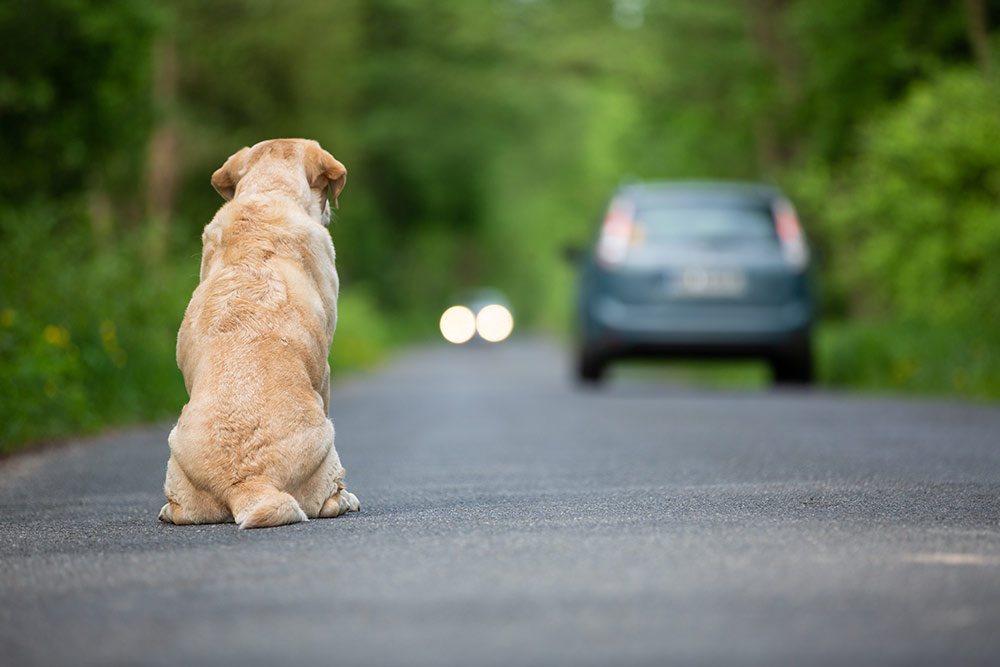 While most people try to be responsible drivers, car accidents can happen to anyone. Hopefully it's something you never have to experience but just in case, knowing what to do in an emergency can be lifesaving – especially when other people or domestic animals are involved.
Whether you're driving through the country or a suburban neighbourhood, you may encounter pets on the road. Here's what you need to know if you get into an accident with a dog or cat.
What do I do if I hit someone's pet while driving?
Non-emergency
Imagine it's a bright sunny day, you're driving to get groceries, and your favourite tunes are playing. Suddenly, a flash of black fur dashes out onto the road forcing you to slam on your brakes and swerve towards the curb. Screech! You think you may have heard a bump but you're not sure. You're not hurt so you safely pull over, turn on your hazard lights and headlights, and get out of your car to see what happened.
A dog is laying on the side of the road. He's breathing and thankfully there's no evidence of blood on the ground. Your bumper is slightly dented, but other than that your car doesn't have any major damage. Now what should you do?
First, take a deep breath and see if you can safely find a name or phone number on the dog's collar. If there's no collar it's best to call a non-emergency police line or your local animal authority. As much as you probably want to help, a wounded dog can potentially be unpredictable and dangerous.
TIP: Here are some helpful tips on how to keep your pet safe outdoors.
Emergency
Now imagine that whole scenario but when you get out of your car you see blood around the dog and you're not sure if he's breathing. Since the pet's life is at risk the first thing to do is notify the non-emergency police number and remain calm. Again, your first instinct might be to give assistance to the dog, but this is best left to animal control services or the police.
In either scenario, it's a good idea to take photos of any car damage and the scene of the crash. If you're not too shaken up write down what happened, the street you're on, and the time and date. After these details are recorded, you should call your car insurance provider and inform them of the incident – even if you don't intend to make an auto claim.
Whose insurance covers vehicle damage?
Knowing whose insurance will cover the vehicle damage can sometimes be tricky. In the example above, the dog wasn't on a leash and dashed onto the road towards oncoming traffic and dented your bumper. Since you, the driver, are "not at-fault", your insurer could pay for damages to your vehicle, but a deductible may apply.
But if the situation was different and you lost control of your vehicle and drove onto the sidewalk, and accidentally hit the dog and broke his leg – then you could be liable. Your insurer might pay for damages to the vehicle under collision coverage.
Despite whoever is to blame, both situations are highly emotional and difficult. Most people view their pets as a member of their family but in the eyes of the law, they are technically considered the owner's property. However, even though pets are considered "property" they are not covered by most home insurance policies.
What does pet insurance cover in a car accident?
Since pet injuries aren't covered by a home or auto insurance policy, this is where having pet insurance comes in handy. If the owner of the injured pet holds a pet policy, coverage for the dog could be available for this unexpected accident granted it didn't occur pre-policy or within the policy waiting periods. For example, coverage from Sonnet Pet Insurance would include costs associated to see the vet, diagnose, treat, and any subsequent follow-ups.
Can you sue someone for hitting your dog or cat with their car?
You might be able to sue a driver if they are at fault for an auto accident where they hit your dog or cat causing injury or death. You'll have to prove that the driver is at fault and the accident caused you harm in the form of costly vet bills.
What are the insurance implications if you're driving with your pet in the car?
You're on a family road trip with your dog and someone runs a red light and smashes into your car. Everyone is okay except your dog who might have internal bleeding. Now what?
Whether you or another driver is at fault, pet insurance could provide coverage for the unexpected veterinary costs associated with the insured pet. Depending on the policy, pet insurance could cover the costs associated to see the vet, diagnose, treat, and any subsequent follow-ups. This is why it's important to understand the wording on a pet insurance policy.
TIP: Here are some tips for travelling safely with pets.
Did you know? As cuddly as your dog is, in Ontario it's illegal to have a dog on your lap while driving. According to section 162 of the Highway Traffic Act: "No person shall drive a motor vehicle with persons or property in the front or driver's seat so placed as to interfere with the proper management or control of the motor vehicle."
What do I do if my pet is injured, and I don't have pet insurance?
Well, hindsight is 20/20 so unfortunately, you'll probably have to pay out-of-pocket for any vet bills which can be costly. This is why it's a good idea to research pet insurance as soon as you welcome home your new member of the family. So, what does pet insurance cover? Well, like most home and auto policies, coverage specifics will vary depending on the insurer.
What should I look for in pet insurance?
Having the right pet insurance could end up helping you save thousands of dollars – but there's no one-size-fits-all policy. Your pets' needs will depend on things like their age, breed, and where you live. Pet insurance helps cover unplanned vet visits so you and your furry friend can focus on quality time together.
Every policy is different. Which is why it's important to review the policy carefully to make sure that it includes the specific coverage(s) you're looking for. Here are a few pet-specific coverages that you might want in a pet policy:
Illness
Accidents
Surgeries
X-rays and diagnostics
Dental care
Alternative therapy
Behavioural therapy
Medication
Medical devices
Emergency care services
An animal collision is a distressing experience for anyone to go through. So, knowing what to do ahead of time can help you be prepared for the worst. Take some time to understand what's included in your auto and pet insurance policies to make sure you and your best friend are protected. Then you'll be able to relax knowing that your dog or cat is covered.
Need coverage for your furry family members?